Top 10 supply_chain_digital
Top 10: Best Trucking Movies Of All Time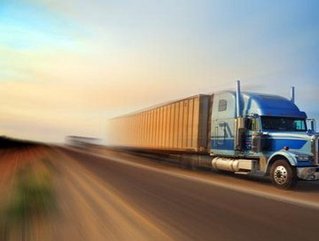 Written by: Brett Booen Before we get you into The Best Trucking Movies Of All Time, you might want to check this article out as i...
Written by: Brett Booen
Before we get you into The Best Trucking Movies Of All Time, you might want to check this article out as it appears in our April Issue of Supply Chain Digital. Trust us, it's way cooler to read this article when you can flip through our user-friendly e-reader.
We never could have predicted just how many people have a dog in the "Best Trucking Movie of All Time" fight. We made a claim last month that Patrick Swayze's "Black Dog" was the greatest truck driving film in cinematic history, which admittedly seems like a pretty outlandish claim when you have cult classics like "Smokey and the Bandit" and "Convoy" out there. One guy emailed us to say that he purposely broke his Netflix copy of "Black Dog" just so that there would be one less copy of "the worst movie ever made." Another dude wrote on our Facebook that "Black Dog" was one of two movies that he actually had to walk out of the theaters because it was so bad. These aren't exactly beaming testimonials for our beloved Swayze film, but we are standing behind our main man and that claim that "Black Dog" is No. 1 on list of the best trucking movies.
10. JOY RIDE (2001)
http://www.youtube.com/watch?v=_GqrNeTfb5w
Description: Paul Walker and Steve Zahn embark on a cross-country trip to pick up a girl, but the two brothers find themselves in a highway of trouble after playing a CB-radio prank on an unassuming truck driver.
Lesson: Don't ever use a fake CB handle (Candy Cane no less) to trick a truck driver into meeting you at a sleazy motel on the side of a freeway. Nine times out of ten that trucker will be a shotgun-wielding, psychotic killer who will stop at nothing to teach you and your prankster bro a lesson about messing with truck drivers.
Only a trucker would say: "Candy Cane? Hey anybody know a Candy Cane?"
9. MAXIMUM OVERDRIVE (1986)
http://www.youtube.com/watch?v=lqz2rejJS6M
Description: Maximum Overdrive, or as we like to call it "Stephen King's Trucks Come to Life Movie" is a tale about semitrailers that become killing machines after the Earth passes through a mysterious comet whose dust brings machines to life. It's pretty much exactly like "Steven Spielberg's Trucks Come to Life Movie" (Duel) but with even more truck killers.
Lesson: Don't be on your car's bad side the next time Halley's Comet comes streaming though our solar system (2061). Hey, you never know…
Only a trucker would say: "You leave here without punching out... and you ain't never gonna have to punch out again, Bubba."
RELATED: How Freight Rail is Getting The US Economy Back on Track
8. BIG RIG (2007)
http://www.youtube.com/watch?v=naLtlUuZ9es
Description: Big Rig is a snapshot of contemporary American life through the eyes of long-haul truck drivers. That's it.
Lesson: If it weren't for truck drivers, America would be a country of pansies. Git 'er done!
Only a trucker would say: "I've got a total of 268 lights on this truck. You gotta impress the girls, you know? Everything I do is for the women."
7. BREAKDOWN (1997)
http://www.youtube.com/watch?v=RgHhtIz2NdE&feature=BF&playnext=1&list=QL&index=1
Description: Kurt Russell and his on-screen wife become stranded in the middle of the desert after their car breaks down. A friendly trucker offers to give Russell's wife a lift … yadda yadda yadda… the next thing you know she's being held in a barn cellar for ransom.
Lesson: Don't let your attractive wife go for a little joy ride with a friendly-looking truck driver.
Only Kurt Russell would say: 'Course, if you use a CB, you gotta have a handle. I'm thinking for you, "Shit For Brains."
6. CONVOY (1978)
http://www.youtube.com/watch?v=T5RI30RJIPk
Description: Kris Kristofferson revolts against 'The Man' with a convoy of misfit truckers headed for Albuquerque, New Mexico. The movie has a cool theme song, too.
Lesson: Power to the people!
Only a trucker would say: "Well piss on ya, and piss on your law."
5. OVER THE TOP (1987)
http://www.youtube.com/watch?v=HkKLVlx4WMw
Description: Lincoln Hawk (Sylvester Stallone) is a struggling trucker who's trying to rebuild his life after the death of his wife. His son doesn't think too highly of him until he enters a nation-wide arm wrestling competition.
Lesson: Truck driving won't get you anywhere with a son that hates you. Entering a national arm wrestling competition in Vegas? Now that might get you somewhere.
Only a trucker would say: "The world meets nobody halfway. When you want something, you gotta take it."
4. THE ROAD WARRIOR (1981)
http://www.youtube.com/watch?v=Gdv5EtZQ6jg
Description: Mel Gibson isn't a trucker per se, but in this film he has to save a gas-rich, rag-tag community by driving an oil truck through a band of post-apocalyptic bandits patrolling the Australian wastelands.
Lesson: Before Mel Gibson was the crazy, anti-semantic old man, he was THE ROAD WARRIOR.
Only The Road Warrior would say: "Two days ago, I saw a vehicle that would haul that tanker. You want to get out of here? You talk to me."
RELATED:  India Outsourced: Trends from the Outsourcing Hotspot
3. SMOKEY AND THE BANDIT (1977)
http://www.youtube.com/watch?v=UACtATttjEk
Description: Bandit and Cledus, two truck-driving southerners, take a dare to transport beer across state lines and in the process Bandit (Burt Reynolds) picks up a runaway bride who also happens to be the future daughter-in-law of Sheriff Buford T. Justice.
Lesson: Prohibition couldn't have been that bad because bootleggin' booze looked like the best day job ever.
Only a trucker would say: "For the good old American lifestyle: For the money, for the glory, and for the fun... mostly for the money."
2. BIG TROUBLE IN LITTLE CHINA (1986)
http://www.youtube.com/watch?v=Bne59d3GtjI
Description: For those keeping score at home this is Kurt Russell's second appearance on this list. Although it's No. 2, there isn't a better truck driver than the ol' Jack Burton. It's too hard to explain the premise for Big Trouble in Little China so just add it to your Netflix queue and thank us later.
Lesson: Don't mess with Jack Burton or the infamous Porkchop Express (JB's truck).
Only a trucker would say: "Just remember what ol' Jack Burton does when the earth quakes, and the poison arrows fall from the sky, and the pillars of Heaven shake. Yeah, Jack Burton just looks that big ol' storm right square in the eye and he says, "Give me your best shot, pal. I can take it."
RELATED: The Top 10 Logistics Companies in the World
1. BLACK DOG (1998)
http://www.youtube.com/watch?v=U-LswRnR-9U
Description: The Greatest Trucking Movie of All Time.
Lesson: RIP Patrick Swayze
Only a trucker would say: "I'm going to deliver that truck and NOTHING is going to get in my way."