Tesla Posts Record Quarter Despite Supply Chain Disruption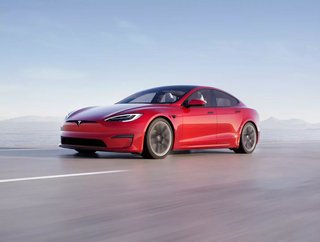 Tesla eclipsed its Q2 with record net earnings and says its handling of supply chain disruption is "unparalleled in the automotive industry"
Tesla says it has been able to navigate supply chain disruption in a way that is "unparalleled in the automotive industry" as it posted record quarterly net earnings. 
The electric vehicle manufacturer, headed by CEO Elon Musk, made $1.62bn in its third quarter, eclipsing its previous record of $1.14bn, made during Q2 of this year. But growth was partially offset by "additional supply chain costs" and an impairment of $51m associated with its investments in Bitcoin. 
The company previously stated it had 241,300 EVs during the period, ended 30 September, but admitted global strains on the supply chain had made the feat difficult. 
"A variety of challenges, including semiconductor shortages, congestion at ports and rolling blackouts, have been impacting our ability to keep factories running at full speed," the company said in a statement to shareholders. 
"In Q3, we saw a continuation of global supply chain, transportation and other manufacturing challenges. We continue to run our production lines as close to full capacity as conditions allow," it added. 
Semiconductor Woes Continue to Slow Automakers 
Despite shortages and port bottlenecks, Tesla said its handling of the disruption was unsurpassed in the automative trade.
"We believe our supply chain, engineering and production teams have been dealing with these global challenges with ingenuity, agility and flexibility that is unparalleled in the automotive industry," Tesla said.
Elsewhere in the trade, Honda, Nissan, and General Motors reported declining sales in the US for the same period. All of them were hit by shortages of key manufacturing components, they said, which left sales teams low on available stock, and consumers with less choice.
The chief concern remains the continued lack of semiconductor chips on the market, with no feasible method of ramping up output to fill the immediate shortage. Intel CEO Pat Gelsinger said earlier this year that though the market was shifting to address demand "it could still take a couple of years for the ecosystem to address shortages of foundry capacity, substrates and components". 
The Japanese government has announced plans to revitalise its chip foundries, with top officials backing a foreign outreach programme to convince semiconductor manufacturers to build new production capacity in Japan.