Qatar Executive to exhibit at leading business aviation show in Dubai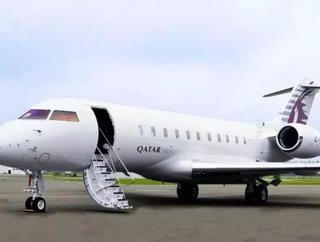 Follow @SamJermy and @SupplyChainD on Twitter.Qatar Executive, the corporate jet division of Qatar Airways, is once again taking part in the Middle East...
Follow @SamJermy and @SupplyChainD on Twitter.
Qatar Executive, the corporate jet division of Qatar Airways, is once again taking part in the Middle East's leading business aviation show MEBA in Dubai.
The prestigious three-day show will take place at the Dubai World Central Al-Maktoum International Airport from 8 to 11 December, giving Qatar Executive the opportunity to showcase its brand-new Bombardier Global 5000 Vision, which features one of the widest and most spacious cabins among super-large business jets flying today.
Qatar Executive's Global 5000 Vision features an elegant two cabin configuration with a separate galley, allowing discrete service and maximum comfort for up to 13 passengers.
Qatar Airways Group Chief Executive, Akbar Al Baker, said: "Since its inception five years ago, Qatar Executive has risen to be a leader in air chartered services for individuals, families, businesses, corporations and governments alike, and continues to exponentially grow to provide guests a differential level of service and convenience.
"As part of Qatar Airways, one of the world's leading airlines, Qatar Executive's guests are assured an exemplary and personalised level of service. It is therefore of the utmost importance that our fleet of private jets and service on board is of the highest and most luxurious quality in the world."
Doha-based Qatar Executive will use the event to promote its growing business aviation service portfolio and raise interest for its new General Aviation Terminal, which is currently being constructed at the new Hamad International Airport and is set to open in the first half of 2015.
The new state-of-the-art facility will exclusively cater to business jets and promises to be a beacon of luxury design, refined customer service and innovative travel technology in order to meet the requirements of VIP travellers.
The company's highlights will be promoted against the background of Qatar Airways' recent ground-breaking agreement with Gulfstream for the order of up to 20 aircraft, including Gulfstream's all-new G500 and the G650ER. The Memorandum of Understanding, signed last month, marks the beginning of a new relationship between Qatar Airways and the jet manufacturer and signals a next step for Qatar Executive's relatively young and buoyant history.
Executive Vice President of Qatar Executive, David Edwards said: "MEBA is a key industry event for us and provides the perfect platform to promote our growing service portfolio to a wide audience including business leaders, government officials and individuals interested in private charter aircraft. We look forward to a productive show, plenty of networking and strengthening relationships with our customers and business partners."
Having recently celebrated its 5th anniversary, Qatar Executive will further use the show to promote not just its charter operation, but also its Maintenance, Repair and Overhaul facility in Doha. As a Bombardier Authorised Service Facility (ASF) in the Middle East, Qatar Executive holds a wide range of maintenance approvals, such as from the Qatar Civil Aviation Authority (QCAA) as well as EASA Part 145 Line and Base certification to support European and Qatari-registered Bombardier aircraft.
In addition, Qatar Executive has regulatory approvals from the Bahrain Civil Aviation Authority as well as the Cayman Islands to conduct maintenance services for Bombardier Challenger 604, 605 and Global series aircraft. 
Founded in 2009, Qatar Executive today operates a wholly-owned all-Bombardier fleet of eight aircraft, comprising three Challenger 605s, four Global 5000s and one Global XRS; a number set to grow in the near future when the new Gulfstream aircraft will join the operation.
In addition, Qatar Executive has a growing aircraft management fleet, providing services to a number of high net worth individuals in the region.
For more information on the division, please visit: www.qatarexec.com.qa