Five of Qatar Airways fleet are on display this week at Le Bourget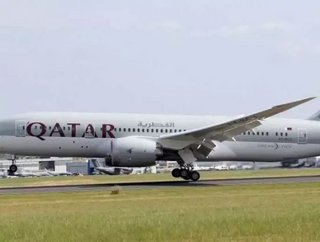 Qatar Airways has showcased its latest generation fleet on the opening day of the Paris Air Show with five aircraft on display. As one of the worlds le...
Qatar Airways has showcased its latest generation fleet on the opening day of the Paris Air Show with five aircraft on display. 
As one of the world's leading and most anticipated aviation events, the Paris Air Show takes place this week at Le Bourget, Paris and provides the world's aviation industry the opportunity to demonstrate to visiting trade, media and aviation enthusiasts alike, with the very best and latest advancements in the industry.
Notable VIP dignitaries were also present during day one of the show. Qatar Airways Group Chief Executive, His Excellency Mr. Akbar Al Baker, met with the President of France, Mr. François Hollande, as he viewed the aircraft on display, and Ms. Violeta Bulc, European Commissioner for Transport, who were provided with an exclusive tour of the Qatar Airways A350 XWB.
Qatar Airways is taking pride of place this year at the show and is displaying five of its aircraft, the A380, A350 XWB, A320, A319 and a Boeing 787 Dreamliner, the first time any airline has displayed this many aircraft. 
With bespoke, highly-customised interiors, the airline's range of aircraft drew crowds gathering to see the extraordinarily wide range of the aircraft on display, in particular two of the latest entrants into the Qatar Airways fleet, the A350 XWB and the A380. The A380 entered service with Qatar Airways last autumn and Qatar Airways received the A350 XWB as Global Launch Customer in December.
RELATED READS: Qatar Airways Cargo to launch freighter services to Los Angeles
Qatar Airways expands code-share agreements with Cathay Pacific and Japan Airlines
Qatar Airways Group Chief Executive, His Excellency Mr. Akbar Al Baker, said: "It is a proud moment to see five Qatar Airways aircraft on static display and to witness first-hand the welcome they received from the visiting crowds, all of whom wish to see the very latest generation aircraft, partnered with the Qatar Airways signature five-star service.
"The Paris Air Show provides the opportunity for the aviation industry to demonstrate to the world the latest advancements made in our field, many of which can be seen on display here this week showcased with the Qatar Airways livery."
The A350 XWB, which entered service in January and now flies double-daily to Frankfurt and will fly daily to Munich from October this year, is also being rolled out across three daily services to Singapore this summer. The aircraft immediately drew the attention of gathering media and aviation enthusiasts on day one of the show, all keen to tour the aircraft and see the best of Qatar Airways' latest five-star hospitality offerings matched with the latest generation aircraft design. Qatar Airways remains the only airline in the world flying this next generation aircraft. 
The 517-seat A380 superjumbo comprising of First, Business and Economy Class over two decks, is the largest passenger jet in the world, and currently flies to Bangkok, Paris and London from Doha in the State of Qatar. The new First Class A380 features a seat with a 90-inch pitch that transforms into a fully-flat bed and has up to 2,000 entertainment options displayed on individual HD 26-inch television screens.
Qatar Airways' Boeing 787 Dreamliner has a two-cabin configuration, comprising of 22 seats in Business Class and 232 Economy Class seats with a class-leading standard of comfort on board, including individual 10.6 inch television screens for all Economy Class seats and an award-winning food and beverage service.
The A320-200 on display has 12 Business Class seats, 132 Economy Class seats and on-demand audio video at every seat. Qatar Airways is in the middle of a major investment programme upgrading its A320 aircraft to include 180-degree lie flat-beds, new 15.4 inch smart monitors and touch-screen remote control handsets as well as power, USB ports and connectivity for smart devices in Business Class.
The Airbus A319 all Business Class aircraft, which flies daily from Doha to London Heathrow, also proved a popular attraction on day one of the show. This aircraft is configured with a single aisle, 2-2 seating configuration, offering 40 premium Business Class seats and the experience of what feels like a VIP jet. Qatar Airways' A319 Business Class seat has one of the highest specifications for Business Class travel of any airline, with wide seats that recline into fully-flat beds.
Qatar Airways has seen rapid growth in just 18 years of operation, to the point where today it is flying a modern fleet of 160 aircraft to 146 key business and leisure destinations across Europe, the Middle East, Africa, Asia Pacific, North America and South America.
Qatar Airways is a member of the oneworld global alliance. The award-winning alliance was named the World's Best Airline Alliance 2014 by Skytrax for the second year running. Qatar Airways was the first Gulf carrier to join global airline alliance, oneworld, enabling its passengers to benefit from more than 1,000 airports in more than 150 countries, with 14,250 daily departures.
For more information, visit www.qatarairways.com