Emirates SkyCargo supports Philippine global export growth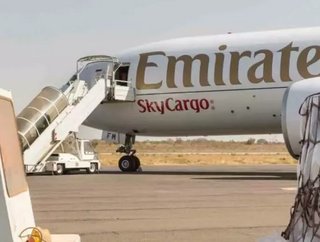 Follow @SamJermy and @SupplyChainD on Twitter.Emirates SkyCargo continues to witness increased demand for freight capacity from the Philippines, having...
Follow @SamJermy and @SupplyChainD on Twitter.
Emirates SkyCargo continues to witness increased demand for freight capacity from the Philippines, having exported 500,000 kg of tuna to Europe and the Middle East last year. 
The freight division of Emirates transported the fish from Manila to various cities including Geneva, Amsterdam, London, Frankfurt, Milan, Rome, Zurich, Oslo and Dubai. According to the Philippine Statistics Authority (PSA), tuna exports recorded an annual growth of 24.7 percent in 2014. 
The Philippines' tuna industry has grown exponentially over the past two decades, with General Santos City, the country's southernmost city, hailed as the tuna capital of the world in 2014; and Mindoro,  an island located off the coast of Luzon, fast gaining popularity as a major tuna supplier in the country. 
Because of this growth, demand for Philippine tuna has increased, and carriers like Emirates SkyCargo, with its global network and capability, are able to support this demand. 
Rusela Rubin, Cargo Manager at Emirates SkyCargo Philippines, said: "Perishable products, especially fresh tuna, require efficient air transport links to reach international markets on time. We have witnessed an increase in demand and we foresee that it will grow further this year."
According to the National Economic Development Authority (NEDA), the Philippines outperformed other Asian countries and emerged as the top exporter in 2014, ahead of China, Vietnam, and South Korea.
Apart from tuna, Emirates SkyCargo listed nearly 150,000 tonnes of cargo exports from Manila to various destinations. This number is expected to increase further in 2015. 
Keeping tabs on exports, imports 
In 2014, Emirates SkyCargo carried the most Philippine exports to Europe and the Middle East. But the largest growth export market from the Philippines was to Washington, which clocked in a 490.12 percent increase compared to 2013. 
Other cargo for export from the Philippines includes Ralph Lauren garments to Milan, lenses from the Essilor plant in Bataan to Paris, solar panels to Amsterdam, watches from Timex Cebu, electronics, time critical automotive parts, as well as components and integrated circuits from companies such as Nec Tokin, Yazaki Torres, Toshiba Philippines and Vishay Philippines. 
In terms of imports, Emirates SkyCargo carried approximately 7.3 million kilograms, averaging 18,000 kg per flight. 
According to Rubin, top on the list of imports are personal effects from overseas Filipino workers based in the Middle East. These are usually packages for loved ones filled with items such as electronics and clothing. 
Emirates SkyCargo also transports popular items such as designer bags, Zara garments from Zaragoza in Spain, and pharmaceutical products from Germany. 
Emirates' services to and from the Philippines 
Emirates began operating three daily flights in January 2013, allowing Emirates SkyCargo to function to its fullest. Rubin said: "It was like operating a mini-freighter because this meant we could carry as much as 54,000 kg a day."
But since the third flight ceased, Emirates SkyCargo has had to decline taking some additional shipments. "We are now struggling with space constraints. Clients have been enquiring about the return of the third frequency because some of them have been using this flight due to its convenient connection to flights in the U.S. and many of Emirates' 40 European and 26 African destinations. This flight has been extremely valuable to the Philippines." Rubin concluded.