Top 10 supply_chain_digital
Top 10: Places You Shouldn't Park the Company Truck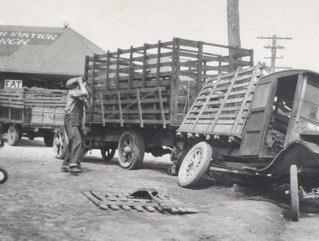 10. NEAR A GOLF COURSE Have you ever been to a golf course? The majority of people are god awful. To their credit, though...
10. NEAR A GOLF COURSE
Have you ever been to a golf course? The majority of people are god awful. To their credit, though, they are relentless in their pursuit to get better. You are just asking for one of their hundred errant shots on the day to come crashing through your windshield. Who do you think is going to pay for that?
9. AT THE US-MEXICO BORDER
Assuming you don't get pulled over in your truck and questioned by Border Patrol under the suspicion of being a drug runner, then there's a likely chance that once parked, one of the cartels is going to hijack your truck for that very reason. Good luck getting home, amigo!
8. AT A STRIP CLUB
Will you have a good excuse for your boss when a customer calls to complain that they saw a company truck parked outside of the Bunny Ranch at 10:30 in the morning? You better. Just tell the head honcho that you had a doctor appointment with Destiny. Dr. Destiny sounds pretty legit.
7. IN THE BOSS'S RESERVED SPOT
Don't go out of your way to find new and creative ways to piss off your boss. That is to say, don't park in his specially marked spot in the morning, no matter how funny you think it might be.
6. AT A BAR
What do people do at a bar? Drink. What do people get busted for when they leave a bar in a car? Drinking and driving. Don't be the company goat that gets busted for a DUI in a company truck. A good way to avoid the temptation of drinking on the job is to never park near a bar. Well … maybe one won't hurt…
5. IN YOUR RIVAL'S PARKING LOT
Imagine yourself as a UPS truck driver who's getting ready to leave the company lot, but at the last second you catch the glimpse of a parked FedEx truck. What's your first reaction going to be? That's right, coming up with a creative prank to make that driver's life just a little bit harder.
4. WHERE YOU CAN SEE GRAFFITI
If you park your truck and are amazed at all of the graffiti on the walls and signs in the area, there's a good chance that one of those little taggers already marked your truck up with spray paint. And nobody, especially your boss, wants to deal with getting that crap removed.
3. OUTSIDE OF THE CEO'S HOUSE
If the first thing your CEO sees when he pulls onto his street is one of his own company trucks, there is a likely chance this thought will cross his mind: My wife is getting down with one of the delivery boys. You better have a damn good excuse when he comes barging in the door. Uhh … she tripped?
2. IN THE WRONG PART OF TOWN
Sometimes a delivery to the wrong part of town (i.e. the ghetto) is unavoidable, so the best thing you can do is get in, out and on your way as fast as possible. Thieves are crafty SOBs and will take any opportunity they can to steal your cargo. Be aware of your surroundings and don't fall for any distractions.
1. ILLEGALLY
Nothing spells 'leave of absence' like calling up your manager to tell him that you just received a parking ticket in the company truck. Has anything ever good come from parking your truck illegally, even if it's only for a minute? No. The fine meter maids of the world hunt illegal parkers like you down for sport. They never give breaks, even if you plead with them for a break "just this once." They will slip the ticket under your windshield wiper with a certain sense of accomplishment, and you get to send $50 of your hard-earned money to the local courthouse. Your coworkers will never let you live this one down either. So don't park near signs that say NO PARKING. Don't park in handicapped zones. And you should certainly be aware of those days designated for those pesky street sweepers. Nobody wants a ticket, especially in the company truck.