Supply Chain Risk Management
China policy sees Apple CEO Tim Cook go from hero to zero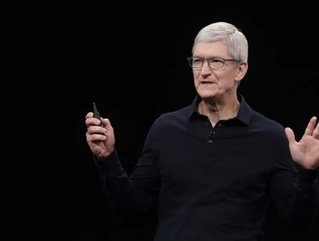 Pre-Covid, Apple CEO Tim Cook's China-based just-in-time model gave the company wings. Post-Covid, however, those wings have been clipped, leaving Cook facing intense pressure from investors and US politicians to decouple from China and diversify product assembly to Vietnam and India.
With his eggs-in-in-one-basket China policy, Apple CEO Tim Cook is under intense pressure to loosen ties with China and diversify its manufacturing base
If Apple and China were a couple, then right now Apple would be saying it's a loveless marriage but that it is trapped – because of the kids.
Apple first fell for China around 15 years ago, and it was a whirlwind romance. As Patrick McGee writes in the Financial Times, back in 2007 Apple "came from nowhere as a technology retailer to top the annual ranking of the world's best-run corporate supply chains".
How could this be, he asks, when prior to 2007 Apple was notoriously hopeless at supply? McGee points out that the received wisdom back then was that Apple's warp-speed rise up the supply chain league table was due to it outsourcing production to China.
But, he says, we now know it was doing far more than mere outsourcing – it was "building a supply and manufacturing operation of such complexity, depth and cost that its fortunes have become tied to China in a way that cannot easily be unwound".
And there is little doubt Apple would love to unwind its relationship with China, whose economy over the past three years has been battered by extreme weather and an epic property slump. Then there are the self-inflicted wounds relating to Covid.
For two years, China was subject to zero-tolerance policies on Covid, that saw manufacturing and port activity paralysed by lockdowns.
The endless lockdowns began to foment civil unrest, and Apple found itself at the centre of this storm when Beijing imposed a seven-day lockdown in Zhengzhou, which is home to the massive iPhone assembly facility run by Foxconn, the Taiwanese multinational electronics contract manufacturer.
Zhengzhou lockdown hit iPhone exports
The Zhengzhou lockdown meant Apple shipped far fewer iPhone 14 Pro and iPhone 14 Pro Max models than it expected to. Worse, many of the iPhone facility's estimated 20,000 migrant workforce walked out, desperate to return home rather than be locked down in a strange city.
Then, at the end of 2022, the stir-crazy Chinese people began protesting against Premier Xi Jinping's zero tolerance policies, prompting a screeching U-turn from Xi, who lifted Covid restrictions in a heartbeat
The result? With low Covid vaccination rates – and a Chinese-made vaccine that's ineffective against the omicron strain – Covid swept across China's population of 1.4bn, hitting manufacturing and port activity every bit as hard as the lockdowns did.
Little wonder, then, that Apple is desperate to leave China. But the kids …
How did it come to this? How did Apple find itself so deeply in bed with the Chinese? The answer lies with one man: Tim Cook.
Cook joined Apple as supply chief when the company was struggling, and he turned things round with a just-in-time (JIT) inventory model that most of the rest of the retail world ended up copying.
Back in 2011, when Apple founder and CEO Steve Jobs was terminally ill with pancreatic cancer, Jobs already knew that his Chief Operating Officer, Cook, was the best person to take the company forward.
Tim Cook never let demand outstrip supply
Why did Jobs choose Cook? Because it was Cook who ensured Apple's phenomenal growth by never allowing the supply of its products to be outstripped by demand, even when demand was stratospheric.
Cook joined Apple in 1998, back when it was a very different company to today's behemoth. It was in decline. There was no iMac, iPod, iPhone or iPad, nor streaming services. Its product range was jaded and unfocused.
Yet less than a year after Cook joined, Apple was reporting profits. As the visionary Jobs came up with one era-defining product after another, Cook made sure they were always available, and in huge numbers. And he did so by shifting its manufacturing base from the US to China.
Cook pared back the number of supply chain vendors from more than 100 to 24, reduced the number of warehouses by half and established relationships with contract manufacturers.
Thanks to his JIT supply model Apple was able to turn over its inventory once every five days. Its ability to launch, manufacture, and ship millions of iPhones globally like clockwork - with virtually no inventory surplus - was held to be a miracle of JIT.
Tim Cook finds inventory 'fundamentally evil'
Cook loathes inventory, telling Forbes he finds it "fundamentally evil". "Inventory is like dairy products," he has also said. "No one wants to buy spoiled milk."
Pre-Covid, Cook's China-driven just-in-time model gave the company wings. Post-Covid, those wings have been clipped.
McGee writes that Cook and Apple are now under intense pressure from investors and US politicians to "decouple from China and accelerate a diversification strategy that already has some products assembled in Vietnam and India".
McGee interviewed 25 supply chain experts, including nine former Apple executives and engineers. He said that the message from these people is loud and clear – 'Apple has few viable paths out and none in the short term".
"Supply chain all goes back to one guy: Tim Cook," one former Apple veteran told McGee. "This mess is his fault."
With his eggs-in-in-one-basket China policy, Cook is running the very real risk of going from hero to zero in double-quick time