Supply Chain Risk Management
China Foxconn iPhone factory an 'albatross' for Apple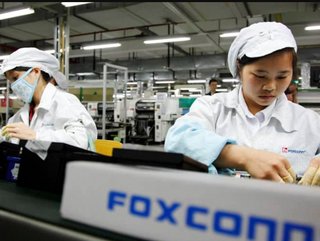 Apple's iPhone assembly plant run by Foxxconn in China has been crippled by Covid shutdowns and worker unrest, which has cost the tech giant an estimated $1bn a month in lost iPhone sales.
Multinationals with China manufacturing bases are rocked by latest Covid outbreak, with pandemic & worker issues costing Apple $1bn a week in iPhone sales
The latest Covid outbreak in China has left manufacturers and retailers fearing even more disruption to supply chains, with Apple already declaring that the Omicron outbreak will impact its latest line up of iPhones.
Last week, the Chinese authorities imposed a seven-day lockdown of the area that houses Apple's iPhone assembly facility in the central Chinese city of Zhengzhou.
In recent weeks, leading global companies including carmakers and tech giants have experienced huge disruption to their businesses, as China doubles down on its zero-Covid approach.
There is acute concern, particularly among electronics companies, that China's stringent zero-Covid policy will dampen sales in the holiday shopping season – traditionally a strong-performing period.
For its part, Apple has admitted it is "currently operating at significantly reduced capacity," due to Covid curbs.
The company added it expects "lower shipments for its iPhone 14 Pro and iPhone 14 Pro Max models than previously anticipated", adding that "customers will experience longer wait times to receive their new products".
China – the world's second-biggest economy behind the US – reported 28,000 new Covid cases last week alone, with outbreaks affecting Beijing, the southern manufacturing hub of Guangzhou and the metropolis of Chongqing in the south west of the country.
Apple's iPhone manufacturing problems run deeper than those of other multinational electronics companies. This is because the company's Zhengzhou production plant has been struggling since mid-October with Covid-related issues, which have sparked panic and anger among its largely 20,000 migrant workforce.
Foxconn iPhone factory 'costing Apple $1bn a week'
The Zhengzhou iPhone facility is run by Foxconn, the Taiwanese multinational electronics contract manufacturer.
Reuters recently reported that bouts of worker unrest at Foxconn would see a reduction in November shipments from the flagship iPhone plant, after thousands of employees quit.
The walkout at the world's largest iPhone factory was caused after strict Covid restrictions fuelled discontent among workers, which saw many placed into isolation. Those who weren't locked down fled the plant, desperate to return to their home regions.
Short on staff, Foxconn offered bonuses to workers to encourage them to return. But protests broke when workers said management had reneged on their promises. Violent scenes were filmed, showing workers clashing with security officers wearing hazmat suits. The workers were eventually offered cash to quit and leave.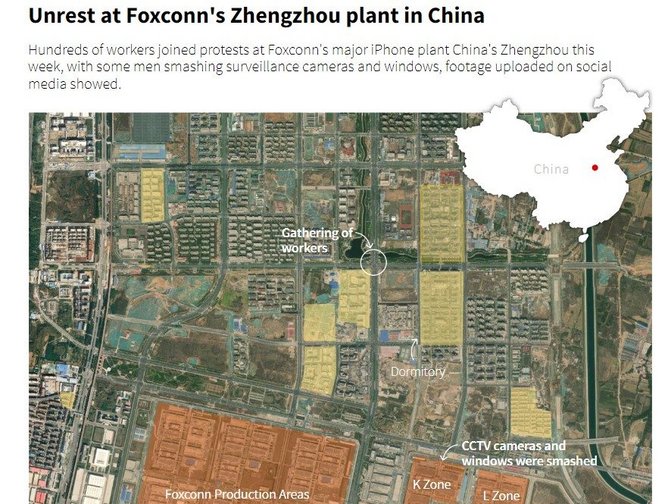 IMAGE: REUTERS GRAPHICS
Analysts say that the increasingly tense situation between Foxconn and Apple is symptomatic of crumbling relations between China and non-Chinese companies who no longer see the country as an optimal location for manufacturing.
Daniel Ives, Managing Director of Equity Research at Wedbush Securities, told CNN Business that the ongoing Foxconn production problems was an "albatross" for Apple.
"Every week of the shutdown and unrest is costing Apple roughly $1bn in lost iPhone sales," Ives added. "Roughly 5% of iPhone 14 sales are off the table due to these brutal shutdowns in China.".
It is expected that the latest China Covid outbreak – as well as its issues with controlling millions of its migrant workers – will speed up the pace of diversification away from China, to countries like India.