Tesla blames China lockdowns & supply disruption for Q2 woes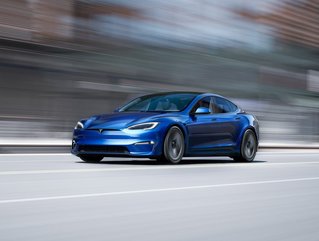 Tesla delivered 16,162 units of its Model S (pictured) and Model X in Q2 2022 - a significant drop on previous quarters.
Tesla deliveries down by almost 20% on record quarter, as the e-car maker's Shangai Gigafactory is hit by lockdowns, and supply disruption & inflation bite
Tesla's deliveries of new cars for the quarter ending in June were down by almost one fifth on its highest ever quarterly figure, with the company blaming the fall-off on supply chain disruption and China's ongoing series of Covid-19 lockdowns for the fall-off.
Tesla delivered 254,695 new cars over the three months ending in June, with analysts expecting a total of around 295,000. This is 17.7% down on the record 310,048 new cars delivered in Q1 2021. It delivered 238,533 Model 3 units and 16,162 units of its Model S and Model X.
The company cited lost production days at its Tesla Giga Shanghai facility as the primary cause of production problems. The Gigafactory is responsible for the final assembly of the Tesla Model 3 and Tesla Model Y, and Tesla lost 22 days of production in Shanghai, thanks to China's zero tolerance approach to Covid-19, with a series of lockdowns hitting Shanghai in the Q2 this year.
Shanghai lockdowns hit Tesla production levels
A report from leading supply chain insights firm Interos found more than 20,000 Shanghai-based Tier-1 suppliers to US firms were shut down in late March. Interos said that the figure was as high as 95,000 when Tier-2 suppliers were included, and around 203,500 at the Tier-3 level.
Earlier in the year, Maersk also bemoaned pandemic-related supply chain chaos in Shanghai, saying that, although the port of Shanghai remained open, trucking services in and out of the city were down 30 and that all Shanghai warehouses were closed from 28 March to 1 April.
As well as problems in China, Tesla said "general supply chain disruptions and surging input costs" also hit production levels, forcing the group to both boost current model prices and look to near-term cost-cutting as it heads into the final months of the year.
The price of nickel - a key component in EV batteries - has risen around 30% so far this year, while the price of battery-grade lithium carbonate is up 60% on early-2021 levels.
In April, Tesla told investors "the inflationary impact on our cost structure has contributed to adjustments in product pricing, despite continued focus on reducing our manufacturing costs where possible".

Tesla has avoided worst of microchip shortage
Tesla's problems are mirrored throughout the automotive industry. In late June this year, General Motors said microchip shortages and supply chain problems said 96,000 vehicles were missing components that will delay their sale.
Unlike most automotive manufacturers, Tesla has to date avoided the worst of the ongoing chip shortage
Tesla's 2021 Q4 results defied widespread problems, with the company delivering a record 308,600 vehicles, and announcing deliveries in 2021 were up 87% on lockdown-hit 2020 levels.
Unlike legacy automotive companies, who produce vehicle models that stretch back over generations, Tesla builds vehicles from scratch, rather than adding parts piecemeal over decades.
Tesla CEO Elon Musk said that, thanks to this, it has been able to keep production lines running, by relying on in-house software engineering expertise. He also said this meant Tesla could quickly rewrite the software needed to integrate alternative chips into its vehicles, when faced with chip shortages.