Supplier collaboration platform Tradeshift partners with Quyntess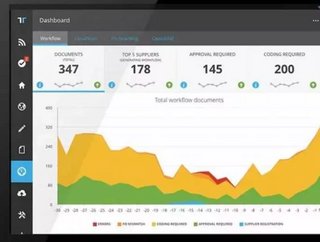 Tradeshift, the fastest growing supplier collaboration platform, today announced its partnership with Quyntess, a supply chain management (SCM) solution...
Tradeshift, the fastest growing supplier collaboration platform, today announced its partnership with Quyntess, a supply chain management (SCM) solutions company. Quyntess has built three apps on Tradeshift's open platform. These apps will enable businesses to manage direct spend through order collaboration, e-logistics, and advanced inventory collaboration capabilities.
The Tradeshift platform with Quyntess' apps are the industry's first all-in-one solution to help customers fully integrate their direct and indirect spending. Customers will have increased visibility into previously unknown areas of their business' spending habits and can now manage all of their supplier information and interactions in one place, including the long tail of their supplier base.
"An open business network truly drives supply chain partner collaboration because it allows them to discover new ways of doing things, many of which are simply impossible without the network such as handling both direct and indirect spend on a single platform," said Rob van Ipenburg, CEO, Quyntess. "Our partnership with Tradeshift enabled us to use their platform to build our SCM apps in less than five weeks."
Many businesses, such as discrete manufacturing companies, have supply chain models that are connected to each business partner separately. This results in a fragmented system and business model and requires a company to make tradeoffs between inbound, production and outbound processes. Internal and external management processes are complex in this separated model due to workers having to access multiple systems in order to obtain necessary information. Tradeshift's platform with Quyntess' apps address these challenges to help customers reach every business partner within a single, connected network connection to manage direct spend expenditures with collaboration and real-time access to information.
The Quyntess apps enable procurement, supply chain and logistics users to get better visibility into inbound shipments and expected time of arrival. They can lower their costs and improve efficiency with real-time order statuses and can improve relationships with their suppliers through integrated collaboration functionality. The expanded capabilities are ideal for customers with complex supply chains and important supplier relationships in discrete manufacturing.
"Quyntess adds functionality for direct materials procure-to-pay, which is often one of the more complex procurement processes," said Bill McBeath, Chief Research Officer, ChainLink Research. "This is another step towards Tradeshift's vision of an ecosystem of partner apps that can cover 100% of spend and integrate 100% of suppliers with a broad and rich spectrum of integrated best-of-breed capabilities."  
Tradeshift's open platform supports a growing ecosystem of partners that provide  supply chain applications that help customers meet the growing demands placed on their supply chains. Quyntess is among many partners and app developers that share Tradeshift's vision of a business network connected through a cloud platform that allows customers to boost their competitiveness through greater agility, collaboration, and visibility.
"Monolithic ERP systems and their lengthy deployment cycles are unfit for today's hyper-connected businesses," said Rinus Strydom, VP Alliances & Solutions Consulting, Tradeshift. "Enterprises need to quickly adapt to changes coming their way. As such, they need solutions that add capabilities quickly. Our open platform supports an ecosystem of supply chain apps from partners such as Quyntess, which gives customers one solution in the cloud for all their source-to-pay processes."  
The combination of Tradeshift and Quyntess will allow supply chain executives to meet their goals of dramatically boosting spend under management, including direct, indirect and services.