GlobalWafers pauses US chips plant over Congress inaction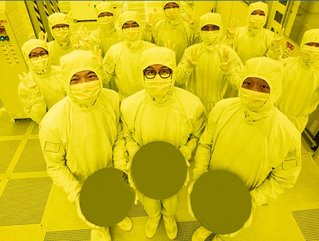 GlobalWafers' planned plant in Texas would be the country's largest silicon-wafer site.
World's third-largest semiconductor-wafer manufacturer GlobalWafers 'pauses plans for new US plant' until Congress makes $52bn available through CHIPS Act
The world's third-largest maker of semiconductor wafers, Taiwan's GlobalWafers, has announced plans to build a US$5bn factory in the US, but only if the US government helps pay for it.
GlobalWafers is the world's third-largest producer of silicon wafers for chipmaking. Its planned plant in Texas would be the country's largest silicon-wafer site. The plant is slated to begin production from 2025, the Taiwanese company said.
However, the business news TV channel, CNBC, reports that GlobalWafers' CEO Doris Hsu told the SelectUSA investment summit on June 27 that the company's investment in the plant is contingent upon Congress passing the CHIPS Act. The Act will make $52bn available in funding to US-based companies, to invest in the domestic chip industry.
It follows Intel's announcement that it was halting construction of its latest $20bn factory in Ohio until Congress funds the CHIPS Act.
The Act is designed to shore-up America's flagging chip industry, to counter-balance China's growing semiconductor capabilities. The majority of global semiconductor manufacturing is based in Taiwan, an independent island over which Beijing claims sovereignty, referring to Taiwan as 'Chinese Taipei'.
But although the legislation was proposed in January 2021, almost 18 months on, Congress is yet to formally allocate any budget to finance the bill.
GlobalWafers plant will service US chip production
Should GlobalWafers' plant plans go ahead, it will allow the company to service growing US-based demand, as US businesses look to reshore chip production from Asia.
Samsung was among the first to announce such plans, in the shape of a new $17bn microchip manufacturing plant in Texas. Its plant will be built on a 1,2000-acre site near Austin, where Samsung has an existing facility.
Although the CHIPS Act originally applied only to domestic companies, in December 2021 Congress caved in to pressure from US-based semiconductor industry organisation SEMI, to open CHIPS funding to any company seeking to invest in the US.
Following that, the Taiwan Semiconductor Manufacturing Company (TSMC) announced it planned to cash-in on US government largesse, by offshoring' a new semiconductor plant, from Taiwan to Arizona.
According to Reuters, TSMC is investing $12bn in the plant, and hopes to compete for Federal semiconductor subsidies. Long term, TSMC says it would like to build "up to six factories over the next 10-15 years".
The move to US-based chip production has not only been prompted by geopolitical concerns, but also ongoing global semiconductor shortages that continue to dog everyone from games console makers to car manufacturers.
The situation is unlikely to improve any time soon, with Intel CEO Pat Gelsinger warning that microprocessor shortages are likely to run into 2024, following war in Ukraine and China's zero-tolerance approach to Covid-19, which continues to hobble manufacturing.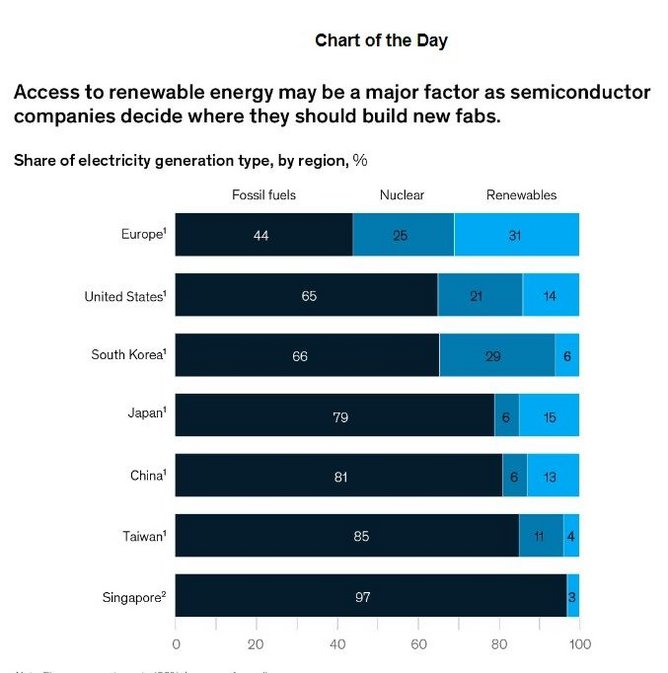 A McKinsey chart showing what regions and countries offer the greatest access to renewable energy - a key consideration for firms looking to shorten their microprocessor supply chains.