Supply Chain Risk Management
Is chip-manufacturing sun setting on East, rising in West?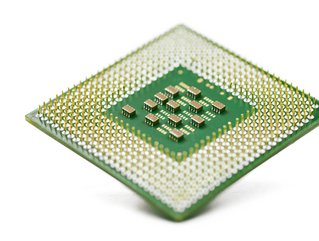 As microprocessor manufacturers report record revenues, the US government sinks $52bn into reshoring chip manufacturing, to avoid future chip disruption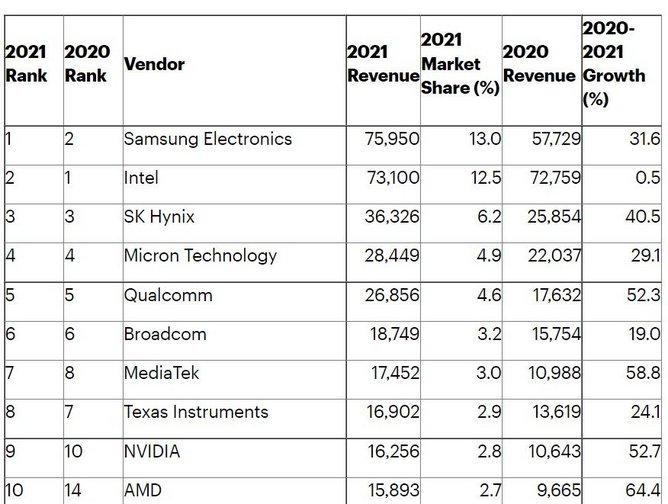 According to preliminary results by Gartner, worldwide semiconductor revenue in 2021 increased by more than a quarter (25.1%), passing the US$500bn mark for the first time.
Actually, 'passing' is too feeble an adjective to describe the scale and speed of rising microchip industry profits. 'Obliterating' is nearer the mark, because the final total was a monumental $583.5bn.
This is a monstrous sum of money. To appreciate just how monstrous, an 18-wheel truck can carry around 80,000 pounds in weight, which is the equivalent of $3.5 billion dollars.
So if chip makers were to transport their 2021 profits to the bank by road they would need a convoy of 166 18-wheeler juggernauts. Of course, they'd be unable to find any drivers for them, but that's another story.
Take a look at the table at the top of this story, which details the 2021 results for chip makers, in terms of growth, market share and profit.
Samsung profits up by £1.8bn in 2021
You'll see Samsung Electronics tops the revenue league table, with reported revenue in 2021 of US$7.6bn, an increase of $1.8bn (32%) on the 2020 figure.
You'll see all bar one chip maker enjoyed ridiculous levels of growth. US-based AMD - maker of chips for both business and consumer markets - grew by an almost inconceivable 64%, its 2021 revenue hitting $1.6bn, compared to $0.8bn in 2020.
The only chip maker not to have enjoyed significant growth was Intel, because it has been unable to capitalise on high demand for new PCs as it can't make a laptop with Intel chips alone. Yet this did not stop it enjoying its best year on record.
The overheating chip market has been caused by a lockdown-sparked surge in online orders for laptops and smartphones, as working from home became commonplace. There was a similar rush for games consoles.
Chip makers and sea freight firms clean up
The breathtakingly high revenues this has generated for chip makers mirror events from another sector: sea shipping.
Recently, Supply Chain Digital reported that the world's biggest liner, Maersk, had upgraded its projected profits for 2022, to US$18.9bn.
On the face of it, the steroid-bloated results we're seeing in chips and ships appear to be identical situations - it's just the law of supply and demand playing out on a global scale. But that's where the similarity ends.
Were it possible to reshore, or near-shore, sea shipping in order to mitigate the pain of future disruptions, then businesses would do so. Similarly, companies would launch their own shipping lines if it made financial sense. But it doesn't.
The same is not true of microprocessor manufacturing. This is why, in a few years' time, the US will be a chip-making nation to rival that of South Korea and Taiwan (or 'Chinese Taipei', as China insists Taiwan must refer to itself - or else.) Pre-pandemic, such a shift from East to West was unimaginable.
Yet this is the new reality. Reshoring chip production is now official US government policy. Last Tuesday (January 25) the US House Democrats unveiled legislation to increase competitiveness with China, by spending US$52bn on semiconductor production and research.
"With sky-rocketing demand it's clear the only solution to solve this crisis in the long-term is to rebuild our domestic manufacturing capabilities," the US secretary of Commerce, Gina Raimondo said of the move.
The US government's plans are already bearing fruit. In November 2021 Samsung announced plans for a new $17bn microchip manufacturing plant in Texas.
TSMC offshoring chip making to US
The Taiwan Semiconductor Manufacturing Company (TSMC) is also looking to cash in on US government largesse, by 'offshoring' a new semiconductor plant, from Taiwan to Arizona.
According to Reuters, TSMC is investing $12bn in the plant, and hopes to compete for Federal semiconductor subsidies. Long term, TSMC says it would like to build "up to six factories over the next 10-15 years".
The chips shortage has hit the automotive sector hardest, which is why US-based e-vehicle maker Tesla mass produces its chips in-house.
In tech, meanwhile, Apple has made no secret of its ambitions to develop its own 5G chips, instead of paying for those from Qualcomm.
By the time the pandemic is a speck in the rear-view mirror, the chip-manufacturing landscape will have changed irrevocably.