Containers glut signals end of sea shipping boom time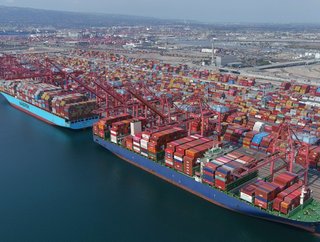 Ports worldwide are clogged with empty shipping containers as recession and a post-pandemic change in consumer behaviour take effect.
Shipping container platform Container xChange says recession & excess inventory has seen shipping prices tumble & that ports clogged with empty containers
Ports worldwide are clogged with empty shipping containers as the readjusts to economic slowdown and a post-pandemic change in customer behaviours, says a company whose digital platform helps match container supply with demand.
"There is just not enough depot space to accommodate all the containers," says Container xChange CEO Christian Roeloffs.
Roeloffs blames "a downwards shift in consumption appetites" for the glut, which he says has also been compounded by an excess of inventory among retailers.
He says the peak holiday season of goods shipments "technically did not happen this year because retailers are cautious about the high level of inventory they have on hand".
Regarding the problem of excess inventory, Nike recently admitted that it is following a policy of "aggressive markdowns" to clear apparel inventories. The company blames the inventory glut on late deliveries over the past two seasons, and earlier ordering by retailers due to strong demand and unpredictable delivery timelines.
Retail inventory glut hits container demand
It's a similar story with many other leading US retailers, including Walmart, Target, Gap and Kohl's, with companies trying to clear a glut of merchandise piling up in stores and warehouses.
Container xChange added that normalisation of container turn-around times means cargo is running smoothly again, and companies are readjusting to more-efficient turnaround times in ocean freight delivery.
The company says that, to combat full and overflowing depots, ports such as the Port of Houston have begun levying fees for empty containers sitting in terminals for more than seven days.
Many of the containers sitting in ports are empty, the company says, adding that they can be left sitting around "for weeks on end".
This clogs up ports and impacts global supply chains because of the knock-on effect it has on container repositioning and movement.
In related news, Hellenic Shipping News reports that a key shipping container index points to a sharp fall in sea shipping prices – a sure sign the industry is nomalising.
It says the Drewry Composite World Container Index has fallen to $2,773 per 40-foot container – 73% lower than the peak rate in September 2021.
The Index also shows so-called blank sailings are on the rise as the year's biggest spending period approaches. A blank sailing happens when a shipping company decides to skip a port or an entire leg of its schedule to manage changes in demand and capacity.
Drewry shows that for the period late November to early December, 14% of sailings have been cancelled across major container shipping routes.
Inflated container charges returning to pre-Covid levels
This chimes with a Q3 results warning from major shipping group Maersk that freight rates have peaked amid easing supply chain congestion and falling demand. The company told investors to expect lower ocean shipping profits.
At the height of the shipping prices boom Maersk reported it expected to earn a further US$1.8bn for the 2022 Q4 period, taking its projected total for the year to $19.8bn.
This unfathomably large sum would place Maersk in 118th position in the GDP league table, between Georgia ($18.89bn) and Mali (19.33bn).
A recent Container xChange survey showed that nearly 60% of the 200 freight forwarders, traders and shippers it canvassed say they are facing a steep fall-off in demand for containers in the face of geopolitical, economic and political turmoil.
"We know already that the market is bearish on consumer demand because of multiple factors like recessionary fears and inflationary risks," a Container xChange spokesperson told CNBC.
"So of course, there is a significant dent in consumer demand which then leads to less demand for freight and cargo, and therefore, a proportionate dent in container demand globally."
Shippers are giving containers away to reduce crowding at depots while many have resorted to blank sailings, Container xChange added.