Nike inventory surplus forces wholesale strategy rethink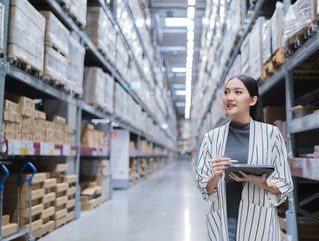 Nike faces fire sale to clear inventory glut, blamed on late deliveries for past two seasons, earlier ordering by retailers & faster-than-usual deliveries
Nike has admitted that despite strong demand, it will follow a policy of "aggressive markdowns" to clear apparel inventories, and that this was likely to impact margins this fiscal year.
"We are taking decisive action to clear excess inventory, focusing on specific pockets of seasonally late products, predominantly in apparel," said Nike's CFO Matt Friend said on the company's quarterly call.
He revealed that Inventory was up 44% companywide at the quarter's end, driven largely by a 65% hike in North America, its largest market. In North America, in-transit inventory was up 85% and amounts to 65% of total inventory.
According to RetailWire, the company blamed the inventory glut on late deliveries for the past two seasons, and earlier ordering by retailers this year due to strong demand and more-unpredictable delivery timelines. They also said transit times began improving "rapidly" in recent months.
Nike's report follows a challenging Q2 for many clothes retailers, with inventory piling up for many chains as inflation-hit consumers reign in spending.
"I hesitate to call it a bloodbath, but it's going to be ugly in terms of the amount of discounting and markdowns," Urban Outfitters CEO Richard Hayne told RetailWire during an earnings call last month.
It reports that Nike plans to tighten buys in the second half of the financial year and liquidate excess inventory more aggressively beginning in the current quarter, in the hope it can better balance inventory in 2023.
Friend added: "While we expect this to have a transitory impact on gross margins this fiscal year, we believe this cost will be far outweighed by the benefit of clearing marketplace capacity to align seasonally relevant product, storytelling and retail experiences for the consumer."
In a post on LinkedIn, Brandon Rael, Business Transformation Leader with Capgemini Invent, says: "Nike is continuing its aggressive push with their direct-to-consumer (DTC) strategies, and at the same time is in an over-inventoried situation where it has to review its wholesale partnership model.
"Nike is reevaluating its wholesale partnership model while growing its DTC retail space. Its partnerships with Foot Locker, JD Sports, and others offer Nike an opportunity to manage its inventory challenges while extending its reach to customers, via well-established retail and wholesale models.
"Foot Locker and others have done an outstanding job of adding value to the Nike brand by providing a shop-within-a-shop customer experience."