Bertschi will use UAE rail network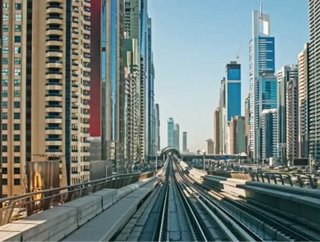 Follow @JosephWilkesWDM Swiss logistics company Bertschi has announced it has signed an agreement to use the new rail network being constructed in the...
Swiss logistics company Bertschi has announced it has signed an agreement to use the new rail network being constructed in the United Arab Emirates (UAE).
Etihad Rail, the developer and operator of the network, has signed a memorandum of understanding (MoU) with the chemicals transport and logistics specialist, which plans to use the network to transport equipment and products such as hazardous bulk liquid dry chemicals cross-border.
This will involve trips between the UAE and other Gulf countries, with a focus on Suadi Arabia.
Etihad's new rail network is a big project to connect key centres of industry and population within the UAE, and to other Gulf states such as Saudi Arabia via Ghweifat in the west and Oman via Al Ain in the east.
Etihad Rail Chief Executive officer Dr Nasser Al Mansoori said: "The UAE economy is rapidly developing, and modern rail infrastructure is a key component of this development.
"The MoU with Bertschi is in line with our commitment to provide tailor-made solutions to our customers and embodies the UAE leadership's vision to drive the country's economic growth and development.
"The agreement showcases the positive impact Etihad Rail will have on global industry players, offering them growth opportunities not only in the UAE but in the region as a whole."
Bertschi, a family owned business, has 54 subsidiaries across Europe, the Middle East, China, Russia, Turkey, South-east Asia, and the US.
It services the chemicals industry and has an annual turnover of €510M.
Michael Baechler, Bertschi Global AG Manager Business Unit Global,said: "Bertschi has made its mark worldwide in intermodal rail and short sea transport, and our experience has instilled a loyal appreciation for the value of rail transport and the benefits it offers in terms of safety, costs and efficiency.
"Through our MoU with Etihad Rail, we will be able to grow in alignment with the industries we service in the region, which are also growing, and we will ensure that we are able to provide the most seamless transport experience of our customers' goods."
Etihad Rail has signed MoUs with partners including HOYER Global Transport BV to Support Intra-GCC Logistics, Dubai-based Sharaf Logistics, Global Shipping and Logistics, Sharjah Cement Factor, and with global logistics and transportation solutions provider Aramex.
The Etihad Rail network will serve both freight and passengers and, when finished, will total 1,200km across the Emirates. It will be the first national freight and passenger railway network to connect the UAEs seven emirates.
The project will cost $11 billion and is due to be complete in the second quarter of 2018.