National Day celebrated by creating longest moving convoy of UAE Flags by prestigious companies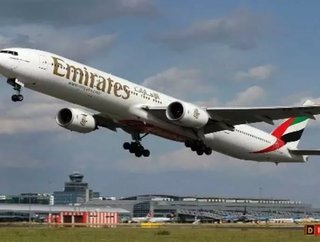 Follow @SamJermy and @SupplyChainD on Twitter.Emirates SkyCargo, Dubai Airports, Dubai World Central (DWC), together with Dubai-based Allied Transport...
Follow @SamJermy and @SupplyChainD on Twitter.
Emirates SkyCargo, Dubai Airports, Dubai World Central (DWC), together with Dubai-based Allied Transport, have created the longest moving convoy of UAE flags to commemorate the country's 43rd National Day.
The 1.3 kilometre convoy was a result of teamwork by representatives from the four companies, who together organised for 43 Allied cargo trucks to be decked out in UAE flags, planned the convoy route and driving logistics, and brought this initiative to life.
Nabil Sultan, Emirates Divisional Senior Vice President, Cargo, said: "We wanted to find a unique way to celebrate with the people of the nation on this significant day. We feel that the moving convoy of trucks, decked out with UAE flags, is a special and fitting tribute to the UAE's long legacy of accomplishments, its continuous drive towards progress, and the role that logistics plays in the country's economic success.
"We are proud to partner with leading national companies such as Allied Transport and Dubai Airports to demonstrate our commitment to the UAE and mark this special day.
"Our responsibility to the country began from day one when we started our operations back in 1985.  Today, the Emirates Group employs over 2,500 UAE nationals in a variety of key positions within the organisation, including engineering, ground services, commercial, outstation management and flight operations. This number represents 11 percent of our work force, and is the fifth largest nationality group in our company."
Majed Al-Joker, Senior Vice President Operations at Dubai Airports commented: "Today's celebrations are an expression of how proud we are of our founding fathers who paved the way for the continuous success of our cargo industry and establishing Dubai International as the 3rd busiest cargo hub in the world. We wish our government and people continuous prosperity."  Al Joker also expressed his deepest appreciation to all the parties involved in making the flag convoy a reality.
Commenting on this occasion, Ali Khalifa Beyat, CEO of Allied Transport said: "Being a logistics company, planning the logistics of this initiatives was second nature to our team! What makes this extra special is that we were doing it in collaboration with partners. In the true spirit of the UAE, which is home to people from all over the world striving towards common goals, the team that conceptualised and planned this initiative represented many nations." 
"It is only fitting that this convoy decked with a flag dear to our hearts take place at Dubai World Central," said Mohsen Ahmad, VP, DWC Logistics District. "With the largest airport in the world when completed, surrounded by the first purpose-built aerotropolis, DWC is redefining old paradigms of where we live and where we work as one unified community. Just like the 43 trucks that moved in harmony and worked as a team on this special day, DWC embodies the spirit of unity and partnership that the UAE represents. We are proud to be part of the UAE National Vision to become one of the top ranked countries in the world to live in and this celebratory flag convoy represents our commitment to our beloved nation."
Away from the traffic flow, the parade of trucks drove on a 10-kilometre exclusive corridor from Dubai World Central (DWC) Gate five to Gate six. The journey was captured by aerial cameras and can be viewed above.
For more information, please visit: http://www.skycargo.com/english/media-centre/media-news-press-details.aspx?id=2027412