Optimising packaging to overcome supply chain disruptions
By Charlie Steer-Stephenson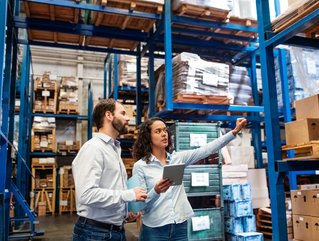 Managing inventory operations with the help of technology and AI is key to building an efficient, sustainable, digitised and resilient supply chain
Due to changing regulations and unpredictable disruptions, companies are being urged to be proactive, rather than reactive, in their supply chain management. This includes the logistics of packaging material stock – a key concern for many retail and e-commerce businesses along the supply chain.
From boxes and bags to labels and storage space, there's a lot of components that need to be considered before goods are shipped.
Being able to forecast inventories with the help of artificial intelligence (AI) technologies is crucial to reducing operational costs and resources. The Internet of Things (IoT) also plays an important role in communicating stock projections with suppliers and consumers along the supply chain, to improve visibility and reduce the risk of potential disruptions.
Inventory management and the digital supply chain
According to MicroChannel, poor inventory management is one of the top reasons why businesses fail. Addressing this issue requires the support of AI and expertise to first determine exact supply and demand needs, and then predict the precise amount of packaging needed to prepare goods for shipping.
Flowlity is an AI-based supply chain management platform that specialises in helping companies optimise packaging logistics and costs. Through forecast demand of the product and packaging required, Flowlity estimates that companies can reduce their average stock levels by 40% - therefore drastically reducing operational costs through a more efficient inventory management.
French retailer La Redoute is one of Flowlity's recent partners. Having recently experienced record growth thanks to the increasing demand for e-commerce, La Redoute turned to Flowlity to improve customer experience while taking efforts to reduce the company's environmental impact.
"We are experiencing a revolution in e-commerce, with a very strong increase in both products and volume. In a highly competitive market, it's key for our promise and delivery to customers to stand out. As a result, it was essential for us to foster an industrial supply chain culture and continuous improvement methods," said Fabien Rouquette, former Supply Chain Director at La Redoute.
Within six months of working with Flowlity, La Redoute experienced a 50% reduction in inventory and between £37k and £78k reduction in annual costs. The retailer has also reported a reduced risk of stock shortages, improved digitisation and automation of stock replenishments, and a much better synchronisation with suppliers.
Flowlity continues to work with retail companies like Danone, Saint Gobain and Camif to plan and forecast their inventories with the help of AI. The company reports an average reduction of 30% in inventories, and 20% in shortages overall.
Technology is the modern supply chain solution for resilience and sustainability
The current emphasis on building resilience and managing risk means that supply chain software companies are increasingly being sought out to help businesses improve operations and productivity. e2open is an example of another platform that's innovating how technology is used to transform the connected supply chain.
Having more control over stock and packaging means that companies can build their resilience against unpredictable disruptions in the supply chain.
As consumers become more concerned about suppliers' sustainability goals, this also means retail and manufacturing businesses can better understand, and communicate, their impact on the environment.
Rouquette added: "We need to offer a first-class experience to our customers. That means using the right packaging for the lowest environmental impact."
The retail and manufacturing industries can only benefit from using technology and AI to improve operational efficiency. Not only will this drastically reduce waste and operational costs, but it will also have a significant impact on building resilience and sustainability within the supply chain.