Mirroring efficiency: How the automotive supply chain can get leaner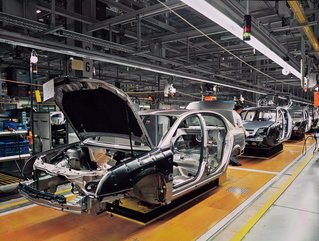 In Europe's most efficient car production plant, 115 cars are created every hour. Through a mixture of robots, experienced staff and lean manuf...
In Europe's most efficient car production plant, 115 cars are created every hour. Through a mixture of robots, experienced staff and lean manufacturing principles, the process is highly efficient, leading to the high output. Here, Hugh Freer, a director of electric tug specialist MasterMover, explains how suppliers to the automotive industry can mirror this efficiency.
Many car parts are built outside of the final assembly line, with most car manufacturers having numerous tiers of suppliers that feed into their supply chain. These products are then assembled in the car manufacturer's plant.
For mass produced cars, the emphasis is on speed and efficiency and minimising non-value added time (NVAT). Car manufacturer Toyota has its own production system concept that follows the concept of jidoka, translated as automation with a human touch, and the just-in-time theory. Many academics have praised this system, which aims for the elimination of all waste.
However, many tier one and two suppliers do not follow these same principles.
Regardless of whether a business is a supplier or a car manufacturer, the automotive industry as a whole is based on a well organised production line. Moving parts between production line stations is often where the efficiency will start to drop for suppliers.
At present, many companies will either use fork lifts or cranes to move large or high value parts, or move them by hand. However, this is not the most efficient, nor safe, way of moving parts.
MasterMover has visited many suppliers in the automotive industry to find various inefficiencies. In one plant that produces plastic injection moulded parts, the mould tools have to be changed in line with demand for different car models and their parts. The mould tools, used to create components such as dashboards, are extremely heavy, sometimes weighing in excess of 20 tonnes.
The supplier was using an overhead crane to pick up the mould tools from a storage area and transport them to the production cell. However, this method created problems with plant layout as production and storage had to be next to one another and it also lengthened the tool changeover times if the crane was occupied elsewhere in the plant.
The company switched to using MasterMover electric tugs, which allowed one pedestrian operator to move the mould tools more quickly between the storage area and production cell.
Manual handling is also an issue in the automotive industry. Parts are moved from warehouse to production line in intra logistics trains pulled by ride on tugs. However, the final part of the process, pushing the cart into its lineside position, still relies on human power. 
This is where problems begin, as employers have a duty to protect their employees against manual handling injuries. While they can give all the advice and training required, handling tasks such as these are still putting them at risk.
By using an electric tug, employers can avoid the risk of manual handling injuries as they allow the operator to move the cart into its lineside position. This reduces the risk of injury and speeds up the handling process.
By carefully considering the way they move parts around the production line, processes can be optimised, making manufacturers leaner and better able to react to any of the challenges thrown at them.