Digital twin technology is supply chain resilience boost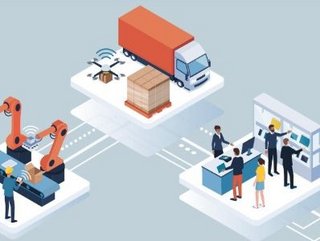 Mark Landry – Intelligent Industry Leader for Capgemini Americas – offers insight for companies who are struggling to implement digital twin technology for supply chains..
Mark Landry, Intelligent Industry Leader for Capgemini Americas, on how digital twin technology is helping to take supply chain resilience to next level
They may sound like something sinister from a sci-fi movie, but digital twin technology is fast capturing the attention of organisations across all major sectors.
A digital twin (DT) is a dynamic digitised model of a physical thing or system that relies on sensor data to understand its state, respond to changes, improve operations and to add value.
In the context of supply chains, a DT is a virtual replica, comprising potentially thousands of assets, warehouses, logistics and inventory positions. It offers a clear view of the risks facing complex, interconnected supply chains. This allows supply chains to be agile, because risk is identified early and disruption is minimised, or perhaps even averted.
Here, Mark Landry – Intelligent Industry Leader for Capgemini Americas – offers insight into DT tech within the sphere of supply chain, providing insights and advice for organisations who are struggling with its implementation.
How do digital twins help supply chains?
DTs allow organisations to improve on a number of metrics, such as costs, operational efficiency, turn-around times, and sustainability. The tech allows companies to digitally model, simulate, test, and analyse their products, services, and systems. Used in multiple cases across the value chain – from design through to manufacturing and production – businesses can experiment with different scenarios and assess the impact of each decision without any real-world, tangible risks. The benefits? Risk-free, low-cost system improvement across the value chain.
DTs can also transform ways of working, alter employee experience, and improve safety.
Digital twin tech and ESG compliance
While DTs offer a range of benefits, recent Capgemini research shows 57% of organisations agree that improving sustainability efforts is one of the key drivers of their digital twin investments.
The technology can help increase efficiencies, propose interventions, and potentially automate change. This can reduce waste, minimise energy consumption, and, ultimately, help organisations and societies become more sustainable as they simultaneously become more digital.
Siemens, for example, is modelling energy demand and infrastructure using a digital twin in a project with a German city of about 200,000 residents. It has so far found that cutting emissions by 70% by 2035 is a feasible target.
How digital twins help build resilience
Digital twins can monitor entire systems and adapt to changes in real-time, as they arise.
An example of this is Philip Morris International (PMI), which has created a digital twin of its global manufacturing footprint. This allows the company to model and assess the impact of changes in product portfolio, market regulations, and even business disruption. This means PMI can run optimisation scenarios around manufacturing cost, import and export duty, and transportation costs across the network, reducing its use of spreadsheet simulations by 90% and cutting scenario-evaluation times from weeks to hours.
Energy ahead of game on digital twin tech
When looking to achieve ESG goals, streamline operations and improve efficiencies, the first point of focus is hazard to human life. Energy and utilities organisations operate in dangerous environments – such as offshore oil fields – and, as a result, there is widespread adoption of DTs in the energy and utilities industries.
Also, it's not uncommon to see large organisations dealing with thousands of suppliers throughout their supply chain. To work with these suppliers more efficiently and deliver on sustainability objectives, collaboration is essential.
This is also something we've seen players in the energy and utilities industry do well with the help of DT tech – working with software vendors and equipment providers to deliver digital continuity and subsequently drive results.
E.ON, for example, is working alongside multiple industry partners through a consortium to create a digital twin that monitors the health and performance of its 110kV power transformers.
As a general point, organisations looking to derive greater benefits from digital twin technologies should collaborate with partners – something that's possible if they on-board critical partners to their digital-twin vision and deploy collaboration platforms from the get-go.
Digital twins Innovative use of in supply chain
By their nature, DTs help organisations bake innovation into their supply chains. With the sole purpose of optimising existing capabilities all along the value chain, they hold the power to transform disparate systems into intelligent, connected systems.
But, while DT tech is being leveraged across the world to increase efficiencies and raise companies' top and bottom lines, it is not limited to simply achieving corporate outcomes.
Perhaps the most amazing example of DT deployment is the project to create a digital twin of the entire Earth. Slated to be completed by 2030, Destination Earth, or DestinE, aims to produce a highly accurate digital model of the Earth that is able to simulate the atmosphere, oceans, and human systems. This innovative project holds huge potential in helping to combat climate change.
What are typical barriers to progress on DT tech?
Many businesses realise the benefits of digital twins, and are already making moves to implement the technology into their value chains. Capgemini research reveals digital twin implementations are set to grow over the next five years by around 36%. However, the path to successful DT deployment is far from hurdle-free. Governance and lack of managerial support stand out as critical barriers slowing digital twin deployment.
In terms of overcoming typical barriers to deployment, organisations should look to develop a strong, well-defined vision backed by firm managerial commitment to harness the full potential of digital twin investment. Building a clear roadmap is also essential, especially in identifying pain points that require attention or extra funding.
DT implementation also requires a specific skillset, the lack of which poses a significant challenge for many organisations.
However, tech and digital skills are increasingly becoming hot commodities, with many sectors competing for a decreasing pool of candidates.
Organisations should invest in upskilling existing employees to ensure they have the skills necessary for DT implementation. Such skills include knowledge and competency in embedded software, cybersecurity and blockchain, data capture and hybrid cloud systems.