Coca-Cola European Partners' sustainable supply chain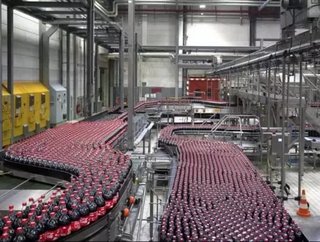 2016 has been a momentous year for Coca Cola European Partners (CCEP) bottling plant at Dunkirk. Not only has the facility maintained its commitment to...
2016 has been a momentous year for Coca Cola European Partners' (CCEP) bottling plant at Dunkirk. Not only has the facility maintained its commitment to exemplary sustainability and ethics standards, but has also delivered a never before seen packaging line in time for this month's Euro 2016 tournament. On top of that, it has emerged seamlessly from a successful combination of Coca-Cola Enterprises, Inc., Coca-Cola Iberian Partners S.A.U., and Coca-Cola Erfrischungsgetränke GmbH at the end of May.
Supply Chain Digital explores in-depth how the award-winning Dunkirk site has made a significant contribution to radically increasing sustainability across the board. We speak to Site Manager Etienne Van Poucke to learn more about the how the plant is leading the industry for sustainability. 
CCEP has focussed on innovating across its manufacturing and supply chain operations, while continuing to play an influential role through various local and international sustainability schemes. The company is well-positioned to lead the industry towards a low-carbon, zero waste operating model. CCEP seeks to deliver today's sustainability targets while ensuring that its work is a guiding light for a future of sustainable innovation.
Spotlight on Dunkirk
CCEP's bottling plant was established in 1989 and since then has gone from strength to strength, becoming its first European plant to use SAP systems in 2003, and was recognised for its exemplary energy saving operations in 2011, 2012 and 2014 by the company's internal Oscas Energy award. Van Poucke says: "We are on track to deliver a green scorecard for the end of the year. This means all important Key Business Indicators are on track according to what has been budgeted; we have worked very hard to prepare a compelling sustainability vision for 2020 as well as introducing the new packaging in March for EURO 2016."
The plant consists of four can lines (0,33L), one aseptic line PET (0,5L) and one large-PET line; these are supported by 379 staff in a warehouse that has capacity for 20,000 pallets and 329 SKUs. All of these provide 56 different Coca-Cola flavours to countless consumers across France and beyond.
"We have around 50 people are working in distribution. Our main key business indicator is customer service level – that means what we can deliver in time with good quality and with the right number of pallets and cases. For us, the result is more than 99 percent." Van Poucke adds, "We have a big focus on training and coaching. People development is very important to us".
Case Study: Panini sticker campaign
Such is capability and experience housed at the Dunkirk site that it was naturally chosen to produce Coca-Cola's Panini Euro 2016 stickered bottles – a first for both the site and the company. In total 260 million stickers were deployed across Belgium, France, Spain, Switzerland, Bulgaria and Romania.
"This was a high risk project because we were working on lots of avenues in parallel and had to buy lots of additional materials. Another challenge was the changing nature of the project. We had to consider who was going to qualify for EUROs. Volumes and targets were constantly changing because of this." Van Poucke adds.
"Our aim, right from the start, was to ensure that we sustained environmental standards despite an increase in production levels. The biggest challenge was producing the Panini label on the PET bottles. After the PET bottles are filled, they need to be rinsed with water to clean them and then the bottles need to be dried before labelling. We agreed to extend the capacity of our driers on the line to dry the bottles outside before labelling."
Although taking months to plan, the timely execution of this project lay in the  Dunkirk teams' ability to adapt processes fast enough to be able to react as quickly as possible - while not once failing to uphold the company's sustainability directives.
Sustainable bottling
The teams at the Dunkirk plant have consistently demonstrated their commitment to the company's CRS goals through a number of impressive achievements. Since 2008, the plant has reduced its energy consumption by 27 percent, its packaging by 28 percent (50 percent for rLPET ) and its water consumption by 15 percent. Supporting these savings are a range of innovations which include low-energy LED lighting and low-pressure moulds that work together to reduce consumption.
"We are using a real-time measuring system for efficiency, yield, water, electricity and gas consumption. This monitoring and tracking system gives us the capability to manage our processes well." Van Poucke adds.
"Can weight has been reduced by 28 percent since we started in 1989; we are using smaller closures and lightweight preforms for our bottles - we optimised our boiler house and we are using much less pressure for blowing our bottles. We are also working closely with the local community and in four areas: environment, sports, employment and culture." 
The company has backed up its sustainability initiatives with some serious investments, totalling $75 million over the past four years. This year alone CCEP invested $41 million in bringing a can line closer to its customers in Paris to reduce the distance travelled.
By improving the way in which it receives (fronthauling) and collects (backhauling) the company has been able to ensure that its trucks move with full loads. Through initiatives such as these 1,897 tonnes of CO2 were saved last year, and backhauling saved an impressive 2.5 million kilometres.
"I call it being responsible and sustainable," Van Poucke adds, "First of all, we take care of our people and we are doing everything we can to ensure people do not have accidents – we have gone 865 days without a loss-time incident.
"Secondly, we closely follow our environmental ratios, particularly energy. We have improved our energy ratio; we have a monitoring and tracking system of all usage of electricity. We really look at electricity and gas."
Having recognised its potential to lead its industry, as well as its supporting suppliers, the company has embarked on a new era of sustainable, ethical and profitable business. Having consistently delivered and developed its sustainability targets over the past decade, the plant at Dunkirk is looking forward to leading the business for years to come.
Supply Chain Digital's July issue is now live. 
Follow @SupplyChainD and @MrNLon on Twitter.