Rich data is telling supply chain stories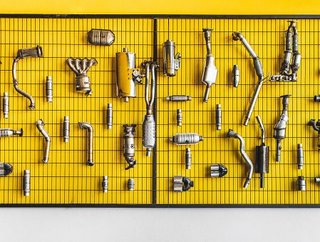 Building resilient supply chains
Software company Epicor is using data-rich solutions to help customers build responsive and resilient supply chains
The fourth industrial revolution – Industry 4.0 – is all about interconnectivity. It marries physical production and operations with smart technology, and the goal is to help businesses improve quality, reduce risk and minimise cost. It's a mix of software (AI and ML) and hardware (RFID devices that feed into the Internet of Things).
But the true currency of Industry 4.0 is data, which properly managed, allows unprecedented levels of transparency, automation, insight and control.One business that has placed data at the centre of its operations is Epicor, an IT company whose specialist areas include supply chain, inventory, distribution, and manufacturing production management.
Epicor says it wants to 'tell stories' with data, which is why it has changed tack on its hiring strategy, and is now building a data scientist team.
Tim Hardin is SVP Global Data & Extend Services with Epicor, and has been with the company for three years
"When I first joined I didn't think that 10 months in, we'd have hired a data science team that includes people with PhDs in data analytics," he says in an interview with ITS data partner company, Microstrategy. "It's exciting, and I think the results are going to bear themselves out soon."
Hardin references the automotive space as one in which Epicor is focused on using data to "inform on inventory volumes" and making sure that its customers can "make sure they have the right part at the right place at the right time".
Working towards this, Epicor is focused on taking the entire value chain from the manufacturer, distributors, and all repair shops, and giving them a daily reading, on-demand. To this end it has built a real-time online picture of all inventory across all channels. Analytics ties its entire supply chain together.
The company's next move is to take this to the next level, to the point where it is behaving prescriptively and predictively – anticipating and managing demand for its customers.
Industry 4.0-enabled data solutions mean Epicor is evolving quickly.
"Over the years, we've provided a lot of value to the automotive aftermarket, but the natural gravity of the marketplace has pulled us in directions we might not have thought about a couple of years ago."
He adds: "For example, we have organisations in extended-service warranty asking us for information that can help them understand how they can deliver that product to market.
"We have organisations on Wall Street coming to us, for KPI data that tells them where the market is going.
"So that has shifted our thinking around the products we deliver. And that's really more of a pull from the marketplace, not, not necessarily something that we're pushing."
The forces of change mean Epicor now has the ability to measure failure rates for car parts, which means that information can be shared with any company that has a stake in the owner-experience of a vehicle.
The shifting concept of car ownership is also changing the way Epicor looks at its markets.
"Who is really going to own the cars of the future?" asks Hardin. "Is it a fleet? Is the fleet going to be basically shared ownership of cars? So we're looking at the value proposition of how repair is going to be managed in terms of the service to end consumers.
"It all starts with knowing just one piece of information, and telling different stories with it, and going in different directions. If you can predict demand for a part on any one vehicle, that story can be told in different ways."
As for the future, data will play an ever-growing role in what Epicor is able to offer customers.
"There are about 290 million vehicles registered in the industry that are targeted by our customers, and around 100 million repair events every single year," says Hardin.
He says the company captures multiple "touchpoints" around every single repair event, examining choices made by the repair shops around the ordering of one branded part over another.
"The aim is to add value to these choices," he says, "so we our can track the purchase of expensive parts, less-expensive parts and economy parts, and help supply chain vendors properly price and position products based on where they see behaviour and choices going."
In short, Epicor has a picture of every item of inventory in every location every single day, with data analytics painting pictures everyone in the industry can reference and work from.
Ultimately, Epicor is looking to coordinate, optimise and build-out efficiency across an entire industry.
To help it handle such huge volumes of data, the company has turned to data specialists MicroStrategy, who collect the data and make it visible to everyone in the supply chain, which facilitates collaboration between manufacturers and distribution groups
"We have 1,700 customers," says Hardin. "These are independent shops that leverage our customer-relationship management (CRM) platform, and this is the endgame for everything that we're doing.
"As much as we focus on understanding patterns with parts, the supply chain and failure rates, ultimately what matters is the relationship with the consumer."
Hardin says the data Epicor has today, when made visible at every level of supply chain, will create a channel-level CRM.
"Everybody in the value chain – from manufacturers all the way down – will want to influence a relationship of some sort with the end consumer," he says.
He adds: "The connectivity we provide via data at all levels has created a sub-vertical for us, whereby marketing organisations within manufacturers are asking us to help them understand better how they can drive a better customer experience.
"It's opening up new opportunities and new channels. We're now having conversations at the C-suite level with marketing officers and those are responsible for customer experience."