Top 10: Sustainability speakers at Supply Chain LIVE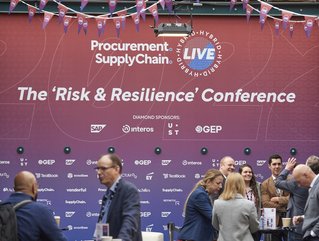 Top ten industry expert sustainability speakers that appeared at BMG's Procurement & Supply Chain LIVE: the Risk & Resilience Conference
In April 2022, Procurement Magazine, Supply Chain Digital and Bizclik Media Group returned to London's Tobacco Dock to host our second Procurement & Supply Chain LIVE.
Dubbed 'The Risk & Resilience Conference' the two-day hybrid event featured keynotes, roundtables, Q&As, and networking opportunities with inspirational and knowledgeable leaders in the procurement and supply chain space.
---
Jacqui Rock, NHS: Climate change & NHS patient care
Taking to the stage for a second year, Jacqui Rock, Chief Commercial Officer of NHS England and NHS Improvement, spoke twice at Procurement & Supply Chain LIVE: The Risk & Resilience Conference.
Rock first took part in a panel discussion alongside Preeya Bailie, Director of Procurement at NHS England and NHS Improvement, and Pia Larsen, Director of Procurement & Supply Chain at UCLH.
The panel highlighted how procurement's focus has shifted from cost to value.
"Supply chain visibility was our Achilles heel, and the fact we weren't mature enough in our own organisations to have that end-to-end visibility in the supply chain was something that was deeply problematic," said Larsen.
"The lack of investment in the NHS in supply chain technology, visibility and intelligence has probably been the biggest lesson to come out of the pandemic."
Continuing the sustainability discussion, Rock spoke on the Main Stage after lunch. During her keynote speech, Rock discussed:
The importance of tackling climate change and why its a top priority for the NHS
The net zero supply chain expectation of the healthcare system
The importance of supplier innovation
The impact of climate change on health conditions such as asthma, cancer, heart disease and heat-related illnesses
"Tackling climate change isn't a problem for the future, it's a problem right now!" stresses Rock.
She adds: "It was in 2010 that we first said that we were going to focus on cutting emissions, and I'm really proud to say we've reduced our emissions by 30% since 2010. Recently we have made a very bold statement to become the first health service in the world to commit to reaching net zero by 2040 for direct, and by 2045 for indirect emissions."
---
Suppeco & Tealbook: Doing more on Scope 3 emissions
Sheldon Mydat, Founder and CEO of Suppeco, and Stephany Lapierre, Founder and CEO of Tealbook, took part in a panel on the monitoring of Scope 3 emissions, its complexities, the benefits of technology, and the importance of supplier visibility.
"We already have a very difficult time collecting data from Tier 1 suppliers and categorising spend at the invoice level," said Lapierre. "The challenge for organisations is how to execute and drive accountability and ownership in a way that is quantifiable."
Mydat added: "Supplier relationships are essential. You've got to break down barriers. It's down to Tier 1 suppliers, in collaboration with customers, to develop innovation and shared research and development."
---
Sheri Hinish, IBM: Breaking down sustainability barriers

Sheri Hinish, Executive Partner, IBM Sustainable Supply Chain, Finance and Circularity, spoke on breaking down barriers to environmental sustainability.
"Sustainability is not someone else's problem," Hinish said. "More than 50% of CEOs believe that business leaders must take responsibility for the business impact on communities in which they operate."
Hinish highlighted the significant gap when it comes to delivering on sustainability initiatives, despite the topic being a top priority. According to Hinish, 86% of CEOs currently have a sustainability strategy, but only 35% have acted on these strategies.
With the supply chain being a constantly changing environment, "you can't just turn on a solution and transform," said Hinish. To achieve trust and transparency organisations need more than due diligence and compliance, an organisation also needs optimisation, transformation, innovation and experience.
---
Mark Perera, Vizibl: supplier collaboration & sustainability
Mark Perera, CEO of Vizibl discussed the power of supplier collaboration and innovation for sustainable business growth.
"There is no greater crisis than climate," he said. "There is uncertainty on a global scale. We are in very disruptive times, sustainability is affecting organisations not only in how they run today but in the future too."
Despite the growing global awareness of the importance of climate change, Perera remains concerned: "We're not far enough along the journey to achieve 2030 goals. We need to make a more of a collective effort to increase the pace of change. We have to start. Organisations are focused on getting the 'right data' but we have to start the movement, we can't wait for the 'perfect data'."
---
Jan Francis, VISA: Building a sustainability supply chain
Jan Francis, Director and Head of Procurement Operations and Supplier Management, Europe Sourcing, Visa, stressed that there are a lot of decisions to make when it comes to sustainability, Quoting Larry Fink's 2022 letter to CEOs, Francis said: "Every company and every industry will be transformed by the transition to a net zero world. The questions is, will you lead, or will you be led?"
---
Accenture & AB InBev: Supply chain sustainability
Nedra Dickson, Managing Director of Global Supplier Inclusion and Sustainability Lead at Accenture, and Mauricio Coindreau, Head of Sustainability and Procurement at AB InBev, sat down for a fireside chat with Sean Ashcroft, Editor in Chief of Supply Chain Digital.
During the chat, the three discussed innovative design and packaging, ESG in supply chains, Scope 1,2 and 3 emissions, scoreboards and benchmarking, and the war on waste.
Coindreau stressed sustainability "is not just mission critical, it's about survival - not only for people but also for companies that want to survive the next generation of challenges".
He added: "The disruption we've seen through Covid-19 is nothing that I've ever experienced in my career. We're seeing congestion in all types of transport, delays in lead time from machinery and raw materials, and of course prices are going up throughout the supply chain. This is obviously having an impact on sustainability efforts."

Dickson said: "COVID-19 has changed the way we work. We've realised we can't do this alone, partnerships are more crucial than ever, and it can be a partnership on many different levels. We are finding that those small and diverse owned businesses are coming in to fill those critical gaps. We are relying on these smaller businesses to not only partner with them, but to innovate with them too."
---
Nestlé: Leveraging tech to improve sourcing sustainability
Fabrice Blanc, Procurement Director S&IM and PPA, at Nestlé, Canada talked about leveraging new technologies to improve sourcing sustainability and flexibility.
Blanc discussed Nestlé's sustainability journey, and the technology it's leveraging, such as machine learning, AI and automation. He also addressed the biggest challenges faced by organisations, and the need for a shift in mindset in order to thrive.
---
Mariam Saad & Ashifa Jumani on ESG at TELUS
Mariam Saad, Director of IT and Technology Services, and Ashifa Jumani, Director of Procurement at TELUS explored the company's sustainability efforts.
"We are committed to leveraging our world-leading technology and compassion to drive social change and enable remarkable human outcomes," said Jumani.
Saad and Jumai fielded questions on driving the need for sustainability and transparency, and how organisations can achieve a competitive advantage with a sustainable supply chain. They also gave advice for those starting out on their sustainability journey, and whether enough companies are setting achievable goals.
Saad said: "There is a big debate around gaining a competitive advantage with sustainable supply chains. For me personally, 100%. Expectations from our customers and shareholders show that sustainability is truly a differentiator."
---
Ingrid De Ryck, AB InBev: Achieving Net Zero
Ingrid De Ryck, Vice President Logistics Europe at AB InBev, talked around achieving net zero.
De Ryck began by walking the audience through the AB InBev organisation and its sustainability strategy to cut carbon emissions across its entire value chain by by 25% by 2025.
"We dream big to create a future with more cheers," she said. "Such a future is shared prosperity for our communities, our planet, and our company. It is growth that is inclusive, value that is shared, and wins for the world that are truly worth celebrating. It's a sustainable, equitable future for all."
De Ryck also addressed AB InBev's wider role in decarbonising the supply chain industry, the challenges of technology implementation, and alternative fuel technologies.
---
Graham Copeland, GEP: increasing procurement's ESG impact with matrices
Graham Copeland, Senior Director of Business Development at GEP, delivered a first for Procurement & Supply Chain LIVE: a singalong. With the touch of a showman, Copeland sang Gloria Gaynor's 'I will Survive', with self-penned lyrics promoting the value of matrices-based decision making in procurement.

Copeland also walked the audience through navigating the challenges facing the industry including:
How Kraljic's matrix-based models can boost ESG compliance.

The right choices to reduce greenhouse gas emissions
Making choices around driving savings agendas
How to strike a balance between 'make' versus 'buy'
Deciding on procurement's enterprise boundaries
Reducing tension with vendor management teams
To watch any of our other speakers from Procurement & Supply Chain LIVE: The Risk and Resilience Conference, click here.
---
PROCUREMENT & SUPPLY CHAIN LIVE 2022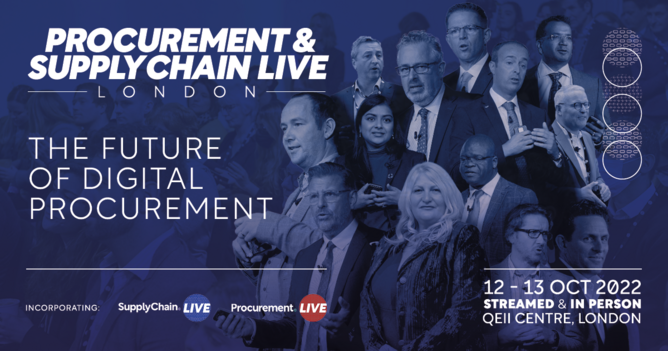 This October, Supply Chain Digital and Procurement Magazine return to London for an all-new event - PROCUREMENT & SUPPLY CHAIN LIVE LONDON 2022. Click here, to find out how you can attend.
Held at the QEII Centre from 12-13 October, BMG's all-new hybrid event incorporates two zones - SupplyChain LIVE and Procurement LIVE - to create a single EXPO style experience.
The event will give those attending the chance to showcase their values, products and services to partners and customers.
To find out more about PROCUREMENT & SUPPLY CHAIN LIVE LONDON 2022, click here.