Supply Chain Risk Management
Robots and voice technology provide insight into the 'dairy of the future'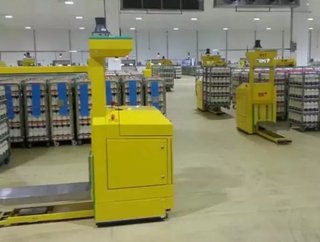 Supply chain and mobility specialist Rocket Consulting is working as a strategic SAP partner on an award-winning Extended Warehouse Management (EWM) sys...
Supply chain and mobility specialist Rocket Consulting is working as a strategic SAP partner on an award-winning Extended Warehouse Management (EWM) system. Installed at Arla Foods UK's dairy in Aylesbury, the EWM is fundamental to the technological innovation and is able to combine efficient operation while reducing environmental impact.
Arla's dairy in Aylesbury is the largest fresh milk factory in the world, and processes and packages the equivalent of 1.5 million bottles of milk a day. The EWM implementation, which covers the dispatch element of the operation, won the 2015 SAP Quality Award for Innovation and the 2015 Best Factory Award for Innovation.
Rocket Consulting was selected by Arla for its knowledge, expertise and experience across four key business and technical levels: supply chain and mobile (a skillset that Rocket has since expanded to include Internet of Things); SAP technology; food and beverage industry; and Arla's business and business process. 
RELATED: New UK rail freight hub and warehouse complex approved
Rocket's EWM implementation handles the milk bottles as they arrive in the cold store from Arla's high speed processing facility before they are distributed to customers. Specific Rocket activities consist of introducing operational technology such as the control system interface for the 90 Automated Guided Vehicles (AGVs), or 'robots', that move the milk in trolleys around the warehouse. 
In addition, and critical to the project, Rocket was responsible for ensuring that all the constituent and complex EWM technologies communicated correctly to ensure the smooth operation of the warehouse.
In line with Rocket's transformation methodology, the project uses standard (SAP) EWM software wherever possible in order to build a global roadmap that enables faster delivery of future roll-outs and minimises the risk for future upgrades.  Enhancements and bespoke functionality were added by Rocket as required.
RELATED: Yodel invests in further 'super' service centres
Colin Fearon, senior solution consultant for warehouse and distribution at Arla, explained:  "Our system needed to fit our businesses, rather than Arla having to adapt its business to fit the solution.  Rocket was instrumental in making that happen.  The consultants understand SAP and EWM technology inside-out but, more than that, they know how we work, what we need to achieve and why.  They then explore all avenues to get us to the desired end-point."
Lewis Marston, CEO at Rocket Consulting, commented:  "Our strategy is to work with customers to help them operate, innovate and differentiate faster and more effectively as a result of digital transformation. Arla understands the need to create and maintain competitive advantage by continually being one step ahead, with the result that it is innovative and open to change."
Supply Chain Digital's February Issue is now LIVE.

Follow @SupplyChainD and @MrNLon on Twitter.

Supply Chain Digital is also on Facebook.