Supply Chain Risk Management
Latest China Covid outbreak poses supply chain threat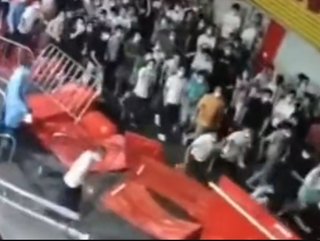 Crowds in southern China's industrial metropolis Guangzhou escape compulsory lockdown, and clash with police, as anger at strict coronavirus curbs boils over. Business leaders worldwide are also growing frustrated, as Beijing's hard-line stance on Covid continues to stall manufacturing and disrupt supply chains.
Supply chains managers eye latest China Covid lockdowns with dread as huge tracts of country are shut down, threatening manufacturing and container ports
Rocketing Covid-19 cases in China have prompted officials to lock down huge tracts of the country, sparking fresh fears that global supplies chains will face further disruption from stalled manufacturing and hobbled container ports.
The world's second-biggest economy behind the US reported 28,000 new Covid cases on Tuesday, with outbreaks affecting Beijing, the southern manufacturing hub of Guangzhou and the metropolis of Chongqing in the south west of the country.
The Chinese state's attempt to suppress the virus – when the rest of the world is learning to live with it – is looking increasingly ill-advised.
The lockdowns are compounding other economic problems besetting the country, with things so bad that earlier in the year China sought to counter economic meltdown with a US$44bn rescue package.
Reports of civil unrest in the country are also emerging, as lockdown-weary Chinese citizens begin to rail against Beijing's hardline Covid stance.
On November 15, the BBC reported violent protests on the streets of Guangzhou, southern China's industrial metropolis. Crowds defied a compulsory lockdown, and video footage released on social media shows state police using violence to curb unrest, as people tore down Covid control barriers. It was Guangzhou's worst Covid outbreak since the pandemic began.
The football World Cup, meanwhile, is also prompting a strong reaction from the Chinese people, who have been watching mask-free football fans crammed into stadiums in Qatar, and been left wondering why they are locked down, watching games at home, unable to enjoy the tournament with friends and families.
Growing civil unrest and increasing economic uncertainty has left China watchers and business analysts alike wondering just what it will take, exactly, for China to soften its stance on Covid.
In a recent LinkedIn poll on Supply Chain Digital, we asked people what they thought it would take for Beijing to follow the rest of the world's lead, and learn to live with Covid. Of 213 respondents 33% said they believe nothing will change China's mind.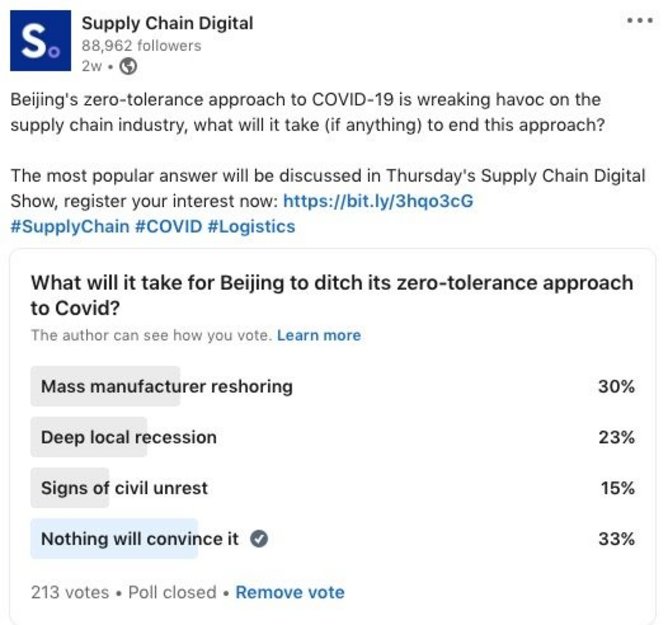 Businesses frustrated by China Covid lockdowns
Businesses are growing increasingly exasperated with Beijing, as they see already overstretched supply chains being further hit by lockdowns in China.
Just how seriously China's hair-trigger lockdowns are hitting global supply chains was laid bare in a report from supply chain visibility specialist, project44. The report showed that iPhone manufacturer Foxconn was among the many vital companies in Shenzhen to be shut down by a mere 60 Covid cases, which sent the 17.5-million-people manufacturing metropolis into a seven-day lockdown.
Another report – from leading supply chain insights firm Interos – found that an estimated 20,000 Shanghai-based Tier-1 suppliers to US firms were shut down in late March. Interos said that the figure rose to 95,000 when Tier-2 suppliers were included, and 203,500 at the Tier-3 level.
Ting Lu, Chief China Economist at Nomura told the FT it estimates that current Covid restrictions have hit areas responsible for one-fifth of China's gross domestic product.
China's zero-Covid policy has undoubtedly saved lives in a country of 1.4 billion people, but with its vaccination levels lagging well behind those of the developed world, Beijing's approach appears increasingly incoherent and incomprehensible, and will leave supply chain managers monitoring the situation from behind the sofa.