JAGGAER: vaccine distribution demands risk mitigation
3 min
Latest research from JAGGAER highlights the demand for risk mitigation processes when it comes to vaccine distribution...
Following difficulties surrounding the COVID-19 vaccine distribution experienced in Europe and America, JAGGAER emphasises the need for supply chain risk mitigation procedures within businesses. 
"With any supply chain, it is vital to be aware of the risks and everything that could go wrong. National security issues, poor coordination, limited capacity, misinformation, shortage of personnel, vaccine damage and logistical difficulties in reaching rural areas have all contributed to the challenges faced by many countries," commented Thomas Dieringer, President for Europe Middle East and Africa, JAGGAER.
"Supply shortages to make the vaccine has been perhaps one of the major issues. Distribution has been hampered by the drug makers inability to produce the number of vaccines initially planned. The vaccine comprises several components and raw materials that have been subject to a fragile supply chain, built at record speed. Understandably delays have occurred as a result of setting up supply chains while still developing the vaccine," ne added.
Critical supply chain mitigation steps
According to JAGGAER there are multiple critical supply chain mitigation steps that organisations need to adopt to address the issue. 
Such steps are centred around:
Business impact analysis
Assessing and monitoring existing suppliers
Reducing the concentration of supply
Working hand-in-hand with suppliers 
Proactively managing threats
With COVID-19 having significant impact on a range of businesses all over the world, JAGGAER states that in a white paper by the Institute of Supplier Management - - 95% of respondents reported that their supply chains have been or will be impacted by the spread. Results also identified that one in five reported continuity distribution as one of the top three impacts. 
"Understanding when the supply chain has been impacted, and indeed what suppliers have been impacted is crucial. However, perhaps even more important is a system that supports finding alternatives to ensure any disruption is minimised," added Dieringer.
Visibility and digital supply networks
COVID-19 has emphasised the need for broad visibility in both demand and supply across the entire system. JAGGAER states that this is not just visibility into immediate sources, but into upstream suppliers of materials and components. "In turn, distributors need to understand the demand from their customers better and share this knowledge with manufacturers."
To further increase visibility, JAGGAER recommends organisations to utilise digital supply networks, instead of relying on conventional linear models. "Digital supply networks are dynamic and integrated and will increasingly rely on artificial intelligence technology to provide fast and continuous information and analytics flows. This can empower organisations to stay connected with their entire supply network and deal with major disruptions such as those caused by Covid-19. There also needs to be greater cooperation at a local, regional, and international level, in particular, to develop contingency plans to prepare for the next crisis," said JAGGAER.
For more information on procurement, supply chain and logistics topics - please take a look at the latest edition of .
Biden's Supply Chain Intentions Depend on Cybersecurity
6 min
President Biden's supply chain executive order is heavily dependent on the lessons learned by cyber security leaders in recent years but will he take...
In recent years, the United States' supply chain network has faced an onslaught of cyberattacks. The attacks have left the global superpower a shaking nation with a whole portfolio of challenges, risks, and vulnerabilities exposed to the masses. From the attack to the that breached companies like Apple, Microsoft, Uber, and Tesla, to the most recent , it's evident that, in an increasingly digital age, cybercriminals fear no traditional governmental powers, and supply chain networks need to hunker down on cybersecurity. 
Looking back at the height of the COVID-19 pandemic, western nations found themselves ill-equipped to deal with the novel Coronavirus; not due to lack of knowledge or medical inability but because supply chains were in a chokehold and supplies like personal protective equipment (PPE) for frontline workers weren't being manufactured fast enough. 
To address this problem and mitigate future risks, Biden signed , aptly titled "America's Supply Chains", in February 2021. 
The Executive Order (EO) of US supply chains to figure out exactly where the vulnerabilities and risks are, to help institutions and organisations manage any future disruption caused by COVID-like events. 
The EO focuses on six primary sectors:
Agriculture
Communications and information technology
Defence industrial base (DIB)
Energy and power
Public health
Transportation
The listed sectors, as you might expect, are increasingly dependent on digital products and services to maintain daily operations, which increases their vulnerability to potential attacks ─ so they need cybersecurity. In fact, cybersecurity should be front-and-centre as a critical facet of the EO if the federal government truly intends to create a more robust and resilient supply chain in the face of rising criminal adversity.
Digitisation Dangers The Nation
When it comes to a globally interconnected supply chain, the ambitions of Biden's administration are potentially a little far-fetched and off-the-mark, in reality. I say that because an overwhelming number of industry-leading organisations ─ even in the tech realm ─ still do not feel confident in their ability to deal with the vulnerabilities in their supply chain. Most of which come not from internal operations but from externals ones in the form of third parties and suppliers that they collaborate with. 
According to the dated but increasingly relevant Marsh Microsoft introduction, "cyber risk has moved beyond data breaches and privacy concerns to sophisticated schemes that can disrupt entire businesses, industries, supply chains, and nations, costing the economy billions of dollars and affecting companies in every sector. The hard truth organisations must face is that cyber risk can be mitigated, managed, and recovered from, but it cannot be eliminated." 
Taking a look at the survey results reveals a telling tale: that third-party providers and supply chain operations external to an organisation are most likely to be the victim of cyberattacks and potential infiltration. 
The survey found a wide discrepancy in many organisations' view of the cyber risk faced by supply chain partners, compared to the level of perceived risk they themselves pose: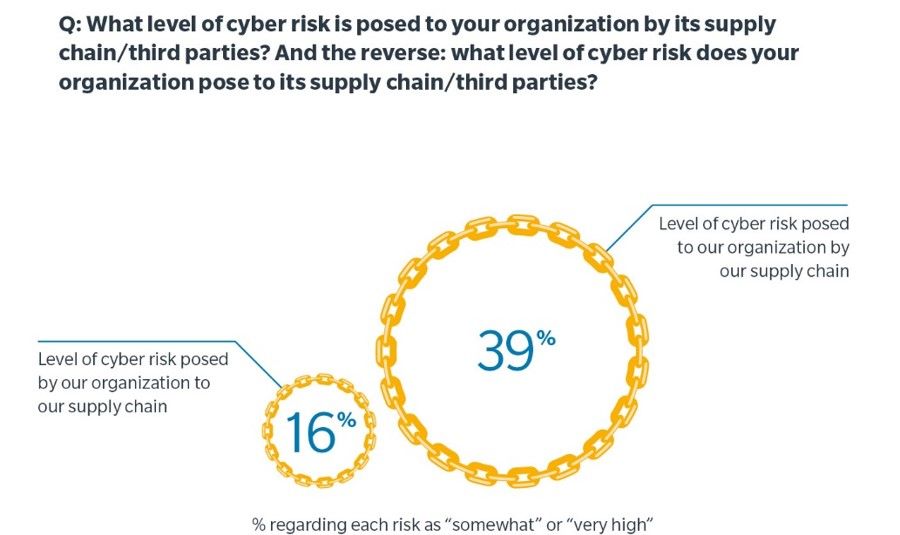 This variance is consistent across industry sectors and geographic regions, and the largest organisations exhibited the largest dissonance: 61% of companies with revenues of US$5bn or more suggested that their supply chain partners pose a risk, whereas only 19% say they themselves pose a risk to the third-parties involved:
Low Confidence in 3rd-Party Risk Mitigation Capabilities
The above paints a pretty poor picture of the overall supply chain security ─ a disconnect between large organisations and their suppliers, which could be driven by companies' low confidence in their ability to mitigate cyber risks posed by their commercial partners. The number of companies that considered themselves "highly confident" in that area is few and far between, with only 5-15% of respondents feeling prepared to deal with the cyber risks caused by certain types of third-party providers. 
So due to the very obvious lack of knowledge, it's clear that supply chain professionals and organisations, as well as the Biden administration, should call upon their cybersecurity industry peers ─ ─ to take the fight to black hat cybercriminals.
How Cybersecurity Professionals Can Help
According to Padraic O'Reilly, CPO and Co-Founder of CyberSaint, the success of Biden's Executive Order is heavily dependent on its stakeholders taking note of lessons from cybersecurity's supply chain risk management initiatives, including: 
Identifying the main weaknesses along the chain of production before determining which ones can be fixed cost-effectively. Then, compare that with the cost of the potential impact ─ discover where the holes are and what's worth prioritising. 
Thinking about the supply chain as a cybersecurity practitioner does. Cyber-risk is all about making sense of multiple data sources, and supply chain risk is the same. Don't think about the supply chain as a single entity; rather, consider it as many entities that produce data ripe for deep risk analysis. 
Standardisation across the globally interconnected supply chain is hard, and communication is key. Cyber experts are hot on the topic, as managing risk is exactly what they do. Vulnerabilities and risk is the language that they speak in. They've been dealing with supply chain security for years before disruptions at the scale of COVID-19 came about. 
Cross-sector collaboration with a strong focus on communication across hierarchical levels is at the very core of the cybersecurity function. If Biden hopes to see his supply chain initiative reign triumphant, his administration must ensure that efforts are coordinated across agencies, public entities, and the private sector industry. The administration must also carefully consider the potential impact of increased regulation that should be put in place following the year-long project ─ it could make or break the initiative across various sectors. 
According to O'Reilly: 
"The best choice is to rely on standards, measurement, and cross-industry collaboration to make this happen. Other supply chain standards, such as the (CMMC), can serve as models for a data-driven approach.
Without these considerations, we risk a lot of duplicative time, effort, and analysis, only to fail to mitigate cyber-risks and possibly result in yet another supply chain attack. We hope stakeholders will engage the information security community to bolster this project. Leveraging existing analysis by the information security community will matter to its success."
Adapting To The Unknown 
The fact of the matter is, when it comes to the US supply chain, we mostly haven't got a clue. It's a massively interconnected network that represents an ecosystem ─ one with risks coming from all angles and multiple points of failure. It'd be almost impossible to figure out all of the potential risks, as Biden's initiative intends, so, according to O'Reilly, it'd be beneficial to focus not on sniffing out every single supply chain vulnerability but on advanced persistent threat (APT) incentives:
What are the low-hanging targets?
What do criminals want?
What are they capable of? 
"Doing some scenario modelling and talking in probabilities could lead to more informed decisions regarding mitigating risk. NIST 800-30 and the are examples of risk-quantification methods that aim to translate cybersecurity risk into dollars and cents. Understanding supply chain risk requires measurement, strong governance, input from security experts, information sharing, and advances in cyber and IT risk-management software. Instead of logging an APT's activity, start getting a fact pattern about where they may be going", O'Reilly adds. 
So the final point to the Biden administration and organisations that are working on is clear: cybersecurity professionals have an advantage over their peers because they already live to standardise data; they view risk through a lense of complexity and costliness of failure, and if the two parties can collaborate effectively, there's a chance that security professionals can finally understand the full extent of the supply chain ecosystem and, with any luck, secure it from future attacks.