Yodel delivers donated instruments to 10,000 schoolchildren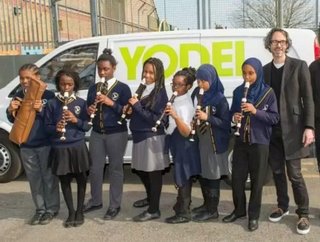 Follow @SamJermy and @SupplyChainD on Twitter.Following the success of James Rhodes and Channel 4s Dont Stop the Music Instrument Amnesty, over 6,500 do...
Follow @SamJermy and @SupplyChainD on Twitter.
Following the success of James Rhodes and Channel 4's Don't Stop the Music Instrument Amnesty, over 6,500 donated musical instruments have been delivered by parcel carrier Yodel to 170 primary schools across the country. Collectively worth £1million, the instruments are already allowing over 10,000 children to experience the joy of making music.
Last autumn the British public were encouraged to donate their unwanted musical instruments to local Oxfam stores, as part of the UK's biggest ever 'instrument amnesty'. Yodel took on the vital role of delivery partner, with its YodelDirect service collecting the donated instruments from Oxfam's 700 shops and delivering them to the Amnesty's headquarters for sorting and refurbishment. Yodel has since been delivering them to primary schools who registered to take part.
The amnesty and two part programme, which was produced by Jamie Oliver's production company, Fresh One, aired on Channel 4, and was fronted by internationally-renowned classical pianist James Rhodes.
The Channel 4 series followed James as he trialled an instrument amnesty in a Basildon primary school and geared up to go nationwide. With the school in special measures, a music budget of precisely zero pounds & teachers already stretched to the limit, James' mission was to show through direct action just what putting an instrument into the hands of a child can do. As the series aired a website and a partnership with Oxfam and Yodel made it possible for the public to donate their unwanted instruments and get them to the schools in need.
James Rhodes said: "Young children have a hunger and thirst to learn music and we must give every child the opportunity to learn a musical instrument. The 'instrument amnesty' has helped make this a reality for thousands of kids up and down the country.  With the crucial support of partners like Yodel's YodelDirect service we've achieved something brilliant, long lasting and life affirming."
Support from Oxfam, Yodel, change.org, Google and Universal Music helped to bring the project to life, with celebrities including Sir Paul McCartney, Jessie J, Damon Albarn, Sir Tom Jones, Tinie Tempah and Ronnie Wood encouraging the public to get involved.
Dick Stead, executive chairman of Yodel, said: "Every parcel we deliver is important to its recipient and this is definitely the case with the instrument amnesty. We are incredibly proud to have played a part in this wonderful opportunity, bringing the gift of music to over 10,000 children."
Yodel already has an established link with education, delivering millions of parcels of educational materials to schools, colleges and students each year.
UK independent parcel carrier Yodel handles over 155 million parcels every year and has a relationship with 85 percent of the UK's top retailers. The company is headquartered in Hatfield and has over 60 locations across the UK, including three central sorts and over 50 service centres.
Yodel offers a range of services to meet the needs of its clients and their customers through Yodel Home and Business, a neighbourhood courier as well an international service, and CollectPlus which is Yodel's joint venture with PayPoint, allowing customers to collect, return and send parcels from their local convenience store, newsagent or petrol station. The service current has over 260 retail clients and is available in over 5,500 locations across the UK.
To find out more visit http://www.dontstopthemusic.co.uk/ and for more information on Yodel please visit http://www.yodel.co.uk/