INFOGRAPHIC: How DHL helped Bayern Munich during winter training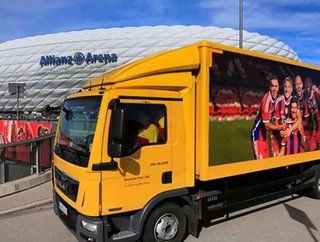 Follow @SamJermy and @SupplyChainD on Twitter.DHL, the worlds leading logistics company, has scored its next goal for FC Bayern Munich by shipping key e...
Follow @SamJermy and @SupplyChainD on Twitter.
DHL, the world's leading logistics company, has scored its next goal for FC Bayern Munich by shipping key equipment to the Bundesliga champion's winter training camp in Doha.
DHL became an official platinum partner and the new international logistics and ecommerce full-service partner of FC Bayern Munich last year. The six-year agreement will see DHL use its global logistics and e-commerce expertise to help the world's biggest football club, with 250,000 members and almost 300 million supporters worldwide, expand its international presence and capitalise on its global merchandising potential.

DHL Trade Fairs and Events, the specialised DHL Global Forwarding, Freight subsidiary of the logistics giant which takes exclusive care of reliable and on-time logistics of trade fair and event goods, managed the 1,600 kilogram shipment in a flight from Germany to the training camp in Qatar earlier in January. The cargo included training clothes and equipment, special medical supplies and others, and the training camp concluded with a friendly match in Saudi Arabia.
 
TO VIEW THE DHL INFOGRAPHIC, VISIT: http://www.dhl.com/content/dam/downloads/g0/press/publication/fc_bayern_munich_doha_infographics.pdf

DHL has prestigious and long-running partnerships with many of the world's leading sporting events as sponsors and logistics partners. These include Formula 1, rugby and football. DPDHL has partnered the German Football Association (DFB) for many years and is an official sponsor of the association's national cup competition and the national squad. DHL has been a partner of Formula 1 for more than 20 years and in 2004, it was named Official Logistics Partner. A company that prizes innovation, DHL has also supported the development of new sports and is the Official Logistics Partner and a Founding Partner of the FIA Formula E Championship, delivering cars and racing equipment to the inaugural Beijing ePrix, the world's first fully electric racing event held last September.

For over 25 years, DHL Trade Fairs and Events has been providing customers with a complete portfolio of flexible exhibition and logistics services to ensure delivery of a perfect show time after time. It also offers document handling and customs clearance services to help smooth the import/export process with a completely bespoke service for all customers from manufacturing to fine art and football.