Impact of 3d printing in supply chain and logistics arenas, by Cerasis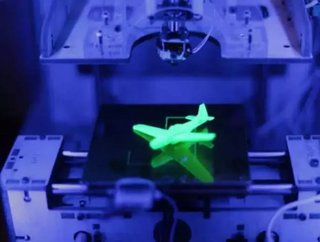 Supplied by Cerasisbloggers First of all what is 3D printing and what is the outlook of the application in manufacturing? As we noted in ourtop issues...
Supplied by Cerasis bloggers
First of all what is 3D printing and what is the outlook of the application in manufacturing?
As we noted in our top issues in American Manufacturing series, 3D printing is a key trend and applications manufacturers are paying attention to over the next decade. Currently around 28 percent of the money spent on printing things is for final products, according to Terry Wohlers, who runs a research firm specializing in the field. He predicts that this will rise to just over 50 percent by 2016 and to more than 80% by 2020.
The process of 3D printing, sometimes called additive manufacturing, is a slow procedure in which a printer reads a digital blueprint and methodically drops building material according to a set of instructions, creating a final product that's built up tiny layer by tiny layer. The printers are capable of producing extremely detailed and intricate levels of design that can be difficult or impractical to create with other methods.
Some are saying that 3D Printing will be "the next industrial revolution" said Doug Angus-Lee, rapid prototype account manager with Javelin Technologies, an Oakville, Ont.-based supplier of the technology.
"The invention or the implementation of the assembly line changed the way manufacturing works and 3D printing is going to change the way manufacturing works in the future. When the web took off, it gave us the tool for everybody … to become a publisher that was something that only a few of the biggest companies in the world were able to do it before that. Well, with 3D printing, we're all able to be manufacturers."
The list of materials that can be ingested and outputted by 3D printers is growing, some might say into sci-fi territory. The capabilities of 3-D printing hardware are evolving rapidly, too. They can build larger components and achieve greater precision and finer resolution at higher speeds and lower costs. Together, these advances have brought the technology to a tipping point—it appears ready to emerge from its niche status and become a viable alternative to conventional manufacturing processes in an increasing number of applications.
Should this happen, the technology would transform manufacturing flexibility—for example, by allowing companies to slash development time, eliminate tooling costs, and simplify production runs—while making it possible to create complex shapes and structures that weren't feasible before. Moreover, additive manufacturing would help companies improve the productivity of materials by eliminating the waste that accrues in traditional (subtractive) manufacturing and would thus spur the formation of a beneficial circular economy (for more, see "Remaking the industrial economy"). The economic implications of 3-D printing are significant: McKinsey Global Institute research suggests that it could have an impact of up to $550 billion a year by 2025.
The promise of a 3-D printing-based supply chain is simple: "Additive manufacturing will democratise the manufacturing process." So says Ed Morris, director of NAMII, the federally-funded initiative set to define and promote the future of the industry.
3D printing.....It WILL affect the supply chain   
"In terms of impact on inventory and logistics," he says, "you can print on demand. Meaning you don't have to have the finished product stacked on shelves or stacked in warehouses anymore. "Whenever you need a product," he explains, "You just make it. And that collapses the supply chain down to its simplest parts, adding new efficiencies to the system."
Those efficiencies run the entire supply chain, from the cost of distribution to assembly and carry, all the way to the component itself, all the while reducing scrap, maximizing customization and improving assembly cycle times.
Basically, Morris says, it tears the global supply chain apart and re-assembles it as a new, local system.
The traditional supply chain model is, of course, founded on traditional constraints of the industry, the efficiencies of mass production, the need for low-cost, high-volume assembly workers, real estate to house each stage of the process and so on.
But additive manufacturing bypasses those constraints.
3-D printing finds its value in the printing of low volume, customer-specific items, items that are capable of much greater complexity than is possible through traditional means. This includes hollow structures like GE's fuel nozzles that would normally be manufactured in pieces for later assembly.
This at once eliminates the need for both high volume production facilities and low level assembly workers, thereby cutting out at least half of the supply chain in a single blow.
From there, the efficiencies of that traditional model stop making sense, it is no longer financially efficient to send products zipping across the globe to get to the customer when manufacturing can take place almost anywhere at the same cost.
The raw materials today are digital files and the machines that make them are wired and connected, faster and more efficient than ever. And that demands a new model—a need to go local, globally.