Global air, rail & road logistics news roundup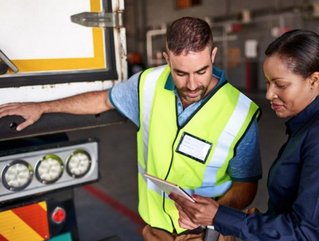 Global logistics news roundup for week beginning 1 April 2023
XPO Logistics seal Princes food & drink deal; California sets zero-emissions trucks timeline; Global air cargo rates stabilise after recent fall
EC settles EU countries' Ukraine-imports protest
The European Commission (EC) has reached an agreement with Bulgaria, Hungary, Poland, Romania, and Slovakia on the import by rail of Ukrainian agri products.
EC VP Valdis Dombrovskis said the package will include €100mn in financial support for farmers across the five countries, who have endured significant losses since the import of products from Ukraine in the EU has been prioritised.
Tension between Ukraine and neighbouring EU countries rose in mid-April when Slovakia, Poland, and Hungary banned the import of some Ukrainian agricultural products.
The three countries took the action after complaints of a lack of EU protection for their farmers.
The new deal with the EC means these countries will now "withdraw their unilateral measures", Dombrovskis said.
Global air cargo rates stabilise after recent fall
Global air cargo rates have stabilised since mid-April after falling for several weeks, according to figures from WorldACD market data.
Figures for 17-23 April show a week on week levelling-off in tonnage and a slight increase in global air cargo prices, based on 400,000 weekly transactions covered by WorldACD's data.
Compared to the previous two weeks, overall tonnage fell by 5% and average worldwide rates dropped by 3%.
At a regional level, air cargo tonnages fell across the board, most notably to Africa (-21%), Middle East & South Asia (-16%), Central & South America (-13%), and Asia Pacific (-11%).
Air lanes between North America and Central & South America are the only exceptions, with the biggest increase ex-Central & South America to North America (+18%), reports Air Cargo Week.
California sets zero-emissions trucks timeline
California has announced regulations requiring all new heavy-duty truck sales to be zero-emission by 2045.
The new rules, issued by the California Air Resources Board require the phasing out of sales of medium and heavy-duty combustion-engine trucks by 2036.
The new rules will provide fleet operators with different options to begin transitioning to zero-emissions technology. These will be available to major fleet operators, including state, local, and federal government fleets.
The regulations also aim to limit train pollution in the state, by adopting a ruling that requires newly built passenger and freight trains to be zero-emission by 2030 and 2035, respectively.
XPO Logistics seals Princes food & drink deal
International food and drink group Princes is now working with XPO Logistics on UK stock handling and shunting activity.
XPO Logistics, a provider of transport and logistics solutions in Europe has been awarded the contract for Princes' warehouse in Bradford in the North of England.
The warehouse is part of Princes' soft drinks facility, which produces the Group's Jucee squash brand and a range of own-brand soft drinks.
XPO Logistics's UK & Ireland MD Dan Myers said: "The Princes operation will benefit from our expertise in grocery warehousing and passion to deliver tangible improvements."