DHL: driving global standardisation of operations with Robotics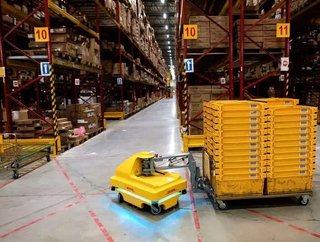 When it comes to standardisation and optimisation Oscar de Bok, CEO of DHL Supply Chain, highlights the need for flexible solutions when battling today...
When it comes to standardisation and optimisation Oscar de Bok, CEO of DHL Supply Chain, highlights the need for flexible solutions when battling today's supply chains that continue to grow in complexity.
De Bok emphasises that with a large global company such as DHL, the importance of having a strategy that utilises digitalisation and collaborative robotics is crucial for enhancing value, and ensuring its workforce is unified and connected. "Standardisation of our processes is how we improve and is therefore a very important part. It starts with having the best people, then having standardised processes around the globe, to then making our customers aware and want to grow with us. Because the more we grow with our customers, the more opportunities we can provide," notes de Bok. 
DHL has recently come to the end of its 2020 strategy, but has long-term strategies that look to as far as 2050. DHL is currently driving its 2025 strategy that focuses on 'delivering excellence in a digital world', as part of its strategy the company plans to invest US$2.2bn into digitalisation and robotics. 
"The future is exciting. The future is about innovation and making sure we continuously improve. We believe to be truly innovative, an idea has to be rolled out throughout the entire organisation," says de Bok. To accelerate growth and drive disruption, "we are not going to wait for customers to tell us what will happen tomorrow, we will tell our customers." 
"Flow is everything in a supply chain environment," comments Markus Voss, CIO and COO of DHL Supply Chain. "When you look at supply chain and logistics, we are at the brink of a major disruption. It is exciting to be in this industry at this moment in time, because we can shape the future." Markus Kückelhaus, VP Innovation and Trend Research at DHL, also adds that in a McKinsey study it was highlighted that "60% of potential digitalisation revenue is coming from the supply chain industry." With this in mind, DHL has been striving to change their whole paradigm, investing in a central team to drive productisation of technologies relevant for all sites.
SEE ALSO:
"We have identified the key characteristics of innovative technologies and how they fit into our 2,000 sites globally," says Voss, with this method DHL has developed a standardised and structured process that drives optimised innovation, "right now, we have more than 2,000 initiatives which we feel are ready to be rolled out."
Robotic and RPA innovations DHL has currently implemented to standardise its processes and increase productivity and efficiency include, 'goods to person robots' and 'follow me robots' to assist with the picking and transporting of products to reduce the miles covered by associates. In addition, DHL has also implemented wrapping robots reducing physical work; wearable devices to replace traditional barcode readers and picking devices; autonomous forklifts for moving pallets in warehouses; Neo Avidbots (cleaning robots) reducing unsociable and repetitive tasks and Sawyer robots (robotic arms) to reduce repetitive packing tasks. Inside these innovations is intuitive software, developed by DHL and its partners, which Voss believes will help to drive efficiency when it comes to the adoption of innovative technology. Ultimately, DHL aims to substitute its manual and repetitive tasks that add limited value to the company and to its associates satisfaction, with algorithms and robotics to improve the flow within its warehouses."We want every site, customer and employee to feel that a digital supply chain is actually a reality and that we're driving this very hard," comments Voss.
When it comes to standardisation, Voss highlight that it is a double edged sword. Robotics and RPA is extremely important when it comes to standardising physical operations within warehousing and logistics, but equally in order to achieve this standardisation of warehouse operations, backend software needs to also be standardised in order to truly see the benefits. "All the amazing innovations that you see in terms of robotics is nothing without the intelligence and the software that is driving the decision making and that is innovating robots to where we need them to be," says Voss. "This industry has been known to be a cottage industry, with each side of an operation being slightly different and running on slightly different systems. With the advancement of innovative technology such as robotics and automation it is very clear that the more standardised you are the easier it is to drive innovation through your operations. We have been putting a lot of effort in the last five years into the standardisation of our backend systems so that all sites are running on the same software and processes, making it much easier to connect robotic platforms and other innovative technologies," concludes Voss.
For more information on all topics for Procurement, Supply Chain & Logistics - please take a look at the latest edition of Supply Chain Digital magazine.