Amazon prepares to deliver 100 Million Vaccines in 100 days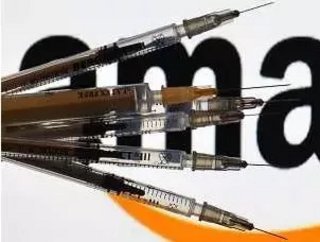 Amazon offers to pitch in and help new US President Joe Biden deliver 100 million COVID-19 vaccine doses in his first 100 days in office...
As first reported by , on Wednesday in a letter sent to President Joe Biden, Amazon offered to pitch in and help him in his mission to deliver 100 million COVID-19 vaccine doses within his first 100 days in office. Because who better really? 
It's no secret the Amazonian giant had a contentious relationship with former President Trump, Bezos's ownership of the and Trump's claims of unfair coverage wedged between them. So it no surprise that the offer came in on the same day Biden became the 46th President of the United States. 
As the Biden administration is faced with a massive challenge in speeding up the vaccine rollout, a little help from the supply chain optimization king and his network of world-class facilities must be most welcome.
The world's largest online retailer has an agreement with a healthcare provider to administer vaccines on-site at its facilities and will move forward once doses are available, Dave Clark, chief executive of Amazon's worldwide consumer business, said in the letter. He also pushed for Amazon's essential workers, of which there are more than 800,000 to be prioritized in the vaccine rollout.
Prepared to leverage operations
"The essential employees working at Amazon fulfilment centres, AWS data centres, and Whole Foods Market stores across the country who cannot work from home should receive the COVID-19 vaccine at the earliest appropriate time. We will assist them in that effort," said Dave Clark, Amazon's CEO of consumer business.
As of September, more than 19,000 Amazon workers had contracted the virus. Vaccination of its employees is essential to keeping them safe and keeping warehouse doors open.
Clark also added that Amazon was "prepared to leverage our operations, information technology, and communications capabilities and expertise to assist your administration's vaccination efforts." 
"Our scale allows us to make a meaningful impact immediately in the fight against COVID-19, and we stand ready to assist you in this effort," Clark wrote. He also stated the company was ready to leverage their "operations, information technology, and communications capabilities" in their efforts to assist Joe Biden in his mission of vaccinating 100 million Americans within his first 100 days in the White House.
Clark also congratulated President Biden and Vice President Kamala Harris on their inauguration. But oh, didn't we all.