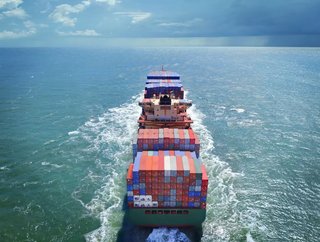 We track movements in the largest ocean cargo and freight firms by TEU during a boom in international logistics
Ocean freight is dominated by the biggest players. In fact, 72.4% global ocean freight market is operated by the 10 largest by TEU. Here we breakdown the biggest shippers, their capacity, and commitments to reducing carbon emissions. 

Data courtesy of sector tracker Alphaliner 
10: Maersk TEU: 4,111,617
The de facto king of the seas, A.P Moller-Maerk Group's Maersk Line is the world's biggest carrier of ocean freight and cargo. It operates 710 ships, including owned and chartered vessels, the largest of which can carry more than 20,000 TEUs alone.
Maersk operates from 300 ports worldwide and can handle eve tying from dry cargo and temperature controlled cargo, to specialist and dangerous goods. The shipping behemoth owns more vessels than its closest two rivals, with more owned TEU capacity. Revenue in 2020 reached $39.74bn.
09: Mediterranean Shipping Company (MSC)TEU: 3,960,502
Headquartered in landlocked Geneva, Switzerland, MSC is nonetheless home to some of the highest-capacity container ships in the world, with a fleet exceeding 490, including chartered. Responsible for 16.2% of the world's ocean freight, it is second only to shipping titan Maersk. MSC calls at 500 ports on 215 trade routes, carrying some 21.5 million TEU annually.
08: CMA CGM Group TEU: 3,048,009
More reliant than the rest of the top three on chartered vessels, CMA CGM Group operates 558 ships in total, owning a little more than 20% of them. CMA CGM serves 420 of the world's commercial ports and operates on more than 200 shipping lines. It serves 160 countries, with 755 offices, 750 warehouses and more than 110,000 employees.
CMA CMG Group is a French acronym which translates to Maritime Freighting Company – General Maritime Company.
07: COSCO Group TEU: 2,999,002
China Ocean Shipping Company and operates close to 500 vessels, and has the second largest owned TEU in the world, at 1,567,423. The company serves more than 105 companies worldwide through 399 international and domestic shipping routes, consisting of 265 international services.
COSCO is part of The Ocean Alliance, a freight and cargo network, along with CMA CGM, Evergreen and OOCL. It is also a specialist domestic shipper, with more than 50 domestic services, and 80 services on the Yangtze River and Pearl River.
06: Hapag-LloydTEU: 1,795,852
Operating 257 ships, Hapag-Lloyd is major freight power in Transatlantic, Middle East, Latin America and Intra-America routes. It ships freight between more than 600 ports on all continents and boasts one of the world's largest and most modern reefer container fleets.
Hapag-Lloyd recently placed its first sustainability-linked bond to support its target of significantly reducing the CO2 intensity of the company's own fleet. It aims to cut 60% from its fleet by 2030, with further ESG goals to be released later this year.
Pictured: Hapag-Lloyd Captain Wolf Kaiser
05: ONE (Ocean Network Express) TEU: 1,596,237
Founded in 2017 as merger between Japanese shipping firms 'K' Line, MOL and NYK, Ocean Network Express is one of the newest shipping giants on the block. Nevertheless, it commands 6.5% of the market, operating 221 vessels, including 31 super-large ships, and some of the world's largest 20,000TEU container ships. It has since established regional headquarters in Hong Kong, Singapore, UK, USA and Brazil to serve its international customer base.
04: Evergreen LineTEU: 1,341,279
Perhaps the best known shipping firm in the world after its involvement in the Suez Canal blockage in March, Evergreen Line is the trading name for the group's five shipping companies, based in Asia and Europe. It currently operates 201 vessels.
True to its name, Evergreen is committed to reducing its environmental impact, achieving a reduction in CO2 emissions by almost 40% between 2008 and 2019. Longterm it aims to further reduce the emissions by 70% in 2050, from 2008, with the overall CO2 emissions reduced by 50%.
03: HMM Co Ltd TEU: 800,634
Hyundai Merchant Marine, which rebranded to HMM in 2020, is the largest of the relatively light-weight freight carriers, with just 78 vessels under its operation - and only 31 of those owned. It commands 3.3% of the ocean freight market and is South Korea's largest exporter.
Chief executive Jae-hoon Bae, says the company has ambitions to become "a competitive and sustainable shipping company in any market environment". It has plans in place to reach net-zero carbon emissions by 2050, and is engaged in R&D projects to benefit the entire ocean freight sector.
02: Yang Ming Marine Transport Corp. TEU: 628,463
Taiwanese freight firm Yang Ming Marine Transport Corp. was established in 1972 and has since grown into a global power. It operates 89 vessels and commands 2.6% of the market. Shares in the company reached their nine-year peak in December, as profits soared 740%.
01: ZIMTEU: 408, 519
Zim Integrated Shipping Services, commonly called ZIM, is a publicly held Israeli international cargo shipping company, founded in 1945 near the end of the second world war. It operates 95 vessels, predominantly charted vessels (it owns just two of its fleet).
Net income for its first quarter 2021, reported earlier this month, was $589.6 million, compared with an $11.9m loss in the same period last year. It also announced a new long-term chartering agreement with Seaspan for 10 green LNG-fuelled vessels - part of a wider plan to reduce carbon emissions.