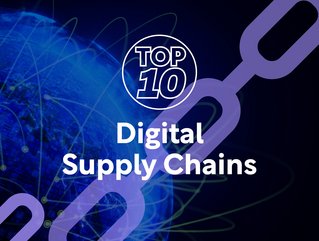 Top 10 digital supply chains.
Top 10 digital supply chains include Schneider, Cisco Systems, Colgate-Palmolive, Johnson & Johnson, PepsiCo, Pfizer, Microsoft, Lenovo, Walmart & L'Oréal
In today's troubled world, businesses that thrive in the face of adversity leverage supply chain technologies and digital transformation to retain and grow revenue with customers, both old and new.
Such supply chains not only drive growth but also develop supply chain risk management capabilities, which bring the resilience needed for rapid recovery from supply chain disruptions and the ability to anticipate and avoid yet unseen risks. Here are 10 companies leading the way in this area.
CEO: Peter Herweck
Scheider has developed five supply chain models to reflect the expectations of its different customer segments, including integrators, electrical distributors and end-users.
It says digitisation "provides the answer to building a customer centric supply chain", and that unless operating processes are connected "systems and tools cannot truly support the needs of customers or the business to provide one version of the truth".
Connectivity, it says, "allows us to control, monitor, and optimise every part of the process, and creates the desired end-to-end view, which can be visualised at unified operating centres located at key points around the world, to provide on-site, real-time knowledge driven by data analytics".

Top 10 digital supply chains: Cisco Systems
CEO: Chuck Robbins
Cisco is a multinational tech company that specialises in networking hardware, software, and services, and is one of the world's leading networking companies, serving customers in industries including networking, telecommunications, IT and cybersecurity.
Its three-year digital transformation – an initiative it calls Cisco.com Reimagined – is designed to create "simple and meaningful digital customer experiences that showcase innovation and drive growth".
Cisco is also fuelling the widespread digital transformation of its customers' supply chains by making digital transformation and hybrid cloud its top areas of spend – something that is fueling growth across its portfolio.
CEO: Noel Wallace
The multinational manufacturer and distributor of household and personal-care products is undergoing a digital transformation that it says is "foundational in how we meet our 2025 growth goals''. The company is harnessing the "power of digital" to enable and connect its 34,000 global employees across the globe.
The transformation involves automation across its operations, a 'measurement ecosystem', to produce clear KPIs and ROI, and new agile vendor partnerships designed to advance its business goals.
CEO: Joaquin Duato
J&J is the world's largest pharmaceutical, medical devices, and consumer products healthcare company. J&J is currently moving away from legacy systems and vendor-dependencies to build a "technology stack" designed to improve the customer experience and to open new business opportunities.
J&J is implementing new open-source IoT platforms that drive innovation and agility in both product development and supply chain processes, to deliver better quality products to patients and provide superior patient outcomes.
Combining the power of data,AI and machine learning J&J has reduced its release time from 35 days to two hours.

Top 10 digital supply chains: PepsiCo
CEO: Ramon Laguarta
Food and beverage multinational PepsiCo is undergoing a transformation designed to modernise the multinational, through a digital strategy that blends cloud, analytics, automation, and an emphasis on upskilling for the future.
Now over halfway into its five-year digital transformation, the company has secured employee buy-in because, it says, "one way or another every associate in every plant, data centre, data warehouse, and store are using a derivative of this transformation".
Its modernised data and cloud infrastructure replete has seen the company move 5,000 applications to Microsoft Azure as it applies predictive analytics, AI, robotics, and process automation in many of its business operations.

Top 10 digital supply chains: Pfizer
CEO: Albert Bourla
The ninth largest pharmaceutical company in the world, Pfizer generated over $80 billion in revenue in 2021 alone. But the company is not resting on its laurels, as supply chain disruptions and global labour strikes bring serious challenges.
Pfizer's mission is to "drive breakthroughs that change patients' lives", and as part of that mission, it is undertaking a business transformation to become "a leaner, more science-driven and patient-focused organisation", with digital playing "a part in almost every aspect of how we're going to achieve that transformation"
Top 10 digital supply chains: Microsoft
CEO: Satya Nadella
Microsoft's Digital Employee Experience (MDEE) team is building and operating the systems that run the company, and is leading the company's internal digital transformation.
It is doing this by rethinking traditional IT and business operations, and by driving innovation and productivity for its 220,000 employees worldwide.
The company says digital transformation is improving its ability to "empower our employees, engage our customers and partners, optimise our operations and transform our products".
Top 10 digital supply chains: Lenovo
CEO: Yang Yuanqing
Lenovo is a Chinese multinational technology company specialising in the design and manufacture of consumer electronics, personal computers, software and business solutions. It is a world leader in helping facilitate the digital transformation of supply chains with its 'everything-as-a-service' (XaaS) offering, to help organisations navigate their digital transformation journeys.
XaaS means a single provide plans, procures and manages a customer's IT environment from a single source, offering full maintenance, support and management, real-time insights, and constant ROI through a cloud-like consumption model.
Top 10 digital supply chains: Walmart
CEO: Doug McMillon
Walmart is focusing on infrastructure and e-commerce investments as it anticipates a future in which more of its shoppers migrate online. To this end, in 2022 the company invested $7.2 billion in supply chain, omnichannel and technology.
It is a bold policy, because the company admits that currently the vast majority of its overall profits are down to in-store bricks-and-mortar trade, but it predicts that in five years its income stream will be much less dependent on physical locations, with revenue growing from e-commerce, including marketplaces that offer third-party merchandise.
Top 10 digital supply chains: L'Oréal
CEO: Nicolas Hieronimus
During Covid, France-based L'Oréal – one of the world's leading cosmetics companies – saw digital sales in China grow double-digits, and other key zones, including North America and Europe, grew sales by double- and single-digits, respectively. Like Walmart, L'Oréal's market is changing, and so it is reflecting this in its strategy.
As a result L'Oréal is changing the face of the beauty industry by modernising its digital infrastructure. It has done so by seeking to bridge the physical, digital and virtual worlds, to produce "augmented retail beauty experiences". "In a hyper-creative and dynamic industry, bringing data science and technology into the equation was high on our strategic agenda", the company has said.