An IoT timeline - from Kevin Ashton & MIT to digital twins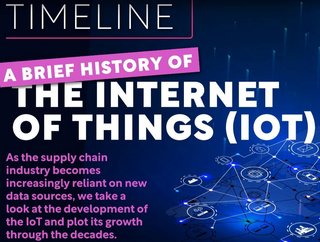 The supply chain industry is extremely reliant on data, at the heart of which is the Internet of Things (IoT), first used in an 80s Coke vending machine
IoT timeline: 1980s - pre-Internet of Things
Though Internet of Things, as a concept, wasn't yet officially named, one of the earliest examples comes from the early 1980s and was a Coca Cola machine.
Local programmers would connect through the Internet to the refrigerated appliance, checking to see if there was a drink available and if it was cold, before making the trip to purchase one.

IoT timeline: 2002 - Kevin Ashton's model runs Walmart inventory
British technology pioneer Kevin Ashton co-founded the Auto-ID Center at the Massachusetts Institute of Technology, which was behind what was to become the global standard system for RFID and other sensors.
In 2002-2003, Walmart and the US Department of Defense were the first large organisations to embrace Ashton's model of tracking inventory using tagging, RFID, and the 'Internet of Things' - a phrase Ashton coined.

IoT timeline: 2010 - Smart City Switzerland
A pilot programme called 'Smart City Switzerland' was founded by the Swiss Federal Office of Energy, and saw representatives from universities, businesses and public administration brought together to discuss new ideas for the urban environment. 'Smart City Switzerland' now has around 60 projects underway, supporting new IoT scientific partnerships and innovation.
IoT timeline: The Industrial Internet of Things (IIoT)
The IIoT rose with the emergence of cloud technology from around 2002. This allowed for stored of data to examine historical trends, and led to the development of the OPC Unified Architecture protocol in 2006, which enabled secure, remote communications between devices, programs, and data sources without the need for human intervention or interfaces.
Objects were equipped with machine-readable 'identifiers' that were able to create constant and instant data. The first large-scale use of IIOT tech was Walmart's inventory control programme in 2002.
General Electric is credited for creating the term 'Industrial Internet of Things' in 2012.

IoT timeline: 2013 - Internet of Things enters everyday life
By 2013, the IoT had become a system using multiple technologies - ranging from the Internet to wireless communication, and from micro-electromechanical systems (MEMS) to embedded systems.
IoT timeline: 2015 - Internet of Things goes mobile
Smartphone-enabling technologies such as built-in sensors, Bluetooth, radio-frequency identification (RFID) tracking, and near-field communications (NFC) allow it to be an integral part of IoT. From 2015, smartphones began to become an integral part of the IoT revolution. Today, they help people control a variety of IoT smart devices, from alarm systems to thermostats.