Freshworks Live Webinar: Optimising the Digital Workplace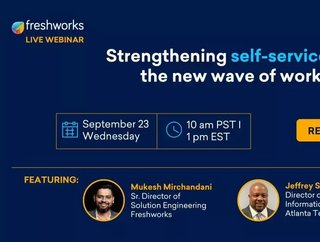 Freshworks is hosting a webinar to discuss how to optimise remote working and look at how to strengthen self-service for the new way of working...
The webinar, called "Strengthening self-service for the new wave of work" will look at the significant strain remote working has on IT teams from increased agent workload to the need for quicker response times. In today's current landscape, IT requires a powerful strategy for service and support in a bid to meet remote engagement challenges.
Today, there are now new ways of working, such as a redesigned digital workplace and it is imperative to ensure that employees have the tools, technologies, and information necessary to do their jobs easily. Jeffrey Smith, IT Director, from Atlanta Tech will discuss how he successfully implemented self-service. Also speaking at the webinar will be Mukesh Mirchandani, Senior Director, Solution Engineering at Freshworks.
"World-class IT organisations, on average, have 84% of their eligible processes automated for self-service, compared to 39% among their peer group." - Hackett Research.
The live webinar is set to take place on Wednesday, September 23 at 10am PST/ 1pm EST.
Freshworks provides organisations with SaaS customer engagement solutions that makes it easier for professionals to communicate effectively with customers.
The organisation believes in streamlining software and making life easier for its customers. Freshworks strives to provide businesses with better software that is easy to use, easy to set up and requires minimal customisation.