AI can help firms achieve supply chain sustainability - IBM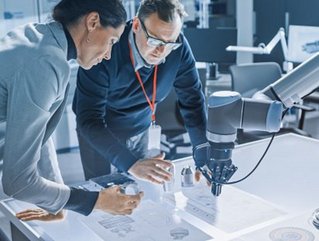 IBM's Jonathan Wright says AI can help businesses meet sustainability goals "by automating the processing of data, converting it into valuable outputs while maintaining data reliability".
IBM' Jonathan Wright says that with careful adoption AI can help firms' stay on track with sustainability and profitability roadmaps
In today's digitally advanced world, whether a company wins or loses in the market may depend on the strength of its AI model and data quality, says EY.
And most big consultancy firms agree. Manhattan Associates, for example, also believes generative AI can have a positive effect on supply chain.
But as with any new technology, power is nothing without control, and Jonathan Wright – Global Managing Partner Finance & Supply Chain Transformation at IBM – says that, although generative AI has captured the attention of business leaders and has become recognised as a transformative tool by leading CEOs, the transition to it becoming a central supply chain tool comes with a number of challenges.
These, he says, include knowing how to responsibly move forward, while maintaining the trust of businesses, employees and shareholders.
He adds that another problem is training.
"The modernisation of technology is a key factor in achieving productivity goals, and most CEOs report seeing numerous benefits to implementing generative AI across their organisation. Yet fewer of their executive teams feel they have the right knowledge to deploy it."
Sustainability key part of AI's use in supply chain
But Wright adds that making sustainability a part of AI's use in supply chain is absolutely critical.
He says: "Sustainability is a great challenge for business leaders, who are aware that profitability and sustainability go hand-in-hand, and that organisations must leverage opportunities to progress.
"Sustainability and profitability roadmaps are also progressive steps for organisations, as they enable leaders to identify existing opportunities and shortcomings within the IT landscape. This not only facilitates decision-making but is likely to enhance productivity, too.
"Organisations can leverage IT modernisation to drive progress towards their sustainability objectives through various means. "Implementing AI can automate the processing of data, converting it into valuable outputs while maintaining data reliability.
"And by adopting green IT solutions for enterprises to minimise their IT carbon footprint and potentially reduce computing costs by up to 30%. And, finally, by using advanced analytics platforms to offer transparent management of sustainability data across value chains."
******
For more insights into the world of supply chain read the latest edition of Supply Chain Digital and be sure to follow us on LinkedIn & Twitter.
Other magazines that may be of interest: Procurement, Manufacturing & Sustainability. Also check out our upcoming event in September: Procurement & Supply Chain LIVE London.
******
BizClik is a global provider of B2B digital media platforms, for leaders across: Sustainability; Procurement & Supply Chain; Technology & AI; Cyber; FinTech & InsurTech; Manufacturing; Mining; Energy; EV, Construction; Healthcare; and Food. Based in London, Dubai, and New York, BizClik offers services including content creation, advertising & sponsorship solutions, webinars & events.