AI & Biofeedback Sensors for Personalized Safety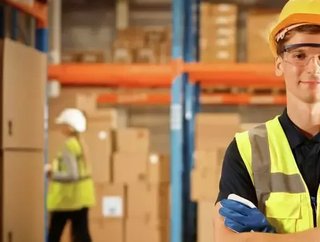 Find out what leading supply chain companies are saying about using AI technology to reduce lost workdays and employee turnover...
Valuing employees and defining their importance and worth to an operation is material to business performance. Improving worker engagement, leads to quantifiable enhancements and a reduction of lost workdays and employee turnover.
New advances in ergonomic training using sensors and biofeedback are forging a step change in manual handling injury reduction. Leveraging the power of artificial intelligence (AI) and machine learning, coaching workers to self-correct their movements in real-time and avoid ergonomic injuries, stimulates an engaging personalized pathway to behavioural change.
Miguel Trivino, CSP, director of environmental, health, and safety at Kenco Logistics says,"Nobody likes back pain, but proper lifting is a habit that many new associates have not yet developed. The Soter device gently yet persistently raises the level of awareness, building a good incentive to use better body mechanics".
When it comes to declining productivity in the workforce, the main causes are lost workdays and high employee turnover. Gifting workers with the tools to help them learn to move safely and feel valued by the individual attention it can provide them, can help with the pull between productivity and safety. 
Sarah Moore, Health and Safety Leadership Partner - Sales & Group Projects - Coca Cola Amatil advises, "Feedback from employees that have completed the program has been extremely positive. The coaching modules and live Beep/Bizz feedback providing with a real time understanding of their personal risk movements, has empowered them with the information they need to be more mindful of their own manual handling movements, because for the first time they know what 'good looks like' for them".
The sensors offered by Soter Analytics enhance a worker's learning potential by teaching and notifying them specifically about their movements. They can track, share and compare with other colleagues building camaraderie and fun on the job.
Reducing Lost Workdays
Despite various regulations, safety training and preventive technologies, workplace injuries are still the main driver of lost workdays. The core lies within the people and their behaviour. It's difficult for everyone to follow the same process or move safely when being fatigued or stressed and there's no wallpaper or sign to fix it.
Many companies use outdated learning methods. Classroom training has its benefits, but it's not enough to make significant changes. Not the specific, targeted changes required to assist direct injury prevention.
Vimel Budhdev, Head of Health, Safety and Environment at Travis Perkins implemented individual tailored environmental controls by leveraging data from the wearable sensors.
"In one simple instance, the device highlighted that one of our colleagues was bending at a low level roughly around 100 times a day so by easily moving some things around we have reduced around 26,000 high-risk bending movements in a year"
Reducing High Employee Turnover
Maintaining the required number of workers on-site to meet all goals is a huge challenge. Especially for high-demanding jobs. On average, employee turnover in logistics sits at 10-30%, while to get a trained replacement takes 4 weeks - to have them fully adapted and effective takes up to 3 months. This is time-consuming, puts more pressure on existing workers and can cause a loss in motivation for all parties, possibly resulting in absenteeism or resignation.
The art to employee loyalty comes in many forms: salary, colleagues, working environment, safety, but it is the appreciation and respect from the organization that is the number one activator. When a worker recognizes an employer showing care for their well-being, there's a lesser chance of them leaving the job.
What Vimel Budhdev from Travis Perkins said about this: "We found the set up really easy, it was pretty much step 1, 2, 3 and the colleagues easily linked the devices to their mobile phones. Tracking their own data created a really positive engagement and during the debriefing sessions the colleagues continually wanted to know more about their results and how they could do things differently"
Conclusion
A product that keeps the safety conversation going amongst workers as they track, share, compare and improve their movement data. With a 93% positive feedback rating, workers are saying:
"I love how it made me more aware of how I was moving" 
"A great demonstration that certain movements I might have previously considered unimportant can still have an impact either singularly and/or cumulatively" 
"The device made me think about my movement before commencing activity" 
Lincoln Butler, General Manager Systems and Safety Pacific at Swissport noticed: "We have seen what fitness trackers and smartwatches have done for engaging people in their own general well-being and fitness, and I expect this type of simple, effective device will help drive more preventative behaviour at work"
These high-tech tiny devices are flipping the process around. Individual workers can be responsible to follow their own injury reduction program, harbouring an autonomous learning experience, keeping them safe, engaged and on the job.