The Importance of Cyber Protection in Supply Chain
4 min
As the world works from home, organisations with extensive supply chain, procurement, and logistics arms must improve their cybersecurity...
, a global leader in , today released its 2020 Acronis Cyberthreats Report, its in-depth review of the current threat landscape and projections for the coming year. Based on the protection and security challenges that were amplified by the shift to remote work during the COVID-19 pandemic, Acronis warns 2021 will bring aggressive cybercrime activity as criminals pivot their attacks from data encryption to data exfiltration.
Ransomware continues to be the leading threat, with Maze ransomware accounting for nearly half of all known cases in 2020. Yet the Acronis Cyberthreats Report points to a growing trend of cybercriminals trying to maximise their financial gain. Not content to collect ransoms to decrypt infected data, they steal proprietary – and sometimes embarrassing – data before encrypting it. They then threaten to publicly release the stolen files if the victim doesn't pay up.
Acronis reports that more than 1,000 companies had their data leaked following a ransomware attack in 2020 – a trend that is expected to accelerate in the coming year, overtaking encryption as the criminals' primary tactic.
"More than any year in recent memory, 2020 posed a tremendous number of challenges to IT professionals, organisations, and the service providers who support them," noted Stas Protassov, Acronis co-founder and Technology President. "What we've seen is how quickly bad actors are adjusting their attacks to the new IT landscape. By analysing the activity, attacks, and trends we've detected and clearly presenting our findings, we hope to empower our partners and help the IT community at large prepare for the threats on the horizon."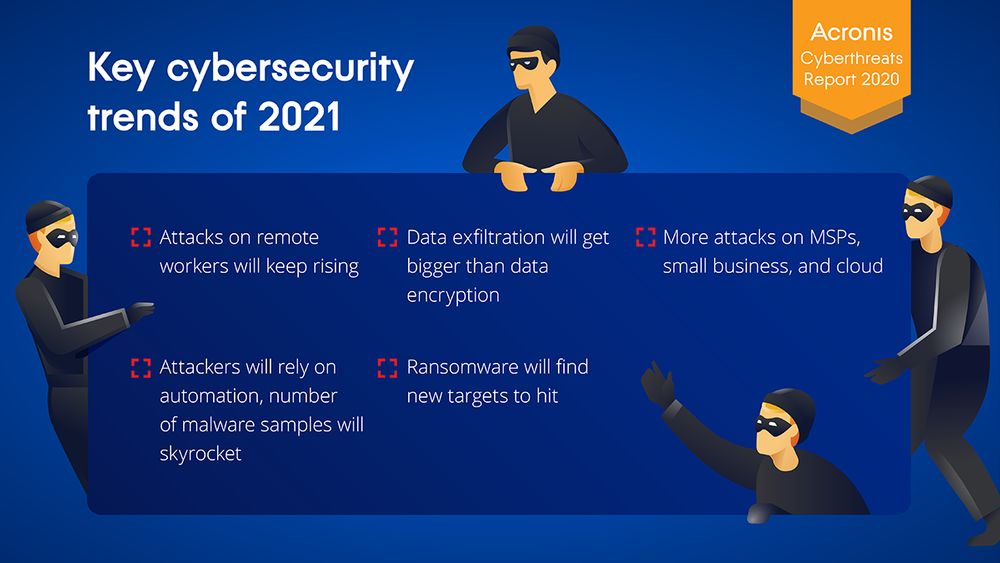 Takeaways of the Acronis Cyberthreats Report
Among the other notable findings in the Acronis Cyberthreats Report include:
Attacks against remote workers will increase. While 31% of global companies reported daily cyberattacks in 2020, the frequency of attacks targeting their remote workers is projected to increase in 2021, since the defences for systems outside of the corporate network are more easily compromised, giving bad actors access to that organisation's data.
Ransomware will look for new victims, become more automated. Rather than continuing to cast a wide net, ransomware attackers will focus on targets that provide a bigger return on their efforts. Breaking into one network to steal data from several companies is more profitable than attacking individual organisations. So, while small businesses will still be targeted, cloud environments and organisations like managed service providers will become more valued targets because their systems can provide access to the data of multiple clients.
Legacy solutions struggle to keep up. Blocking the new malware has rendered traditional antimalware solutions obsolete, as they cannot keep pace with the increased sophistication and frequency of new threats. The average lifespan of a malware sample in 2020 was just 3.4 days. As attackers continue to utilise automation, the number of malware samples will continue to climb. Organisations will need to find new approaches to protection that are agile and designed to stay ahead of new threats. Simple standalone security and backup solutions will no longer be enough.
Evolving Responses to Evolving Threats
"When it comes to existing solutions and strategies, the current trends in cyberattacks all show that traditional cybersecurity is failing – usually because of weak technologies and human error, which are both avoidable," added Candid Wüest. the VP of Cyber Protection Research at Acronis and co-author of the report. "Just as cyber criminals are evolving their attacks, organisations need to advance their protection and security. Comprehensive cyber protection solutions offer the integration and automation that eliminate complexity, optimise performance, and streamline recovery when a successful attack inevitably occurs."
Acronis has been a pioneer in cyber protection, which is the integration of data protection, cybersecurity, and endpoint management. To protect all data, applications and systems, Acronis solutions are designed to address the Five Vectors of Cyber Protection – safety, accessibility, privacy, authenticity, and security (SAPAS).
Creating the 2020 Acronis Cyberthreats Report
The 2020 Acronis Cyberthreats Report is based on examining attack and threat data collected by the company's global network of Acronis Cyber Protection Operations Centres (CPOCs), which monitor and research cyber threats 24/7. Malware data was collected by more than 100,000 unique endpoints around the world running Acronis Cyber Protect, which launched in May 2020, and covers attacks targeting endpoints detected between June and October.
The full report provides in-depth insights into the top security/threat trends the CPOCs observed in 2020, a review of malware families and related statistics, a deep dive into ransomware's most dangerous groups, the vulnerabilities that contribute to successful attacks, and Acronis' complete security forecast and recommendations for 2021.
Japan Seeks to Revive Stalled Semiconductor Industry
3 min
As international supply chains falter, the Japanese government intends to incentivise foreign chipmakers to build localised foundries
Post-pandemic, Japan has seen the consequences of relying solely on foreign imports for its semiconductors. Over 64.2% of its chips are usually imported from South Korea and Taiwan, leaving the country dependent on its neighbours. Industries from auto manufacturers to consumer electronics firms wait for chips, to no avail. But now, the Japanese government looks likely to put real funding behind its semiconductor industry, with top officials emphasising their support.
Domestic supply chains have never been more important. Rather than remain tied to international shipping routes during shortages and delays, governments are doing everything in their power to develop local lines of supply. But the question remains: can Japan pull it off? 
How Will Japan Pay For It? 
Herein lies our first issue. Japan's debt has rapidly increased over the past few years, and the semiconductor industry will need roughly a trillion yen—US$9bn—in this fiscal year alone. This cost, however, pales in comparison to what Japan could lose if it fails to keep up with Europe and the US. Both nations have launched aggressive funding measures to revive their local semiconductor industries. And if Japan refuses to invest due to its debt, it could slow down progress in fields ranging from artificial intelligence to autonomous driving. 
According to Tetsuro Higashi, the former president of Tokyo Electron and Japan's top government advisor in semiconductor strategy, 'If we miss this opportunity now, there may not be another one'. Yet one advanced wafer fabrication factory can cost more than US$10bn, and any money poured into the industry will go fast. That's why Japan, rather than invest trillions and trillions in failing domestic firms, is considering a second option. 
What Do They Plan To Do? 
Japan now intends to look abroad and convince overseas chip foundries to come to its shores. Its past failures mostly centred on trying to merge domestic firms that were already going through tough times. 'This sort of made-in-Japan self-reliance approach hasn't worked out well', said Kazumi Nishikawa, a director at the Ministry of Economy, Trade, and Industry's IT division. 'This time the goal is to offer a strong incentive for an overseas logic foundry to come to Japan'. 
As follows, Japan will now reach out to industry partners and leaders in other countries, including the industry heavyweight Taiwan Semiconductor Manufacturing Co. (TSMC), to build Japanese bases. According to the South China Morning Post, the heart of Japan's mission is a US$337.2mn research and development project in Tsukuba that will involve TSMC and more than 20 Japanese firms. 'I think we need to cooperate with our overseas counterparts', said Akira Amari, a senior member of the ruling Liberal Democratic Party. '[And] TSMC is the world's top logic chipmaker'. 

Indeed, if that's Japan's strategy, the future looks bright. TSMC recently set up a venture near Tokyo to research energy-efficient 3D chips with several Japanese partners. And in the future, the multinational chipmaker may consider expanding its Japanese operations—that is, if government incentives pave the path forward.