Uyghur Forced Labor Protection Act & US supply chains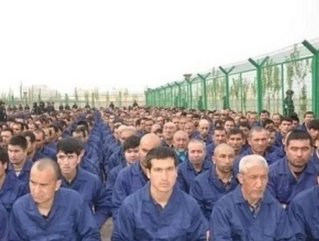 Uyghur detainees listening to speeches in a camp in Xinjiang province, China, in April 2017
US supply chains in fashion, electronics and alternative energy sectors face disruption as US law on forced Uyghur labour in China comes into force
From today (June 22) US Customs will begin enforcing the Uyghur Forced Labor Protection Act (UFLPA), banning all imports from Xinjiang Province in China.
The new law - signed into law by President Biden on December 23, 2021 - is even more stringent than legislation that was passed in the wake of the 9/11 Twin Tower terror attacks in the US, following which the Bank Secrecy Act (BSA) was passed, to combat money laundering and the financing of terrorism.
Penalties for a UFLPA violation will be high, involving civil or criminal penalties, or both. Not only will impacted goods be seized at the border, but the resulting disruption and reputational damage is likely to be severe, and lasting.
According to the legislation, "any goods, wares, articles, and merchandise mined, produced, or manufactured wholly or in part in the Xinjiang Uyghur Autonomous Region are not entitled to entry to the United States".
Imports from Xinjiang will be permitted only if the Commissioner of US Customs and Border Protection determines that the importer "has clear and convincing evidence" that the goods were not produced using forced labour.
Uyghur imports law threatens to disrupt US supply chains
Amnesty International claims Chinese authorities have created a "dystopian hellscape on a staggering scale" in Xinjiang, involving abuse of the Muslim Uyghur population in the area, including mass surveillance, detention, and forced labour.
Despite this, companies including Apple, Nike and Coca-Cola have previously lobbied against the bill, citing concerns over how it would affect business, according to the New York Times.
But now, for major global brands and smaller businesses alike, the Act will ensure that compliance is prioritised, as ESG policing and enforcement is ramped up.
Supply chain analysts say that, in the coming months, a deal of supply chain chaos will ensue, as businesses with supply chains that extend into China gauge the potential impact on direct and indirect reliance on suppliers in China.
Brandon Daniels is CEO of Exiger, a company that helps organisations manage supply chain risk. he told Supply Chain Digital that the downstream impact of the legislation will potentially be "vast".
He said: "Regulators and federal authorities will take enforcement seriously. The fashion, retail, computing and alternative energy sectors will be hardest hit. They have been reliant on artificially cheap goods from forced labour in China, a practice that is economically and ethically intolerable. So, if you are wearing a shirt that is made in China, have a phone screen that could have been made in China, or are using a solar panel on the top of your house where the photovoltaic cells were made in China, they will be impacted by this law.
UFLPA 'will see businesses prioritise ESG compliance' - Exiger
Daniels added that, while the law could potentially see "the arrest of billions of dollars of product" companies would be "unlikely to let it get this far". He added that he expects to see organisations "prioritise compliance and invest in efficient ways to manage the due diligence requirements".
Daniels also says that as well as challenges in complying with the law, there will also be "opportunities for growth and economic rebalancing".
He said: "The reshoring of major components of the supply chain will increase the diversity and resilience of the supply of rare earth minerals, textiles and polysilicon. These are core materials for every market, from healthcare to cloud hosting.
"This will also inspire and fund innovation across the Democracy 10 to identify new methods for sourcing, refining and manufacturing the materials that will fuel the future of space exploration, defence and telecommunications. It this also create expansion opportunities in emerging markets in Asia, Africa and the Americas. It is a step towards a fair and ethical world that prioritises a free market not warped by the fabricated and unsustainable price of forced labour.
For the fashion sector - which historically has a poor ESG record - the UFLPA legislation follows related legal moves to pass a city-specific US law to police sustainability best practice when it comes to fashion imports.
Fashion sector faces New York law on sustainable imports
In January 2022, the New York State Assembly unveiled the Fashion Sustainability and Social Accountability Act that, if passed, will make New York the first city to pass legislation holding the biggest fashion brands to account for their role in climate change.
Backed by a powerful coalition of nonprofits and designer Stella McCartney, the law will apply to global apparel and footwear firms with more than US$100mn in revenue that conduct business in New York ‒ which is pretty much every large multinational fashion brand.
Specifically, it will require such companies to map a minimum of 50% of their supply chain, starting with the farms where raw materials originated, through to factories and also shipping.
"The new legislation will require sustainability claims to be verified and disclosed by fashion companies, or else the brand faces a fine," Laura Gibson, Head of Sustainability at supply chain management company, Core told Supply Chain Digital. "It will affect every large multinational fashion business, from Prada to Armani, as well as fast-fashion giants such as Boohoo.
Asked if she sees New York's legislation making a lasting difference, Gibson says that, although the bill is "geographically limited", if passed it will be an "important milestone" for sustainability in the fashion industry and is likely to drive calls for stronger legislation in other regions.
She added: "While there have been recent shifts towards increased transparency and accountability within the fashion industry, this has largely been voluntary and unregulated, so the Fashion Act could provide a blueprint of how to regulate these initiatives to drive change."
About Exiger

Exiger helps organisations detect, quantify and mitigate supply chain risk across 50 categories and sub-categories.

About CORE

CORE is a supplier in the digitalisation of global supply chains that delivers innovative supply chain management and visibility solutions to organisations across a range of industries.