Supply chain circular economy 'still distant goal', says SAP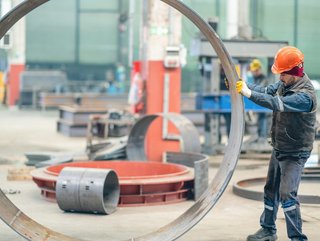 Shifting to a circular economy means a change in how we design not only products and new materials to eliminate waste, but also new policies, infrastructure and business ecosystems, says SAP.
Stephen Jamieson, Global Head of Circular Economy Solutions at SAP, urges businesses to embed sustainability in operations from design phase
Currently, just 8.6% of the world's economy is circular, which means around 91 billion tonnes of material each year is being left to its fate in the natural environment. Research conducted by SAP alongside the World Economic Forum shows that 61% of the world's population (4.9 billion people) lacks access to infrastructure around waste management or recycling. The numbers around sustainability – or rather, those showing how far we still have to go – are mind-boggling.
Speaking at BizClik Media's Sustainability LIVE event in April this year, Stephen Jamieson – Global Head of Circular Economy Solutions at SAP – addressed the significant sustainability challenges that lie ahead.
"We're using more resources than the planet can sustainably provide, and half of total global emissions comes from the way we use materials," he told his live and virtual audience. "Shifting to a circular economy means a change in how we design not only products and new materials to eliminate waste, but also new policies, infrastructure and business ecosystems."

Circular supply chains are operationally vital
Sustainability has never been higher on the agenda for businesses, both politically and operationally. In today's world, organisations must make net-zero practices an integral part of their strategic thinking.
This means sustainability must be embedded in end-to-end operations, from design to consumption. Only this way will we be able to escape the 'take, make, use and dump' linear supply chain model, relying instead on a circular model built on reuse and recyclability.
Working closely with its customers, SAP helps deliver environmental, social, and economic impact, and its enterprise solutions are designed to enable a future with zero emissions, zero waste, and zero inequality.
As Jamieson points out, product consumption accounts for around 45% of global greenhouse gas emissions.
"SAP's role in the world over the past 50 years has been to enable the end-to-end process of business," Jamieson said. "The key steps are how we design, source, market, produce and deliver."
Data collection is barrier to the circular economy
But he says there are significant barriers to shifting to a circular economy, chief among which is "understanding at the design stage the environmental impact of the decisions that we make".
Jamieson stresses that to drive solutions "we need critical interventions", and says that, to this end, SAP is focusing on three areas:
Eliminating waste to prevent destruction of nature.
Circulating materials and products to keep them in use as long as possible.
Having end-to-end insight to drive regenerative business, so decisions made by consumers link all the way through to ultimate land-use impact.
He says that, to achieve these things, policymakers, NGOs, investors, producers, designers, businesses, innovators and entrepreneurs must be able to unlock new-technology solutions.
"To deliver a circular economy, we first need to measure it," he says. "We need to understand the recycled content in materials and in products. We need to understand whether those things are reusable, compostable, whether they're sourced from fossil-based sources, and what the CO2 content is."
Complex packing poses problem for circular economy
Packaging, he says, is notoriously complex when it comes to sourcing, interpreting and acting upon the data required to measure environmental impact.
"Take a chocolate box," he says. "You have the tray containing the chocolate that sits within the primary packaging and then the secondary packaging around that. Then there's the tertiary packaging, used for transportation.
"Being able to understand what materials are used at what point in time in the production of your products is an unbelievably complicated task, and the reality is that the data needed is often in disparate systems."
He adds: "Sometimes, it might be in a SAP system, but oftentimes not. It could be across many different stakeholder groups within your organisation and across third parties, such as suppliers and packaging providers. Then the data might be in the form of an Excel worksheet or in a more formal system."
This is why SAP is working with Nestlé on ways to access such data.
"We want to solve the data problem to provide a view of the renewables in chocolate-box packaging. What's its recyclability? How compostable is it? What's the thickness? What's the weight?
"Once we understand such things, we can then start to aggregate analytics at a global level and help sustainability managers understand how they're performing against commitments."
Of course, circularity isn't just a challenge facing multinationals; small to medium-sized businesses must also toe the line. But how can SMEs adopt a circular approach when they lack the funding or technology of their larger rivals?
"If I were an SME right now," says Jamieson, "I'd concentrate on scalable principles. You don't need to be a big enterprise to foster change. It's all about embedding sustainable practices that can be scaled as you grow.".
Regulatory complexity on sustainability is ever-increasing
Another challenge to circularity is regulatory complexity, which continues to evolve and change. At the last count, there were approximately 400 extended producer responsibility schemes worldwide, and this takes no account of the new and changing laws and regulations being introduced on a country-by-country basis.
"This is the world into which we launched SAP Responsible Design and Production at the end of 2021," says Jamieson. "It's all about addressing the key sustainability challenges, solving the data challenge, and unpicking complex packaging scenarios with a view to drive action."
According to Jamieson, the company is looking to leverage its network-based solutions like SAP Ariba and SAP Business Network for Logistics.
"We're currently working with 3.5 million businesses around the world and are starting to make connections between the people that have the materials, with the people that need those materials," he explains.
"As we move forward in 2023, it's about innovating business-specific and industry-specific solutions that address the final mile, so we can help consumers play their role in delivering a waste-free future.
"We're also being very selective in terms of the materials we are focusing on. At the moment we have a real focus on plastics and packaging, but this will rapidly expand into textiles, batteries, food, building materials, electronic components, as further regulations come online and existing regulations change."