Freightos: Fast-forwarding freight to the 21st century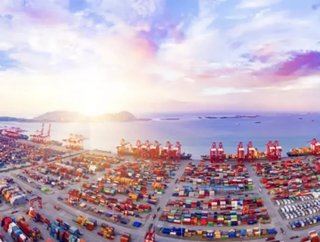 Freight is worth a trillion dollars a year. In the western hemisphere, 90 percent of everything that is eaten, worn or used is shipped by this behemoth...
Freight is worth a trillion dollars a year. In the western hemisphere, 90 percent of everything that is eaten, worn or used is shipped by this behemoth industry.
With consumers and business so dependent on the capacity, capability and efficiency of the freight industry each and every day, the fact it has effectively sleepwalked through the rise of connectivity and remained offline in the 1990s is somewhat surprising. Name a well-established industry with ceaseless demand and you are likely to find a price comparison website or online commerce portal. Shipping, however, was not one of those, at least until Freightos burst onto the scene last year. 
"So why hasn't this been done before?" asks Zvi Schreiber, the company's Founder and CEO. "The truth is that it is complicated. In the airline space, even before the likes of Expedia, there were systems for getting prices like Amadeus and Sabre which helped travel agents to sort their pricing.
"The data was already there. In international freight it wasn't like that – there was no standard electronic feed for prices of getting ships or planes or trucks. The data is spread around the world in thousands upon thousands of Excel files."
Four years in the making
Gathering this data was no mean task. Indeed, it took the Freightos team four years to get into a position where it could successfully launch. For Schreiber, it is a project that stretches all the way back to 2010/11 and his time as CEO of lighting power supply producer Lightech.  
"We designed the power supplies in Israel and manufactured them in Shenzhen in southern China, so I was a customer for shipping them by air and by ocean from China to the US and to Europe," he explains. "I saw from first-hand experience just how tough it is to arrange import and export, waiting for days just to get a price. As soon as the business was sold to GE Lighting I decided to get back into software, only this time for logistics."
While Schreiber was aware of the magnitude of the task ahead, even he underestimated by a year how long it would take for the platform to be fully operational. But with $23 million of investment successfully raised, it was only a matter of time before Freightos took off.
"These are big big freight companies with massive history and legacy, so getting them to trust a start-up with their precious data was a challenge," Schreiber says. "We also had to convince them to trust the cloud as a means of storing this data, but they have made this leap of faith and it has become easier now because these big players have been talking about their success. People are coming to us now, it is starting to become the norm to automate pricing with Freightos."
Rapid rise
Evidence of this need stretch no further than by simply looking at the figures. In the four months after launching fully in July 2016, Freightos grew tenfold, and the company now has offices in six locations spread from east to west across the world.  
Operating on a similar revenue model to the likes of insurance comparison sites, freight forwarding companies have been taking full advantage of what is a low-cost, low-risk way of boosting their own sales. But there is a second revenue model that is also serving Freightos and its clients well, which involves shipping companies using the software and database to formulate their own pricing strategy. Freightos earns a subscription for granting access to the Software-as-a-Service solution.
Though clients in the freight industry have doubtless been excited by the new opportunities presented, Schreiber notes a small degree of nervousness, perhaps natural with any transformational change in the way pricing is generated.
"There has been a touch of nervousness about it, as there is no doubt much greater transparency in the pricing," Schreiber explains. "While some freight forwarders were already sharp with their pricing, others no doubt were taking advantage of the fact that it used to be opaque. With more transparency and instant online pricing, the market will become more efficient and competitive." 
The priority for Schreiber is to drive home the massive first mover advantage that Freightos has built up over the past five years of work. "At the moment there is surprisingly little competition for us given the size of the opportunity, although some individual shipping companies like Kuehne+Nagel are starting to offer their own online quote services," says Schreiber. "I wouldn't call it competition however, it is simply another way of bringing the industry online. So yes, we have first mover advantage, and our job is to make sure we make the most of it."
Fizz
Prior to setting up Freightos, Schreiber dedicated time away from the everyday business grind to put pen to paper, authoring Fizz between January 2010 and December 2011.
"The style was inspired by a famous book called Sophie's World, which told the history of philosophy through the medium of a novel," he explains. "Fizz is based on the same concept, only with a girl travelling through time meeting the likes of Galileo, Newton and Einstein to understand the history of science and the universe.
"I just find the subject incredibly interesting and thought it would be fun to do something different to business. It was a fun project for me, but at the moment it is hard to think beyond Freightos. I think I will be focussed on maximising this for some years to come yet."
And it is the question of how and what Freightos can do to stretch ahead of the game even further where the conversation concludes. "There is always more we can add," Schreiber says. "We have the world's biggest freight rate database but we don't have everything, there are more companies we can add. We want to grow at least another 500 percent this year, and make sure we are the marketplace for international freight. Competition will come so we need to grow fast while we're pretty much the only show in town."   
The April issue of Supply Chain Digital is now live!
Get in touch @SupplyChainD