Supply Chain Risk Management
The warehousing case for a pallet rack work platform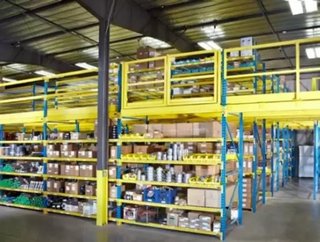 By Carlo Chatman The longer a successful manufacturer, distributor or service installer remains in business, the more legacy equipment and parts they m...
By Carlo Chatman
The longer a successful manufacturer, distributor or service installer remains in business, the more legacy equipment and parts they must inventory to service existing customers. But as new products and parts get added over time, warehouse space can get increasingly cramped, and inventory picking and parts management can get less and less efficient.
Instead of constructing expensive new offsite warehouse space or building a mezzanine for an existing warehouse, a growing number of manufacturers, distributors and service installers are taking advantage of existing vertical warehouse space to essentially "build up and not out" with a rack supported work platform.
"After almost 40 years in business we were running out of space to efficiently store our new and legacy parts and materials, causing us to spend too much time looking for them when needed," says Bob Fromm, General Manager at Northwest Petroleum Service, a full-line supplier, installer, and servicer of petroleum fueling equipment.
STEEL KING STRUCTURAL VERTICAL RACK
To offer system installation and 24-hour service for service stations, truck stops, airports, convenience stores, municipalities and industrial applications, Northwest Petroleum Service supplies everything from pipes, fittings, connectors, conduit and wiring, to circuit boxes, electronic boards, tank monitoring equipment and point-of-sale (POS) consoles.
"Like a messy garage, the longer you wait to get organized, the worse it gets," says Fromm. "We had outgrown our existing warehouse's assorted pallet rack and hand-built shelving, but it was cost prohibitive for us to buy, lease, finance, or staff an additional off-site facility. Constructing a building supported mezzanine for extra space in our existing warehouse was too costly as well."
SEE OTHER TOP WAREHOUSING STORIES IN THE SUPPLY CHAIN DIGITAL CONTENT NETWORK
Check out October's issue of Supply Chain Digital!
To support a mezzanine, the warehouse would need to be structurally engineered to meet building code. Operations would be disrupted during months of construction. Property taxes would rise because the mezzanine would become part of the permanent building structure. And any permanent mezzanine would be inflexible to future changes in product such as size, shape, or volume.
"We wanted to maximize our warehouse storage capacity, longevity, and flexibility with optimal cost and logistics," adds Fromm. "We also wanted to keep high-value product, such as the POS consoles and electronics, more secure than our existing warehouse allowed."
For help, Northwest Petroleum Service turned to Wisconsin Lift Truck Corp., a material handling and automated systems distributor. Recognizing unused vertical space in the warehouse, Tim Zunker, the Wisconsin Lift Truck project manager who helped with system integration, suggested a pallet rack supported work platform by Steel King, a leading manufacturer of material handling and storage racking products.
A pallet rack supported platform like Steel King's combines the storage capacity of industrial pallet racking with the benefits of a fully-decked elevated work surface.
To achieve this, pallet rack components are used to support a work platform above, with beam levels below for standard pallet rack storage. The upright frames can extend through the work platform floor to provide more storage levels above. Rack styles from hand-stack and push-back to carton-flow, pallet-flow, cantilever, and drive-in can be used, as can a variety of floor surfaces, stair types, hand rails, kick plates, gate types, and open or decked shelves.
"Not only is such a pallet rack supported platform less costly than buying or financing additional warehouse space, but it also simplifies meeting building code requirements", says Zunker.
Because a rack supported platform is classified as a storage rack-work platform-not as a structural building change-it can avoid building code issues such as lighting, ventilation, size of stairs, distance to exit, and bathroom availability. As loads are distributed quite evenly across the racking, many times the existing floor slab can be used. Since a rack supported platform can be rearranged to suit future needs and is not considered a structural part of the building, it does not raise property taxes.