Supply Chain Risk Management
Supply chain automation uptake 'slow', says SAPInsider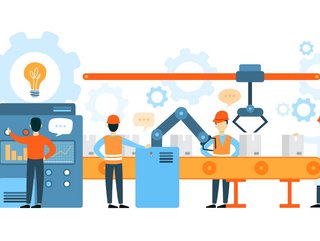 The slow uptake of automation in supply chain flies in the face of the fact that 89% of supply professionals believe process automation in the supply chain is either "important" or "very important".".
SAPInsider & Precisely joint report shows 75% of supply chains are only partly automated, despite most supply professionals knowing resilience suffers
Three-quarters of all organisations are yet to make significant headway on supply chain automation, an in-depth report suggests
The findings reveal that there is a major gap remains between where the supply chain industry needs to be and where it currently stands, with 72% of respondents saying that less than 50% of their supply chain processes are currently automated, with the remaining third saying automation is yet to hit the 25% mark.
This slow uptake of automation flies in the face of another stat – that 89% of respondents believe process automation in the supply chain is either "important" or "very important".
The report is a joint project between data integrity company Precisely and SAPinsider, the world's largest SAP membership group, with 500,000 members across 205 countries.
Called Process Automation in Supply Chain, the report also reveals 51% of supply chain and procurement professionals believe resilience is the top reason for implementing supply chain automation, with agility (46%) following close behind.
The research also shows the key objectives for deploying process automation have become more strategic, and include benefits such as:
End-to-end process visibility (82%)
Increased process efficiency (79%)
Defining and documenting standardisation (77%)
Integrated processes across end-to-end supply chain (75%)
Building internal skillset (72%)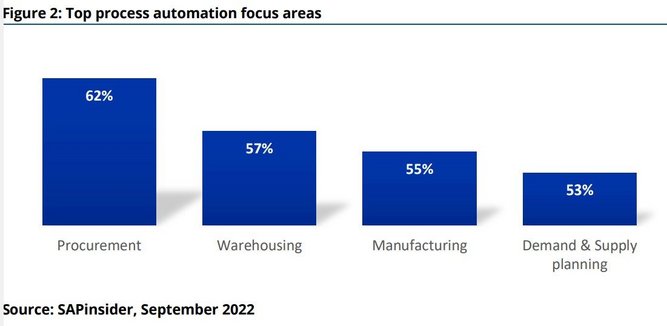 The report also shows an increased drive to explore advanced AI and machine learning automation technologies, with nearly half (47%) saying they are considering implementing such solutions over the next 24 months.
"With recent world events it's no surprise supply chain resilience is top of mind for businesses worldwide," said Mark Vigoroso, Chief Content Officer at SAPinsider. "While adoption of technologies has been slow to-date, we're seeing organisations increasingly turn to process automation as a way to build robust supply chain capabilities and help navigate the uncertainty in the market."
Senior VP of Data Integration at Precisely, John Reda, said: "Supply chain resilience relies upon a programmatic approach for improving end-to-end process visibility and risk monitoring.
"To be successful, supply chains must become both digital and autonomous to keep pace with disruptive global events and changing consumer expectations."
He added: "The success of digitised processes and workflows will rely upon the accuracy, consistency and context of the data feeding them.
"Data integrity will be the key to confident decision-making during the uncertain times ahead."