Supply Chain Risk Management
Photo gallery: TNT Fashion doubles sortation capacity at automated warehouse facility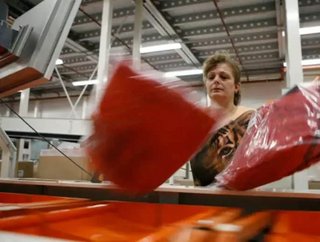 TNT Fashion Logistics has doubled its currentsortationcapacity at its facility at Bergen op Zoom inWest-Brabant,The Netherlands, by installing an exact...
TNT Fashion Logistics has doubled its current sortation capacity at its facility at Bergen op Zoom in West-Brabant,The Netherlands, by installing an exact copy of its existing FSU (Flexible Sortation Unit) sorter right above it, on a 5.5 metre high mezzanine.
TNT now has the flexibility to release any type of carton from any lane into either sorter 1 or sorter 2. The productivity improvements from this space saving solution will produce a payback in less than 18 months. 
SDI Group helped TNT Fashion Logistics to do this. Just as with the original system in 2011, SDI Group designed and installed a 220 drop point FSU sorter, running at 28,000 carriers per hour for the automated sorting of the single and or pre-packed single garments. This now gives TNT 56,000 carriers per hour and 440 drops in total.
The TNT Fashion Logistics facility is operated for a leading US apparel brand. The pan-European operation serves 14 countries for retail stores and 29 countries for the direct channel. All merchandise - which now totals 180,000 SKUs - goes through the building in a unichannel operation.
Terry Norman, Development Director at TNT Fashion Group, said that SDI's latest sorter installation has "doubled our outbound capacity".
He added: "This means we have been able to reduce costs by operating both machines on just one shift rather than one machine across two shifts, which produces a substantial saving on staff costs.
"Although we do not need this capacity for 3 years, TNT is investing heavily and early because it is vital to have capacity on hand for when the volatile retail market needs it. We also wanted to minimise costs. This meant optimising the cube of the building rather than just its 320,000 sq ft footprint. So we decided on the innovative, space saving approach of housing the new sorter on a mezzanine floor 5.5 metres above the existing unit."
This installation future proofs TNT's operation, allowing peaks to be met for years to come. When desired in the future, TNT can activate the sorter's split chutes, which will double the amount of available chutes and drop locations available currently. "This means that we are flexible enough to respond quickly to any change in the demand pattern from retail stores or the direct channel," said Terry.
Another significant benefit from the new sorter is the contingency factor. 
Norman said: "Now, by having two sorters, we can flick between the two in the event of a problem. The immense flexibility provided by the sorter has been a huge move forward for our operation and helps us to meet the challenges posed by very demanding retail environment."
The system has been live since July of this year. Norman added: "We still have SDI on site tweaking the sorter to get even more than was originally specified." During the installation, which overcame the challenge of installing a sorter and a mezzanine over an existing operation, TNT maintained full service levels and hit every KPI including cost. SDI was also able to engineer out any oscillation movement due to locating a sorter on a 5.5 metre high mezzanine, preventing any risk of motion sickness for staff.