Supply Chain Risk Management
GEP: Brand reputations damaged over supply chain disruption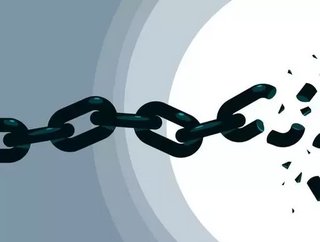 Tarnished brand reputation is the biggest consequence of supply chain disruption for 40% of C-suite executives, with digital solutions key to recovery...
Businesses are facing measurable damage to brand reputation as a direct result of the disruptions in supply chains over the past three years, according to a new study from GEP. 
Of 400 C-suite executives in supply chain, procurement, strategy and other associated disciplines questioned in a new report, 40% said their brand image had been markedly tarnished due to disrupted supply chains.
Almost a third (30%) reported a rise in customer complaints, with delays to product launches (26.5%) and a loss of regular customers (23%), which compounded this issue as they struggled to deliver products and services in time. 
The findings come from The Cost of Supply Chain Distruption, a report commissioned by GEP and conducted by The Economist. It includes insights from top executives at $500m-plus companies in the US and Europe, across six industries: agriculture and food, industrials, CP&R, healthcare and pharma, and energy and utilities. 
Findings in brief
45% say COVID-19 most responsible for disruption
36% say cyber attacks are a growing concern 
31% say geopolitical instability the biggest concern for future disruption
61% say resilience more important to future supply chains than speed and efficiency 
54% agree significant changes must be made to confront disruption of next five years 
Beyond COVID
Though the outbreak of the COVID-19 pandemic last year was the key cause of disruption for 45% of respondents, growing concerns surrounding cyberattacks (36%) as evidenced in last year's SolarWinds scandal, price fluctuations (33%) and diverging standards and regulations (32%) are placing additional strain on supply chain functions.
Digital transformation and technology-based solutions will be key to recovery, according to the report. Automation, AI and ML practices will be invaluable in freeing human employees to dedicate their expertise to managing skyrocketing ecommerce and online purchasing, shielding against cyber attacks, and adopting stricter health and safety strategies - likely as a result of the coronavirus outbreak. 
Though the pandemic will remain a top-line concern for risk management, age-old geopolitical instability is a more pressing issue. Nearly a third of respondents (31.5%) said corruption, trade policies and localised conflict pose the biggest risk to their supply chains in the coming five years - above the pandemic (28%). 
The result will be a focus on risk-management and more localised thinking - both geographically and in terms of scale. Strengthening bonds with current suppliers will be the top action for executives in the coming months and years, as well as simplifying the supply chain by working with fewer disparate vendors and partners. On-shoring and near-shoring are expected to become big trends, alongside hiring and training a permanent supply chain risk-management team and formalising associated policy. These will be backed by further digital transformation in 29% of respondents' organisations. Software to deliver greater visibility will be a priority for more than a quarter. 
Resilience is king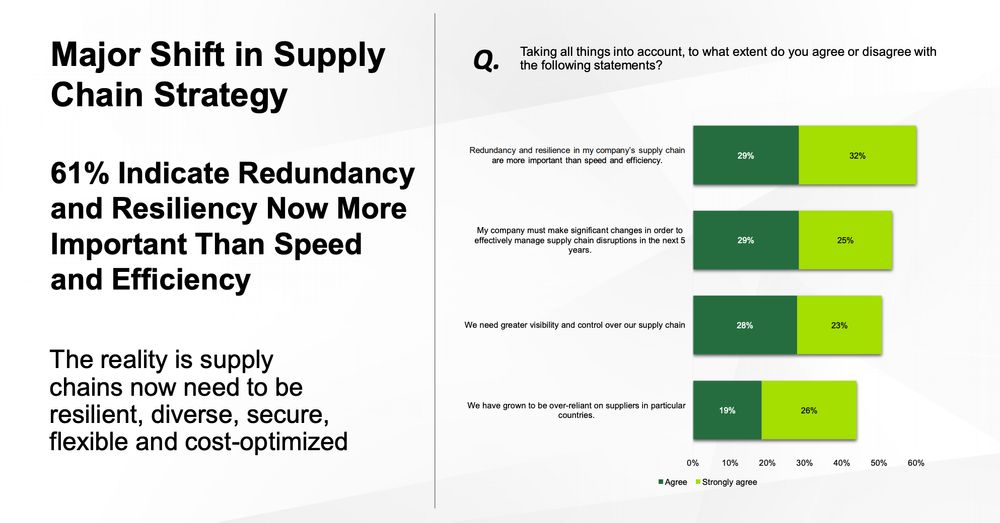 The Cost of Supply Chain Distruption, GEP and The Economist
The results reveal a common theme: that resiliency will trump speed and efficiency in the supply chains of the near future. In fact, 61% of respondents agree or strongly agree that building further resiliency and redundancy into their supply chains must take precedence over fine tuning of efficiencies. 
Either way, more than half believe effective management of disruption in the coming five years will require significant changes in process and strategy. Greater visibility and less reliance on overseas manufacturing and logistics powerhouses will also be key.