Procurement 'to drive operational change' - Amazon Business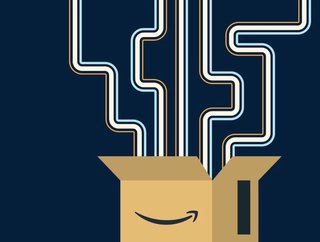 Amazon Business procurement report suggests that, following a year in which businesses focused on reducing costs, procurement leaders are now set to sink money into honing procurement processes, to help employers operate more strategically and sustainably.
Amazon Business report suggests over coming year procurement leaders will invest in tech to drive optimisation and sustainability initiatives
Business leaders are set to invest more heavily in procurement, as they target strategic sourcing as a key operational and sustainability tool, an Amazon Business report suggests.
The company's 2024 State of Procurement Report says more than half (53%) of procurement chiefs expect their budgets to rise in 2024 as C-suiters look to invest in tools and technologies to deliver optimisation.
The report focuses on procurement insights worldwide from government, financial services, hospitality, healthcare services, manufacturing, pharma, retail, technology, and telecom industries.
Following a year of businesses focusing on reducing costs, it appears that procurement leaders are now set to sink the funds they saved into honing procurement processes, to help employers operate more strategically.
Most procurement leaders eyeing tech advances
Virtually all (98%) say they are planning to invest in analytics and insights tools, automation, and AI over the coming years.
Other headline findings include:
Nearly all (95%) decision-makers acknowledge there's room for procurement optimisation.
Most (81%) are mandated to buy from certified sellers, which typically includes sustainable, local, or disadvantaged group-owned businesses. However, 85% say difficulties sourcing ESG-compliant suppliers is a barrier to achieving strategic sustainability goals for procurement.
Amazon Business Head of Commercial, Public & Strategic Sector Aster Angagaw says in the report that developing procurement capacity, agility, and innovation are "top priorities".
She adds: "To achieve these goals procurement leaders must streamline the time spent on low-value activities such as gathering information for reports, manually entering data into disparate systems and trying to contact suppliers for delivery updates.
"Beyond reducing administrative burdens, buyers need enhanced visibility into purchasing data and supplier information to cultivate the ability to make swift and assured decisions."
Also in report Todd Heimes -- Director and GM Amazon Business Worldwide -- comments how "nearly every event seen in the news "creates new challenges for chief procurement officers".
Procurement 'in vanguard of business change'
He adds: "Today procurement is one of the key levers in the broader transformation and growth story for organisations that will continue to mature alongside emerging technologies such as AI.
"But across industries and sectors, smart business-buying mimics the familiar consumer buying experience all workers are familiar with, making it intuitive for employees outside of procurement to search for and buy the products they need most."
Meanwhile, Alexandre Gagnon, Amazon Business Worldwide VP. says: "We are entering a new era of smart business buying where senior leaders are understanding the impact procurement can have on efficiency and overall company success.
"I couldn't be more excited about the evolution of procurement. Heading into 2024, it is now a cross-disciplinary function, as buyers plan to invest more in technology and optimisation while future-proofing their companies and organisations."

Gagnon adds: "Ultimately, procurement not only keeps operations running, but plays an integral role in achieving key organisational goals, and with smart business buying, companies have procurement solutions to serve as a growth lever for organisations."
The 2024 report was completed by 3,108 procurement decision-makers worldwide, spanning nine industries.
Amazon Business has an estimated 6 million business customers, ranging from large multinational enterprises to sole proprietors. It offers them smart business-buying tools that to optimise procurement processes.
It also seeks to simplify the process of sourcing sustainable products by partnering with trusted third-party sustainability-ratings organisations including SCS Global Services, Bluesign and Blue Angel.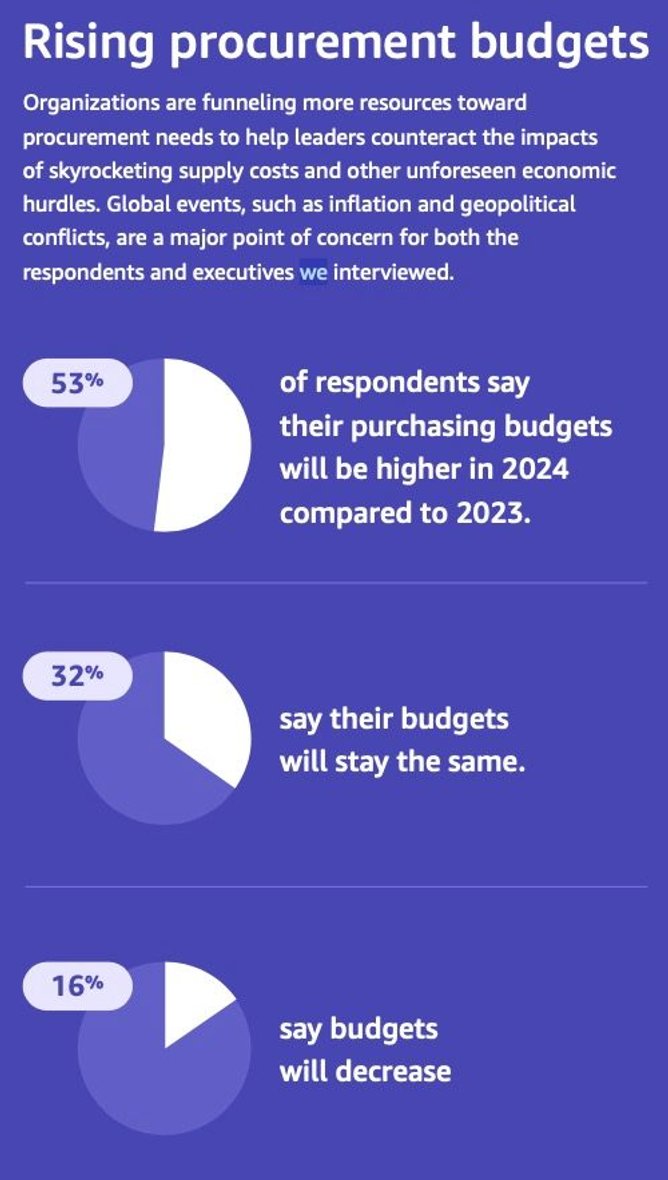 One key finding from the Amazon Business procurement report.