CIPS event unites medical and supply chain purchasers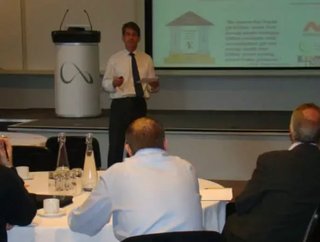 A unique seminar that brought together purchasing and supply chain professionals within the medical industry has been hailed a great success. The semin...
A unique seminar that brought together purchasing and supply chain professionals within the medical industry has been hailed a great success.
The seminar, titled 'Are you ruining your suppliers' performance?' questioned whether supply chain replenishment processes can have a negative impact on procurement performance and was organised by Medilink East Midlands in partnership with Chartered Institute of Purchasing and Supply (CIPS) and in association with specialist medical consultancy, Lime Associates.
Keynote speaker, Simon Eagle from SmartChain LLP, addressed the 30 delegates on topical medical purchasing and supply chain issues including why 'forecast push' destroys supplier performance, how demand driven supply chains work and how demand driven replenishment can help your company reduce procurement spend.
Simon's supply chain management experience covers both medical devices and generic pharmaceuticals. He has deep subject matter expertise in the area of 'Demand Driven Planning & Replenishment' and has shared experience and knowledge with Professor Stephen Disney of Cardiff Business School, one of the world's leading authorities on Supply Chain Dynamics.
A round-table discussion on the subject of 'How can Procurement influence our company's supply chain operating model?' followed the keynote speech and the event concluded with a networking session.
Of the event, delegate Steven Day, Country Head of Procurement UK and Ireland for French multinational pharmaceutical company Sanofi, said the event was an "opportunity for expert insight" and Paul Smith from Healthcare Print and Packaging Limited said it had given him a "better understanding of the supply chain"
Lime Associates' Lee Robinson, founder member and Chairman of the CIPS Health Technology Group, said: "I established the CIPS Health Technology Group to bring together purchasing and supply chain professionals and help to promote excellence in the highly regulated healthcare and medical industry and this was a great example of how to bridge the gap between Health Technology and Purchasing."
The free event was hosted at Medilink East Midlands headquarters at BioCity in Nottingham.
The groups involved
CIPS is an international organisation serving the purchasing and supply profession. Dedicated to promoting good practice, CIPS provides a wide range of services for the benefit of members and the wider business community.
Medilink EM is the East Midlands life science industry association, whose aim is to help companies establish, develop and grow. Medilink EM is a founding member of Medilink UK; a national network supporting over 3,000 companies across the entire UK.
Lime Associates is the only UK purchasing and supply chain consultancy that works exclusively with Medical Device, Biotech and Health Technology companies.
Lime Associates' team of consultants is currently engaged on supply chain, cost reduction and business start up assignments with prestigious clients including Bioventus, Scapa and Invibio.