UPS: Taking a high-tech approach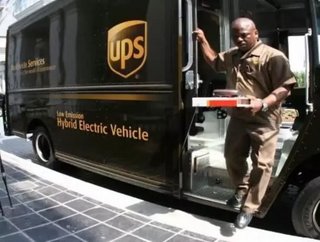 UPS is the worlds largest delivery company with over a century of experience in transportation and logistics. The company also operates one of the wor...
UPS is the world's largest delivery company with over a century of experience in transportation and logistics. The company also operates one of the world's top 10 largest airlines. A heavyweight in the supply chain industry, UPS did not get where it is today without adopting a global strategy. Director of Industry Affairs for UPS Air Cargo, Brad Eyster, says that the company's business model is built on the principle of globalization.


He acknowledges that its presence across a range of territories has given UPS a "distinct window" into the world economy. "We have actively managed our business during the recession, matching our network resources to the demands of our customers. By doing things like retiring classic fleets, trimming capital expenditures and consolidating package operations, we have cut $1.4 billion in expenses to help maintain our strength and position ourselves for growth as the economy rebounds."
 
HIGH-TECH INVESTMENTS
Cost management has been a priority at UPS, which is balancing cost cutting with strategic investment. It is now exceeding its targeted cost savings, according to Eyster, without compromising its high service levels, while also investing in the future.

The company also has teams of engineers, business analysts and operations experts who constantly review and refine its processes and procedures in a bid to increase efficiency. Utilization of the latest technology plays a vital part in maximizing UPS's efficiency. Eyster explains that on the ground side of the business, delivery routes are computer optimized, while sensors mounted on its vehicles monitor fuel, wear and tear, and driver safety on a constant basis.

UPS invests $1 billion in technology annually, Eyster says, which "continues to enhance every facet of our service offerings. At the end of the day, it's all about dependable quality service". The best example of its technological advancement is the Worldport sort facility at Louisville International Airport; the largest capital project in UPS's history and the biggest fully automated package handling facility in the world.
Worldport is a glimpse into the future of the logistics industry - an exciting prospect.

"Our mega air hub in Louisville is basically a 5.2 million square foot supercomputer that processes 59 million database transactions every day," Eyster elaborates. "It will soon allow us to process, in one hour, 416,000 packages.

"It's the crown jewel in UPS's worldwide network. From Worldport, we can reach both small package and air freight customers in more than 200 countries and territories in mere hours – so it truly is our global hub."

Its bar code technology essentially sorts the packages, with just two human touches while they are in the facility, he adds. Other features include high speed conveyors, IT systems that rapidly transmit customs information to expedite the movement of international shipments, and specially designed docks and hub floors, to ease container movement.

Phases 1 and 2 of UPS's expansion plans for Worldport, which were announced back in 2006, are due for completion between May and June this year. As part of its expansion, two new aircraft load/unload wings will be constructed at Worldport, while additional aircraft staging ramps will accommodate the new 747-400 cargo planes. A vehicle loading facility for its ground delivery network is also planned and will serve Louisville.

UNIQUE STRATEGY
Never one to rest on its laurels, UPS has ambitious plans for the future, but also advancements that could impact the entire industry as we know it today. "We are pioneering spacing and visibility technology on our entire fleet that will one day replace radar as the primary means of air traffic control, improving both the safety and efficiency of the US national airspace," explains Eyster. The type of technology being utilized is Automatic Dependent Surveillance Broadcast (ADSB) technology, which basically provides visibility between all vehicles in the air environment.

While the weak global economy has proved challenging, UPS has persevered and positioned itself for opportunities around the world. "In terms of emerging opportunities, Asia is where we have been focused for some time, with an emphasis on growing China," he says. "We opened our Shanghai international air hub in December 2008, and are in the process of opening our second air hub in Shenzhen to process intra-Asia volume."

UPS has adopted a unique high-tech strategy in order to conquer the highly competitive transportation and logistics sector. In Eyster's words, it's a strategy that combines the technological sophistication of a large-scale global enterprise, with the values and work ethic of a century-old small business.