UPS Supply Chain Solutions: Delivering what matters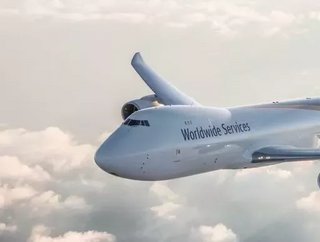 Philippe Gilbert, President at UPS Supply Chain Solutions, on delivering what matters most in the pandemic and beyond...
Philippe Gilbert is in a sunny mood. We chat freely about looking forward to the time when we can once again sit outside a café in Paris in his beloved France. For now, those plans are on hold as the world copes with the COVID-19 crisis, and UPS is doing its part in delivering precious vaccines and saving lives and livelihoods. 
Gilbert openly discusses the trials and tribulations of the last year, and how UPSers (as the company likes to call its 540,000 employees) have gone above and beyond to deliver what matters most against the backdrop of the pandemic. 
UPS is one of the world's largest package delivery companies with 2020 revenue of $84.6 billion, providing integrated logistics solutions for customers in more than 220 countries and territories. It delivers 24.7 million packages every day.
The company is flourishing in challenging times – buoyed by its best ever quarterly results, fuelled by increased business with Amazon, small and medium sized businesses, and the busy holiday season. But there is much more to UPS's success than simply increased demand for its services – UPS has embraced the digital opportunity and tailored its solutions to deliver for its customers.
"Visibility in the supply chain is an element where technology has a key role to play," says Gilbert.
"When you are a customer, you are dealing with primary suppliers. But it's also interesting to understand how they source from their vendors and the supply chain risks associated with their secondary, and tertiary vendors.
"We can strategically incorporate predictive modelling, which enables us to leverage artificial intelligence machine learning to shorten delivery time and increase resiliency."
When the pandemic really forced the entire world into lockdown in March 2020, this impacted UPS's capacity to use passenger flights for package deliveries. Add to that the essential movement of personal protective equipment (PPE) and prices for shipping soared.
The reduced air freight capacity saw UPS advise customers to look to alternatives – diversifying transportation modes on the cross-border side – such as sea/air, less than container load (LCL), and rail.
"Those products existed in the UPS Supply Chain Solutions business unit," he says. "A lot of customers wanted to make sure that their freight coming from Asia was able to reach either the Americas or Europe. Utilizing various transportation modes is part of the supply chain reconfiguration. It was set before the pandemic, but accelerated by COVID-19."
The trade dispute between the US and China caused many customers to look at shifting their production, or at least reviewing their production, from China to Southeast Asia – countries like Vietnam and Indonesia. 
"We also saw a desire from customers to shorten the supply chain by near-shoring. I think it's going to prompt more and more interest in shorter supply chains in the Americas and in Europe. It's something we are following closely, and also talking about with our customers. We can help them solve those complex supply chain problems."
"Delivering what matters is the purpose […] Delivering what matters does not describe what we do, but why we do it"
Philippe Gilbert, President at UPS Supply Chain Solutions
One key aspect of 'new normal' business that we keep hearing about from senior executives is the increasing need for collaboration. Rather than losing 'control' of processes, collaboration with trusted service providers can support economies of scale, greater flexibility, reduced risk and more expertise.
"We are talking with a number of service providers to see how we can together support our customers," says Gilbert. "Innovation is a key element of success and we are focusing on more competitive and more profitable areas. So for us it's improving the supply chain resilience, by driving innovation, to get better market price and provide better service."
Many businesses have had to adapt and pivot to survive, and many of those are going on to thrive. UPS is no exception. Gilbert identities innovation as essential to any business that wants to emerge from this latest global crisis, and cites the financial crash of 2008 as a reference point.  He says that a Boston Consulting Group (BCG) report showed that the most innovative companies entering the 2008 crisis outperformed the rest of the pack.
"We are always pushing for innovation," says Gilbert. "We are putting in place advanced automation, technology, and  digitisation. We are developing ways to further optimize our facilities and back office, enhancing our productivity and return on invested capital. 
"This is the digital revolution that is underway and supply chain is no exception. I think that COVID-19 has sped up what we wanted to do and what a lot of people wanted to do in this arena."
Coping with Crisis
With the sourcing and delivery of PPE, UPS has been involved from the get-go. They have supported efforts in the US, Europe and Asia. Gilbert says that saving lives has been their focus and priority. When we spoke in January, that focus was shifting to also include the vital delivery of vaccines. The company's experiences between March and September 2020 made the leadership realise their new purpose statement.
"At UPS, our purpose is very simply stated. It is: 'moving our world forward by delivering what matters.' So we can unpack it in many, many ways, but moving our world is what we do every day," says Gilbert.
"Delivering what matters is the purpose. That's what we do and who we are – why we exist. It's why people are coming to work every day and why our customers value us. Delivering what matters does not describe what we do, but why we do it."
Delivering the vaccines has been a major challenge, especially the Pfizer BioNTech vaccine which needs to be transported at -70 degrees Celsius.
Gilbert says being able to handle the logistics of the vaccine rollout at such scale is something that UPS is rightly proud of. They used UPS Premier tracking technology, which utilizes GPS and RFID tracking technologies to monitor both location and temperature throughout each package's journey, to help make sure not a single vaccine shipment goes to waste. UPS also invested in dedicated freezer farms and adapted their services and tools to be able to control the temperatures.
"The supply chain needed to make sure that the cold chain was preserved," he says. "And then, of course, the deployment and distribution of the vaccine with great precision. I would say that the pride and excitement that UPSers have for being a part of getting vaccines delivered around the world has been quite amazing – and not just for the management, but for all the UPS employees around the planet. 
"And that goes back to our purpose – everybody feels very, very proud helping to save lives."
Digital Supply Chain
Businesses are looking at easier, more efficient, ways of doing business – less time performing manual processes, less time analysing documents. They want their supply chains to be seamless, and that means digital, and agile.
UPS has invested a lot in its technology to deliver a next-generation digital supply chain. In 2020, the company rolled out a new suite of digital engagement tools to enable customers to harmonise their supply chain with forwarding, brokerage and supply chain visibility.
"Businesses want an experience that is faster than picking up the phone to call us with questions. So in October, we launched the UPS Forwarding Hub which allows customers to manage their air freight, ocean freight, and customs brokerage in a single interface with an interactive dashboard – from quote to book to pay to track," says Gilbert. 
"You cannot manage what you cannot see, so in 2021 we are going to really roll out our suite of digital tools, including UPS Supply Chain Symphony – a customer-facing visibility and business intelligence portal that integrates customer supply chain data from various GPS systems or partners, give our customers enhanced control on their data and real-time visibility.
"This technology is very much the eyes and ears of our customers' supply chains, enabling them to monitor their entire supply chain with one sign-on. We can make sure that our customers have better information, and better decision-making processes, within the supply chain. We will continue to incorporate new technologies and further enhance this experience for our customers."
As for the future, Gilbert is candid about where he sees both the impact of COVID-19 and the opportunities for UPS and its customers. He cites B2B customers who have pivoted to B2C, for example, in specific vertical markets. He also sees a reduction in CapEx, with companies prioritising where they are going to spend their hard-earned money. He also says sustainability and  diversity, inclusion and equity are crucial.
Gilbert says he thinks some challenges are here to stay, and that the global supply chain could be permanently affected.
"We have to be able to establish footprints for the long term," says Gilbert. "We are going to be local when we need to be local. So we are Chinese in China. We are French in France. Therefore, we need to be recognised as a global player, but with local knowledge and expertise. 
"I think we need to have in mind the commoditization created by digitalisation, by newcomers into the field. Traditional logistics players need to demonstrate value. For us, the differentiation is technology enabled, end-to-end products that are sensitive to our customers' needs. Digital transformation is definitely going to be the future. COVID has just accelerated its adoption."