UPS expands Chinese presence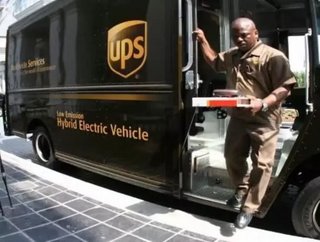 Follow @JosephWilkesWDM Global package deliverers UPS is expanding its presence in China with two new contract logistics distribution facilities. The i...
Global package deliverers UPS is expanding its presence in China with two new contract logistics distribution facilities.
The important economic centre and capital of China's Sichuan Province, the city of Chengdu, and historical and massive city Shanghai will be the settings for two non-bonded distribution facilities, strategically located in close proximity to international airports and major road networks.
They will be built with capabilities to support a diverse spectrum of growing Chinese industries - primarily high-tech, industrial manufacturing, aerospace and retail - customers will also have connectivity to UPS global IT platforms for distribution and post-sales support, UPS claims.
Jim Barber, President of UPS International, said: "UPS is committed to supporting emerging market demand and helping customers expand into new markets in China.
"Expansion efforts, such as the opening of these two facilities, will bring unmatched resources to our customers looking for a national distribution platform in China.
"Our customers will benefit from our trustworthy and reliable service, proven logistics methods, industry-leading technology solutions, global distribution and multi-modal transportation network and decades of experience in the Chinese market."
This brings the total number of UPS facilities in China to 130 in 87 cities.
The two new facilities are in addition to the UPS healthcare facilities that opened last year in Shanghai and Hangzhou. The contract logistics facilities will provide distribution and warehousing solutions to shippers who want to reach customers within China.
These facilities are further proof that UPS's goal is to exploit the opportunities provided by the emerging middle class of China.
The new facilities are considered a major part of UPS's efforts to develop a national distribution network in China and strengthen the company's overall portfolio of international capabilities.
The company – which employs nearly 400,000 people and has annual revenue in excess of $50 billion – claims that each facility is designed with specific regional and market needs in mind.
The Chengdu facility will offer more than 47,000 square feet of warehousing and distribution space and aims to provide multinationals looking to conduct business in the region with access to central and western China and the growing cities of Chengdu and Chongqing.
The facility is located 2.5 miles from the Chengdu Shuangliu International Airport and is close to major interstate roads.
The new Shanghai facility will consist of more than 70,000 square feet of distribution space and is less than two miles from the UPS International Hub at Shanghai's Pudong Airport, one of China's largest airports.
The new facility, UPS's fourth in the area, is designed to meet the needs of multinational companies looking to increase their business operations in the domestic Shanghai market.
Brendan Canavan, President UPS Asia Pacific Region, said: "UPS's established network, sophisticated technologies, facilities and our trade management expertise give companies a distinct business advantage in Asia's emerging markets and China."